How Krakow's Jews overcame Communism
14-09-2022
Central Europe
Joe-Lize Brugge, CNE.news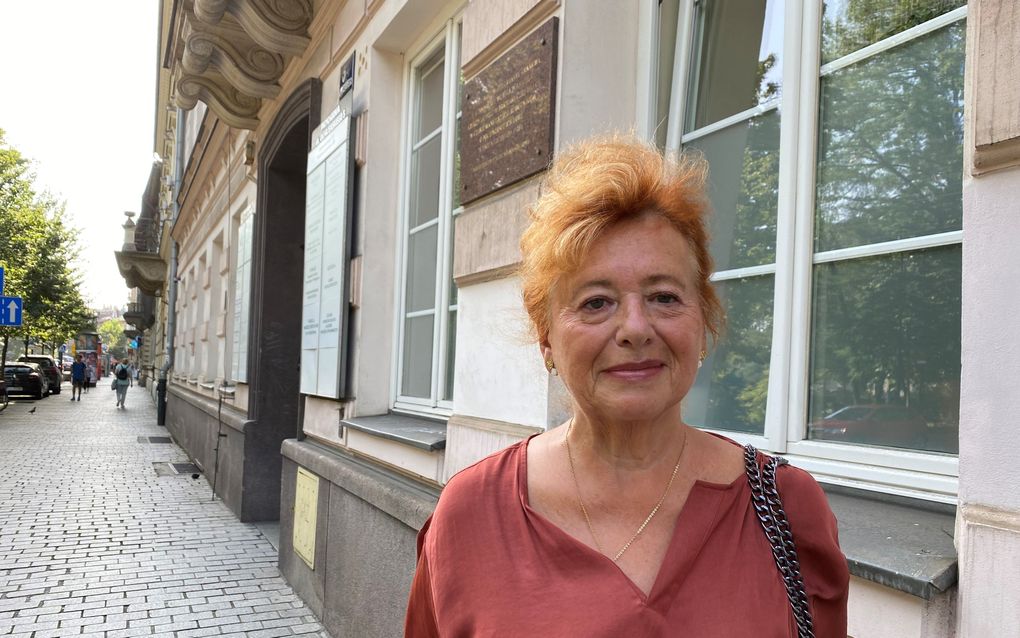 She has lived in the same second-floor apartment for her whole life. But that is one of the few constants in the life of Malgorzata Zajda from Krakow. Through her 74 years, the soft-spoken Jewish woman has seen two regime changes. "You must always keep in mind that history repeats itself."
Even though Krakow once had one of the largest Jewish communities in Europe, anti-Semitism has defined an important part of its history. Nowadays, many tourists visit the city to see Auschwitz, the concentration camp, which is a prominent symbol of the Holocaust.
After World War II, the Jews from Krakow suffered Soviet oppression. Yet, Zajda is evidence that the Jewish community in the city is still very much alive. The red-haired woman is one of the motors behind the Jewish Community Centre, nourishing Krakow's Jewish heritage.
Polish soldier
During the Second World War, Zajda's father served as a Polish soldier in the battle against the Nazis. He ended up in a Prisoner of War camp in Lviv, Ukraine. He managed to escape, but after the Gestapo discovered him, the officers locked him up again. This time, a resistance movement rescued him from prison. Nevertheless, the events marked him for life. "He always slept with his wallet and keys in case he would be taken again", Zajda says.
Life did not become easy for Krakow's Jews after the Soviet Army replaced the Nazi rule in 1945. The few who returned from concentration and death camps, including Auschwitz, were no longer welcome in their old homes from which the Nazis had expelled them. Others living in Krakow had taken over their possessions and did not receive the Holocaust survivors with open arms. Jews had to fight to get their possessions back. That led to tensions between Jewish and non-Jewish inhabitants. "If people knew someone was Jewish, they threw tomatoes at him", Zajda remembers.
Once, when Zajda was 12 years old, she overheard a conversation between the maid of her family and the maid's mother. "Aren't you ashamed of serving Jews", the mother asked. "It made me feel awful", Zajda recalls.
Uprising Jews
In 1968, the Soviet authorities in Poland blamed the Jews for uprisings against the regime. In retalliation, they started an anti-Semitic media campaign. The message was clear: "Lose your Jewishness or leave." The campaign led to anti-Israel rallies. The Jewish community in Krakow retreated into survival mode. "My father would not tell anyone he was Jewish", Zajda says. "He always feared the consequences of it."
Although Zajda's family was not very religious, they remained faithful to certain Jewish traditions. Her mother had two stoves to prepare dairy products separately from the meat. And she still did her best to buy Kosher food, even though it was hard sometimes.
Despite mostly assimilating into Polish culture, Zajda experienced rising anti-Semitism in Krakow. "Some of my friends would break the friendship if they heard I was Jewish. They would step out of the group."
Many Jews left the country. Zajda sometimes attempted to reach friends by phone. But no one would pick up. People did not tell when they would be going. They would leave as soon as they had the opportunity, without notifying others who might delay their travel plans. "Getting out of the country was very hard during Soviet times", Zajda says.
Fall of the Wall
She still laughs at the memory of how happy she was when the Berlin Wall fell on November 9, 1989. "Our neighbours came to us and celebrated with us all night."
The breach in the Iron Curtain also meant an opening for Polish Jews to show their identity. They would join cultural events, go to the Synagogue more often, and even Jews who moved abroad returned to see their relatives.
Currently, the Jewish Cultural Centre arranges events to knit the community together even tighter. Zajda, who organises gatherings for seniors for the Centre, is happy to see that many Jews of Krakow come to the organisation to celebrate their heritage. "Many young people come along on our trips or join our meals", she says. "We help them grow in their Jewishness."
Painted star on the wall
But Zajda is concerned about the future. She notices how anti-Semitic nationalist groups have become more visible in society. She thinks of the Confederation Party in Poland, the NDP party in Germany and the FvD party in the Netherlands. Expressions of anti-Semitism have become more visible in society.
Last Christmas, she experienced this herself. When the Polish children went around with their self-made Christmas stable, she did not give them money as is the tradition. They did a poor job. A few days later, someone spray-painted a Star of David on the wall of the apartment building. "Such a thing would not have happened fifteen years ago", Zajda notes. "We must keep in mind that history tends to repeat itself."
Zajda smiles, when she ponders whether the Jewish community will still exist 50 years from now. "We shall be okay. I think people will stay together. Young members of the Jewish community will continue our heritage."
This article is part two of a diptych from Krakow