"God's smuggler" crosses last border; Anne van der Bijl dies at 94
28-09-2022
Western Europe
Joe-Lize Brugge and Evert van Vlastuin, CNE.news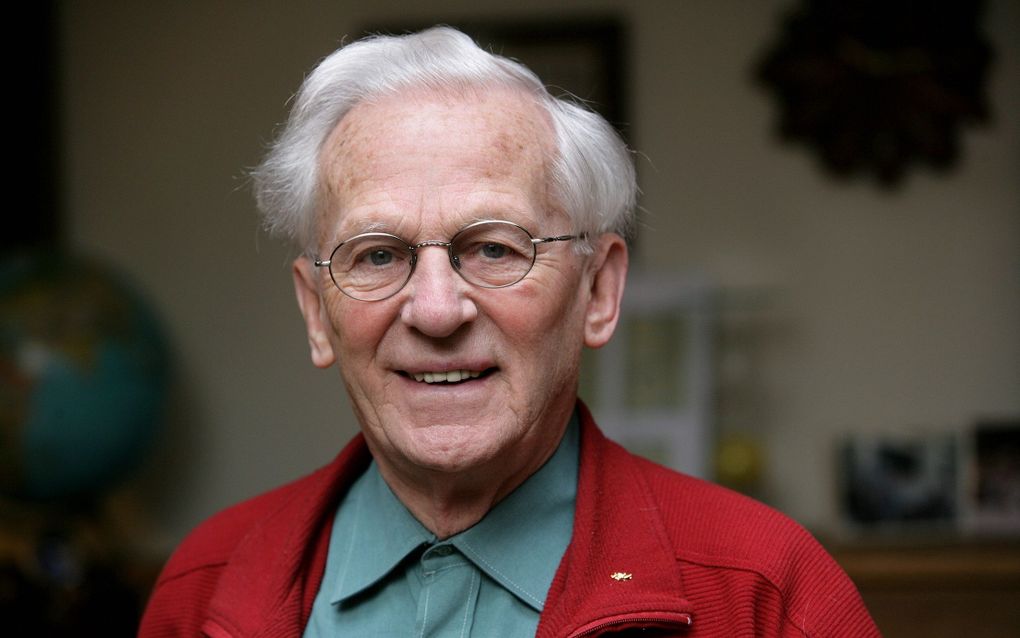 Known as "Brother Andrew", or maybe even more famous as "God's Smuggler", Anne van der Bijl is a familiar name to many. The founder of Open Doors, the organisation that is active for persecuted Christians, passed away on Tuesday. Born in 1928, he became 94 years old.
He woke up when others used the word "impossible". Thus, he laid the foundation of the worldwide organisation Open Doors. According to the organisation, he said: "Our very mission is called 'Open Doors' because we believe that any door is open, anytime and anywhere."
That all started during a visit to Poland in 1955, in the communist era. When he met people there, he realised they had no spiritual literature. He opened his suitcase and gave what he had: mostly tracts. Back home, he started to organise the smuggling work.
The miracle car
Van der Bijl's smuggling was characterised by his blue Volkswagen Beetle, the "miracle car" that became the symbol of Open Doors later on. From 1957, Brother Andrew loaded the car with Bibles and travelled to Eastern Europe.
Van der Bijl did not see his work as "smuggling", he stated later. According to him, that term has a connotation of illegal practices. In practice, Anne van der Bijl noticed that some Christians looked at his work suspiciously. "There are Christians who question the morality of our ministry", he wrote in a book. However, he countered, there are several examples of civil disobedience in the Bible, for instance, Rahab, who hides the spies in Jericho and the midwives in Egypt who refuse to kill children. "The whole issue is about one question", Van der Bijl concluded. "Who do we need to obey more: God or people?"
According to the Bible smuggler, one clear boundary that should not be trespassed was lying. Even when he would be asked whether he had a Bible with him, he said that he would refuse to lie in his own ministry. Yet, he acknowledged that this position could lead to moral dilemmas. "When I take a load of Bibles to a communist country, I always pray that I do not have to tell the truth either."
Smuggler's prayer
Quite famous was his "smuggler's prayer". When he entered the border with forbidden material, he spoke to heaven and said:
Lord, in my luggage, I have Scriptures I want to take to Your children. When You were on earth, You made blind eyes see. Now, I pray, make seeing eyes blind.
Smuggling was not a goal in itself for him. Therefore, he never counted the number of Bibles he sneaked over the border. Instead, Brother Andrew had a zeal to win people for Christ. Later in his life, when Islamic terrorism was in the news, he took up the mission to come into contact with terrorists from Hezbollah or Hamas to testify of Jesus. Once, he said that every day his "first prayer" was for Muslim leaders.
He granted the Palestinian president, Yasser Arafat, a children's Bible and was permitted to open a Bible shop in the Gaza area. Because of this, he received much criticism from Dutch Christians who favour Israel, the Dutch daily Nederlands Dagblad writes.
However, Anne van der Bijl did not waiver in his conviction. If no one tells terrorists about Jesus, how are they supposed to know that there is an alternative to the armed fight by which they try to achieve peace, he said. "There are no terrorists, only people who need Jesus" is another well-known statement of him.
Van der Bijl's conviction was that he was only able to share the love of Jesus with friends. "Therefore, you need to build a friendship first. Go to the frontier and embrace people. I've gone out to armed men, embraced them and said: I've such a big Friend, and I want Him your Friend as well; His name is Jesus. Usually, I could give them a Bible and pray with them too."
Man of prayer
Anne van der Bijl was not just a man of great courage. He was a man of prayer too. In a video in Dutch, he says that he was caught by fear sometimes. "When I came with my car full of Bibles near the border and saw the watchtowers of the Iron Curtain, I decided to turn back. About 10 kilometres from the border, I checked in a hotel just to pray and fast to get the courage to go through."
Special personality
Van der Bijl was known to Christians all over the world. His fame rose after the publication of the book "God's smuggler" in 1967. Most of the book was authored by the journalists John and Elizabeth Sherrill. The book was translated into over thirty-five languages and sold over ten million copies.
Interesting enough, the book was never translated into Dutch. This was on Van der Bijl's own request, says Open Doors in the Netherlands. He was afraid that he would become a special personality. "I am not an evangelical stuntman", he once said. That means his fellow Dutch people must read the book in English, Swedish or Russian.
Blood brother
For his manifold work, Van der Bijl received several awards. In 1993, he got a royal award in the Netherlands. In addition, he won the Religious Liberty Award from the World Evangelical Alliance in 1997. However, according to Open Doors, he prided himself most in the title he received from the Apache tribe in the 80s. They called him their "blood brother."
From the Christian world, the response to his death is significant. The Christian MP Gert-Jan Segers spoke on Twitter about "a life in service of the persecuted church, first behind the Iron Curtain and later in the Middle East." Van der Bijl's goal was "to share God's love with everybody."
Another Dutch MP, Kees van der Staaij, was "touched" by Brother Andrew's death. "He had an extraordinary and inspiring commitment to persecuted Christians worldwide. We remember him in gratitude."
MEP Bert-Jan Ruissen wrote on Twitter that Anne van der Bijl meant much to the persecuted church. "He opened the eyes of many for the indescribable suffering of them who were and are persecuted for their faith."
Sealy Yates, former president of the international board of Open Doors, reacts to the passing of Anne van der Bijl that he sees God's work in every aspect of his life. He remembers especially how Van der Bijl already foresaw that the Islamic world would be a more significant challenge for Christianity than Communism. "I saw Anne, who, already by then [in the early 80s ed.], felt an enormous love and compassion for Muslims."
A lot more radical
Christianity Today refers on what Van der Bijl said about his own life: "If I could live my life over again, I would be a lot more radical."