Syrian refugee in Turkey loses his home again
13-02-2023
Southern Europe
Mark Wallet, RD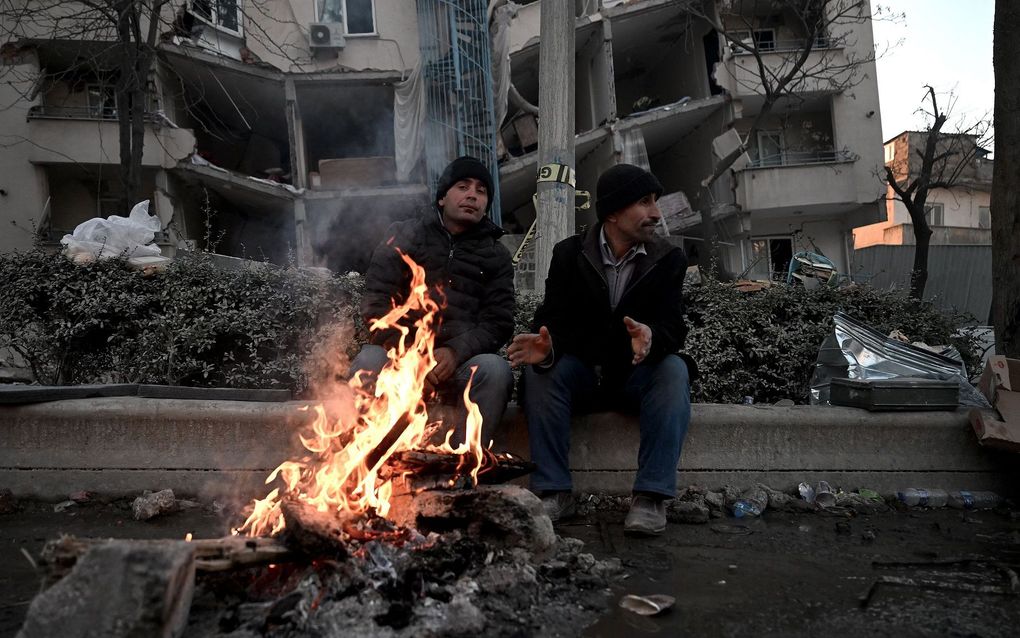 A small Protestant community in the Turkish city of Gaziantep is doing its share in helping the earthquake victims.
Six tents and a few vans stand in Akyol Square in the earthquake-hit city of Gaziantep. At least 100 people live here—five families in one tent and four in another. "There are 20 of us sleeping here," Omar points out, standing next to his tent. "Ten adults and ten children."
He makes an inviting gesture. Inside are children and women, one of them with a four-month-old baby. It is not the only baby to spend days and nights in this little square. In a white van, an equally old boy sleeps on the bench, wrapped in thick blankets. His father sits next to him at the wheel. In the back of the van, people sleep at night.
Omar's home is a 15-minute walk from Akyol Square, but he cannot go back. "There is a danger of collapse," he clarifies. On police orders, the entrance to the apartment building has been cordoned off. It is the condition of many older apartment buildings in Gaziantep.
Fire
It is cold this Friday afternoon. In the middle of the square, Abdelhamid and several of his family members warm themselves by a fire as best they can. Abdelhamid points to one of the women. "She has lost her husband," he says. Then he pulls in his nephew Abdullah. "He has lost his mother and a brother." The man says he has no hope in the future, turns around, and walks away crying.
Originally, Abdelhamid was from Palmyra, Syria. It is the country of origin of almost everyone who has found shelter in this little square. During the Syrian civil war, thousands of Syrians crossed the border into Turkey, hoping to find safety there. Syrians in Gaziantep live mostly in the older apartment buildings, which suffered the most from the earthquake.
The small evangelical Protestant community at Aykol Square is also mainly made up of Syrians. The church came into being when they settled here about ten years ago. According to elder Walat, it is also the only Protestant community in Gaziantep, where a few Turks have since joined.
The small community -on Sundays, there are usually about 20 Syrian and Kurdish churchgoers- cares, among other things, about the displaced people who have settled on its doorstep. There are large bags of bread and items such as blankets and clothes on the church premises. The congregation receives help from sister churches from Istanbul and elsewhere.
The members of the Protestant church all survived the disaster. "Thank God," says Walat. However, the homes of many were damaged, leaving some displaced. The church helped them get to Istanbul.
House of worship
Walat was on the church premises during the earthquake. It remained undamaged. "It is a house of worship, of course," he laughs. At 4:10 am, Sunday to Monday night, he woke up to the first earthquake. "I heard the sound of breaking glass and things crashing everywhere," he said. A second shock followed a short time later. At that, Walat went outside, where many local residents were.
There was snow, and to make matters worse, it started raining. "You have to imagine we were all walking outside in our nightclothes. It was cold, wet and slippery, and on top of that, there was debris here and there."
Since Walat eventually got too cold, he went back inside around 10.30 in the morning anyway. The second major earthquake followed in the afternoon. "After that, nobody dared to be inside. That night, people slept in tents, in their cars or just under the bare sky."
Especially for the Syrian refugees, the disaster hits hard, notes Walat, himself from Syria. "They were already struggling before the earthquake, mostly without jobs and living in mediocre conditions. Now they are left completely empty-handed."
The terror is quite present throughout Gaziantep, he notices. "Especially the second earthquake on Monday instilled fear. It made it clear that there could be strong aftershocks. Many people are traumatised, especially the children."
An added difficulty is that the city's water supply is cut off for most of the day. "Sometimes it works for half an hour, but most of the time, there is no water. We hope that this will change soon."
This article was translated by CNE.news and previously published in Dutch daily [Reformatorisch Dagblad on February 13th, 2023.