Swedish Quran burning met with scorn
29-06-2023
Northern Europe

CNE.news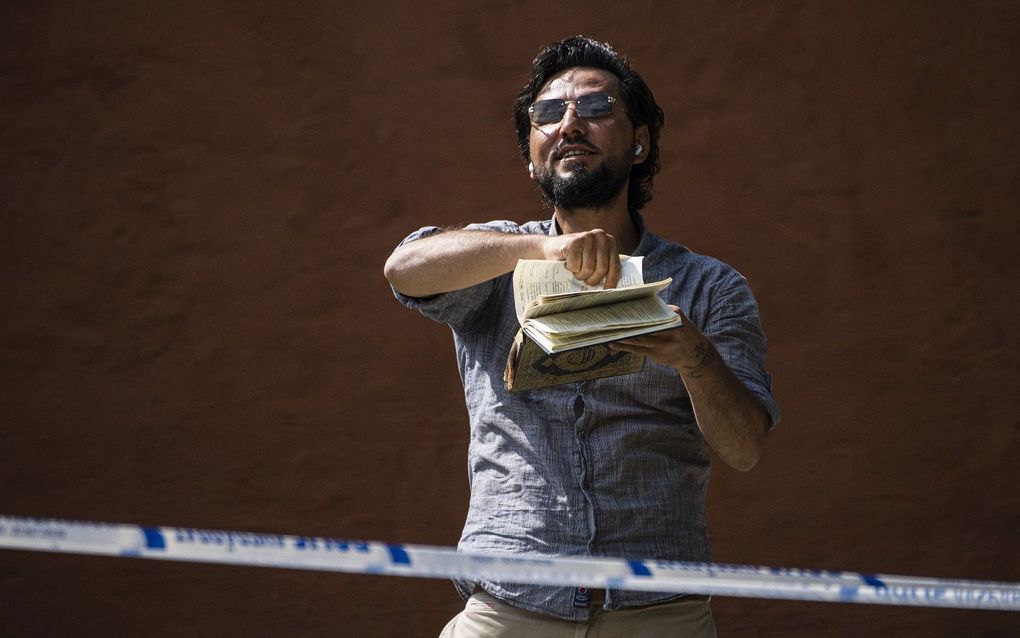 Sweden allowed another Koran burning on Wednesday. Swedish Christians have mixed feelings about this. However, the protest may also have geopolitical implications.
They were intended to shock the Muslim community in Sweden. Still, the actions of Salwan Momika were mostly met with scorn. On Wednesday, Mr. Momika laid a strip of bacon on a Quran, stamped on the book with his foot and tore some pages out. After that, he set some pages alight. That Wednesday was deliberately chosen; it coincided with one of the five prayer times on the Muslim holiday of Eid-al-Adha, one of the most significant in the Islamic calendar. The burning was scheduled next to a mosque in Stockholm.
Koran burnings are not new in Sweden, but recently Swedish authorities banned several. These protests have been under a magnifying glass for a while because Sweden wants to join NATO. However, predominantly Muslim Turkey is somewhat reserved about this membership because of the burnings. NATO membership requires unanimous support, so the Swedes have recently been cautious about allowing these burnings.
Despite this reluctance, the courts ruled against the authorities. They argued that the Swedish Constitution allows such protests. Therefore, the authorities permitted another burning on Wednesday. The mosque was disappointed that the application was allowed and stated that it had urged its believers not to visit the mosque when the protest was scheduled. At the event, people from the mosque tried to calm people and shared chocolates with the crowd.
Flag
Mr Momika told Swedish media that he is an Iraqi refugee critical of Islam. "Sweden is a democracy, and that democracy is in danger if we can not do this", he said, according to the Swedish daily Aftonbladet. The 37-year-old played the Swedish anthem and waved the national flag before damaging the Quran.
According to various media reports, around 200 people attended the Quran burning. But there were not a lot of supporters. When Mr. Momika lit the Quran, one of the protesters shouted: "The Koran is not in your hands; it is in our hearts; we know it by heart." Furthermore, a lot of people scorned Mr. Momika for his actions. Police arrested one man for trying to throw a stone at Mr. Momika.
After the burning, the police stated that the protest was carried out without much disorder but that Mr. Momika was charged with two offences. One is because of incitement against a group of people and the other is for breaching a fire ban. Burning something in the county where Mr. Momika staged his protest is forbidden.
Bible
Christians were also present at the protest, the Christian daily Dagen writes. Jane Sandberg supports Mr. Momika in his efforts to destroy the Quran. She sees the action as something spiritual. According to her, the Quran belongs to the devil. She referred to the words of the book of Ephesians. "We do not fight against flesh and blood, but against evil spirits in the heavenly places." According to Ms. Sandberg, if Sweden wants to become a better country, "we need to turn around in prayer and fasting, read the Bible and follow Jesus Christ, who is love."
However, Ms. Sandberg's opinion did not reflect the whole of Christianity in Sweden. Sweden's Christian Council joined a statement by Sweden's Interreligious Council in the afternoon, calling the burning of the Koran "a desecration of what is sacred to Muslims" and "an attack on basic human values". According to the Council, burning scriptures "undermines community cohesion and spreads hatred". It expects police and prosecutors to investigate the demonstration as a hate crime.
Condemnation
The protest was also noticed outside Sweden. Morocco withdrew its ambassador to Sweden on Wednesday for an indefinite period. Morocco's Foreign Ministry expressed the kingdom's "strong condemnation of this attack and its rejection of this unacceptable act."
In Turkey, people reacted outraged. High-ranking Turkish politicians directed criticism at the Swedish authorities for allowing the burning to happen. "To tolerate such terrible acts is to be complicit", wrote the country's foreign minister Hakan Fidan on Twitter. Fahrettin Altun, a spokesperson for President Recep Tayyip Erdogan, is also upset. "Those who seek to become our allies in NATO cannot tolerate or enable the destructive behaviour of Islamophobic and xenophobic terrorists," he writes on Twitter.
There has occurred yet another disgusting and despicable act of Quran burning in Sweden on our most holy day.

We are sick and tired of enabling of Islamophobia and continued instances of hatred for our religion on the part of European authorities especially in Sweden.

Those who…

— Fahrettin Altun (@fahrettinaltun) June 28, 2023
Although almost all NATO allies want to welcome Sweden into the military alliance, Turkey opposes this move. So these burnings are not helping to improve the relationship between the two countries. Nevertheless, Prime Minister Ulf Kristersson remains hopeful about NATO membership. "Sweden will become a member," he said in an interview with public broadcaster SVT. However, Kristersson keeps in mind that this membership will not be in before next month's NATO summit in Vilnius.