Freedom and family in the picture at Budapest conference
08-06-2022
Opinion

Evert van Vlastuin, CNE.news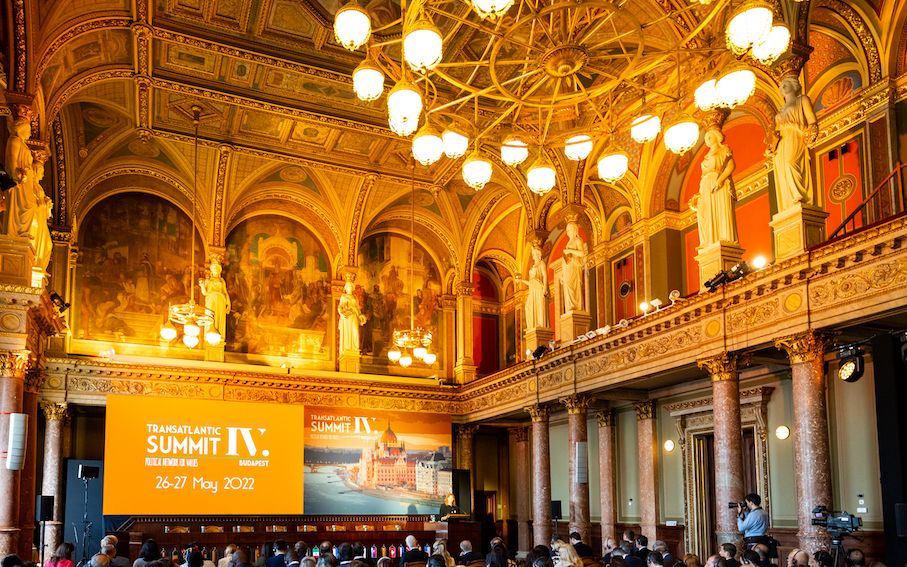 He did not have special knowledge about religious freedom, he said. The only thing Andrew Brunson could mention is that he was imprisoned for two years because of his faith in Turkey.
Listening to Mr Brunson and meeting him personally was one of the most impressive moments during the two-day's "transatlantic summit" of the Political Network for Values (PNfV) in Budapest, Hungary. I was in the Hungarian capital with some 150 people from Europe and South America. The flock gathered in classic style in the impressive Academy of Sciences along the Danube.
Regarding Brunson, I remember editing reports from the press agencies about the diplomatic crisis that arose after his arrest in 2016. After his release, he visited U.S. President Trump in the Oval Office. I discussed with our editor whether a photo of the Brunson and Trump in prayer was appropriate for the front page.
Mr Brunson was arrested on a charge of terrorism and espionage. For more than 20 years, he had been a Christian evangelist in the Turkish city Izmir. From the year 2000, Islam became more and more dominant. In the summer of 2016, there was a coup d'etat attempt against the Erdogan government. The American pastor was suspected of being a conspirator.
Andrew Brunson did not speak about this much in Budapest. He just summarised that he himself had "experienced religious persecution" and was imprisoned for two years. He thanked everybody who had contributed to his release.
Angela Gandra, State Secretary for Family (Brazil)
The Brazilian government has chosen to actively discourage unfaithfulness, tells the State Secretary for Families at the Budapest conference. "People make long hours at work. In Brazil, we have many workaholics. They have to stay there, and order a pizza and a beer. And then things happen. They come into new relationships that make them unfaithful to their wives. That is a problem. People never talk about this, but it happens."
Many governments would say: That is a private responsibility, not for the state.
"No, no, no! We don't interfere in family relations themselves. But we can create conditions. We can help by making it possible for the father to go home and puts the children in bed. We have a work-family balance for the Federal Administration to give an example for this. In my secretariat, at 7 or 7.30 pm the office closes. Family first. That is a state responsibility."
For how long has the state been doing this?
"For four years now."
And do you see any results?
"Oh, a lot! We have even contracted a university to conduct a study on this issue. We are not only fighting drugs, alcohol and domestic violence, but also this. And we already have testimonies on our programs."
Here in Europe, the problem is demography. There are not enough children. How is that in Brazil?
"We are going down. Having children is not celebrated anymore. The third child is a tragedy already. We try to change that. We attempt to make programs so that families can decide for themselves. Therefore, we have a program, Mothers of Brazil, to encourage motherhood."
In your speech, you spoke about hyper-sexualisation. What can you do about that?
"We give awareness to parents. What is going on in the life of children and teenagers? We try to keep the gender ideology out of the school. We have booklets about sex, from the age of 5.
Most of the hyper-sexualisation comes through technology. That reaches the most distant places of Brazil. Even if people have no house, they do have a smartphone. They waste their time with that. Instead of that, we try to give them work."
But you can't block the use of technology.
"Of course not. But you can make people aware that they have work to do in the family and elsewhere. That has nothing to do with controlling or cutting. It has to do with awareness. Another example is our president has said not to provide subsidies to films with indecent content. If public money is given to movies, it must be about family and other good things. But the people themselves have to decide what to do with the message of the movies." All this hyper-sexualisation is manipulation. You take away the ideals, and you give sex, sex and sex. Then the human becomes an animal. The gender ideology is manipulation, too, I think. Taking away the hyper-sexualisation is making people free."
Polite persecution
Religious freedom had a special place in the program of the conference. The brand-new Hungarian State Secretary for Aid to Persecuted Christians, Mr Tristan Azbej, presided over a panel with speakers about this.
Officially, keeping up religious freedom is the policy of all civilised countries, just like democracy. But in practice, it is much more complicated. Brunson: "If the LGBT rights conflict with the religious freedom, the sexual rights get priority. Then you see that most people are hostile against the tradition of following Jesus Christ."
In this context, I found it interesting to be reminded of the words of Pope Francis by Michael Povazan from Slovakia. "He spoke about polite persecution. That is equality for all and a secular dogma for the public sphere."
Tristan Azbej, State Secretary for the aid to persecuted Christians (Hungary)
What can the Hungarian government do against the persecution of Christians?
"The persecution of Christians is one the most pressing human rights crises of our time. The Hungarian government recognised that five years ago. We have learned that more than 300 million Christians are persecuted or discriminated against. Prime Minister Orban acknowledged that this could not be left to the NGOs, churches or advocacy groups, but it is a topic for the international community. In that context, we started a helping program. We have given humanitarian aid to Christians and other vulnerable groups. We have sent aid to more than 50 countries in the last five years. The priority went to Christians, but we have served other minorities. Supporting Christians only would go against the Christian and humanitarian principles."
What countries are at the top of your list?
"The major focus areas are in the Middle East, where ISIS has attacked Christian communities. Increasing, we also focus on sub-Sahara Africa. Many conflicts there come from religious intolerance. Each month, we hear about terrorist attacks, some of which reach genocidal level. For the last three months, we also have been active in Ukraine. Not so much because of religious persecution but because of the war."
In the panel at the conference, Pope Francis was quoted because of his words "polite persecution". How do you see that?
"Christianity as a culture is under severe attack on many fronts in the West. This comes mostly from the so-called "woke ideology", which is rapidly transforming into a totalitarian idea. This ideology tries to ban Christian thought from all the public sphere and transform the Biblical social values that are the foundation of our civilisation. This sort of intellectual anti-Christianity is now being legalised in the form of court appeals and judicial attacks on Christian speakers. We see that this woke ideology is redefining marriage and family. They attack and deprive the freedom of religion and conscience of this angle."
What can you do about that as a Hungarian minister?
"As Hungarian government minister, I have to provide humanitarian aid. As Hungarian government, we focus on re-enforcing Christian values, such as family and the natural law for creating life. We try to participate in European debates about this. In this case, we also try to lead by example. We protest if we see a heavy and extremist push from the gender ideology lobby in Brussels. And we have taken preventive measures by stating in the constitution that marriage is for a man and a woman, that the family consists of a father and mother with children, and that the father is a man, and the mother is a woman. No wonder we are infuriating those who try to dismantle Christian civilisation. But we think that we have to fight for this identity."
Räsänen
Earlier this year, Paul Coleman was active in the court in Finland in the case against the Christian MP Päivi Räsänen. In Budapest, Coleman used the expression "heresy trial". In today's Europe, "heresy" is usually not something you are prosecuted for. Finland is no Pakistan with its blasphemy cases. But Räsänen's heresy was that she called marriage a relation of a man and a woman. "The court case openly was a charge against the Bible."
The judges cleared the Finnish politician of all charges, but the prosecutors have announced an appeal. And therefore, the case continues. "It can go on for so long that the process itself becomes the punishment", Coleman said.
It would be wrong to think that such a process only happens in far-away Finland and not in Western or Central Europe. "The anti-discrimination laws in Finland do not differ much from the rest of Europe. If the Bible can be on trial in Finland, it is possible in many other countries."
Coleman paid particular attention to the plans of the European Commission to give hate speech the status of "EU crime". "That means that it is the same everywhere. But it is still very vague. Commission President Ursula von der Leyen said: Hate is hate. That's the most concrete we can get."
In her conversations with Coleman, Mrs Räsänen had told that she herself voted in favour of the laws with which she was now being persecuted. "Everybody had the idea this was meant for neo-nazis and other crooks. She had never thought that this could be used against herself."
Eszter Vitalyos, Member of Parliament for the Christian Democratic Party and State Secretary for Culture and Innovation (Hungary)
You have been sworn-in as a government member a few days ago. Which of your goals would you like to give top priority during your term in office?
"I am new in this duty, but not in this position. I already got a lot of experience in managing this kind of work because I have been working since 2010 for the government. As the minister, Mr János Csák said, we're not looking for workers; we're looking for people with skills and heart.
So, what is our priority? God, home, and family with a whole heart."
Which principles do you follow in your work?
"During this term, we got a new form and a new ministry, so we also have new challenges.
I always worked by the following two rules. The first one was hard-working, and the second one was partnership. Every time I want to create something good, I build bridges. For me, it is crucial to take care of each other. In my opinion, this is a good recipe for correct functioning.
So, I will continue in that way."
In your speech, you spoke about the number of children born in Hungary today. The Hungarian population is still shrinking, which means that the pro-family policy is not bearing fruit yet. What could be done to change that?
"Don't forget that the fertility rate in Hungary increased the most in the European Union: it has risen from 1.2 to almost 1.6 since 2010, especially as the number of women of childbearing age has fallen in Hungary. Our goal is for the planned children to be born. The Hungarian government continues to encourage and support childbearing by all possible means."