Weekly column from Poland: Study in Kyiv showed me how little I know
30-12-2022
Christian Life
Sashko Nezamutdinov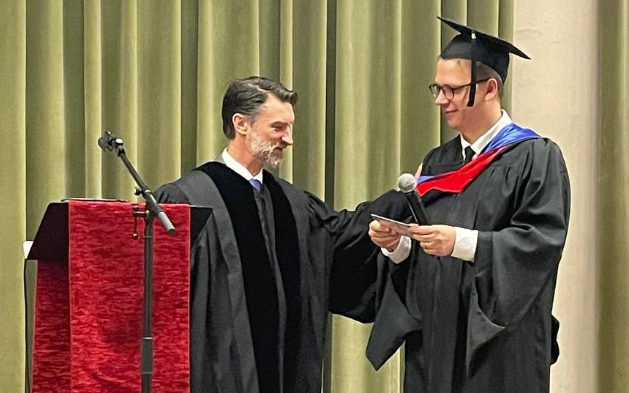 If I still had to study in Kyiv, the war would have made that difficult. Meetings with friends and lecturers were always so important to me, but that is almost impossible now. I also missed my own graduation. But still, I thank God for what I have learned at the seminary.
When it comes to training ministers and conservative theological education, the options in Eastern and Central Europe are very limited. The only couple of options that come to my mind are:
Baltic Reformed Theological Seminary, Riga (Latvia)
Reformed Theological Seminary Heidelberg (Germany)
Evangelical Reformed Seminary of Ukraine, Kyiv
As a graduate of the latter, I would like to share a bit about my experience of studying there but also to highlight the issue of the lack of training options in our neck of the woods.
Sashko Nezamutdinov (1988) is a minister-in-training at Christ the Saviour Church in Krakow, Poland. He studies at the Evangelical Reformed Seminary of Ukraine (ERSU) in Kyiv. He likes reading about church history (especially Protestantism), the Austra-Hungarian Empire and the Slavic world. In the background, you might hear some jazz or bossa nova.
The Evangelical Reformed Seminary (ERSU) is a collaborative project of two Ukrainian denominations. Both the Evangelical Presbyterian Church of Ukraine and the Ukrainian Evangelical Reformed Church have joined forces and have been running a common training centre together. The seminary embraces, teaches, and defends the Reformed faith.
The two denominations as well as the school are confessional and do stick both to the so-called Three Forms of Unity (Heidelberg Catechism, Belgic Confession, and the Canons of Dort), and The Westminster Standards (Westminster Confession of Faith, Westminster Shorter Catechism, Westminster Larger Catechism).
All faculty, board members, and executive staff are required to subscribe to these Reformed standards. The seminary is wholeheartedly in line with the understanding of Scripture that is reflected in these confessions.
All classes of visiting professors are facilitated by a member of the local staff to assure a quality Reformed education, which applies to the needs of the students.
Barbarian invasion
The students however are not expected to subscribe to any of the Reformed creeds mentioned previously. This is why the seminary also welcomes students from other churches, who do not subscribe to any of the Reformed creeds.
Most of the lecturers that I remember on my way came from such countries as Scotland, France, South Korea, the Netherlands, and the US. With every English-speaking guest lecturer, translation into Russian was offered. They were all well qualified and I can certify that theological education is being offered on a high academic level allowing students to combine either a secular vocation or a ministry position in a local church while studying part-time.
Prior to the barbarian invasion of Russia, the courses were held five times a year. Each course was one weeklong and oftentimes two courses one after another were offered to allow students to come to Kyiv for two weeks and go through two courses offered at a time while working in the seminary's library and taking exams from previous courses.
Friendships
Even though this is not a full-time model, spending from 5 to 10 weeks with other students from different countries is extremely helpful. While I was a student, I had a chance to befriend other fellow ministers-in-training from Belarus (at a certain point, one-third of all the students were commuting from different cities in Belarus to this seminary in Kyiv), Slovenia, and Georgia.
It's a great blessing to study in a live community –with lecturers you could meet in person, with students you could argue with, discuss and disagree with, and from whom you could learn– something that cannot be replicated online or in remote, virtual education. By studying in person at the seminary, you develop lifelong friendships and important pastoral and professional contacts.
With Russia starting a war in Ukraine, this is another thing that has been stolen from the students: an opportunity to meet in person at the seminary building in Kyiv. Most lectures are now happening online only. My graduation was supposed to take place in May in Kyiv. Needless to say, this never happened because of the war.
Dry as dust
I have been given the rare privilege of learning about the things of God from humble people, and in studying theology, the Bible, church history, and all the rest, I have begun to realise that I don't know even a tiny fraction of all there is to know. Perhaps this is the most important role that seminary is meant to play – to teach a pastor, professor, or missionary how to teach themselves in the future.
I believe that most pastors will have a deeper and more lasting ministry if they invest in a good seminary education as a key part of their pastoral training.
There are bad seminaries that undermine the foundations of faith. There are dry-as-dust seminaries that produce more scholars than pastors. There are also overzealous seminaries that try to do everything under the sun while neglecting the basics of pastoral ministry i.e. the competence to handle the word of God properly and to communicate it to others.
I am blessed to have studied in a seminary that emphasised personal spiritual growth as well as a deep study of the person of God and his world.
Chat with prayer requests
I thank God for a good education that gives a pastor confidence in what he needs to know and enough humility to know what he does not know. As I occasionally look into our seminary chat, I no longer look for announcements or notices there, but I treat it more as a list of prayer requests.
This is where I find out that my friends for seminary living in Odessa, have to rent a hotel room that offers heat and electricity so that they could take a seminary exam remotely. This is where I find out that some of them who work in the hospitals attend to the wounded soldiers being brought to them from the front line.
And that's when I pray about them, about the future of the Ukrainian Church and about the future of theological education in my part of Europe. For more seminaries across Central and Eastern Europe. May this be a wake-up call for those of us who can do something about it.