Gänswein rebukes current pope in his book
14-01-2023
Southern Europe
Aart Heering, RD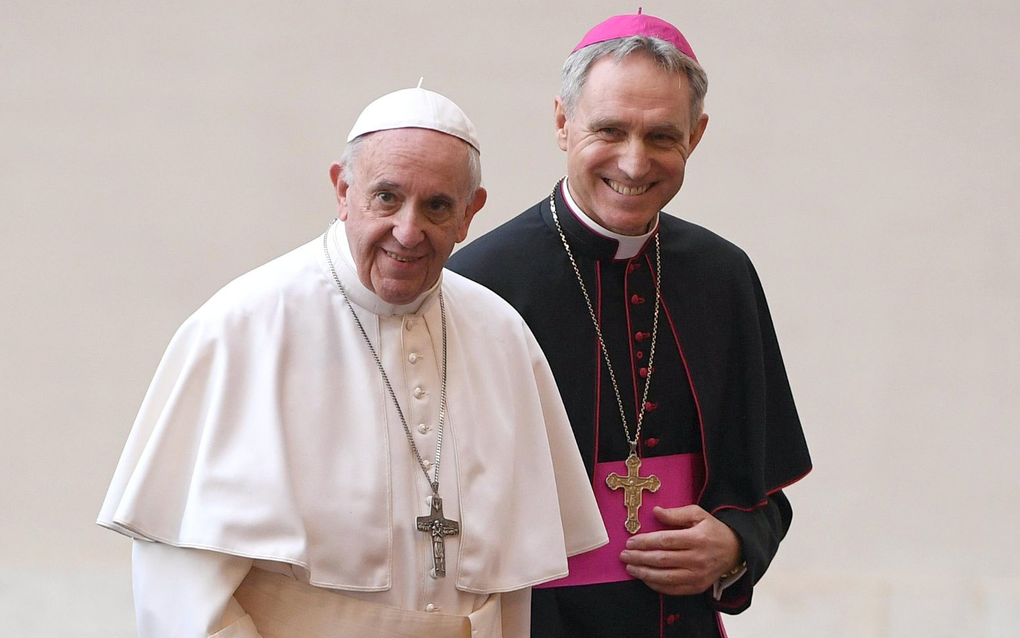 High expectations are not always fulfilled. You get that impression when reading "Nient'altro che la verità. La mia vita a fianco di Benedetto XVI" (Nothing but the truth. My life alongside Benedict XVI), the book published on Thursday by Archbishop Georg Gänswein.
The former secretary of the recently deceased Pope Emeritus Benedict wrote the book in collaboration with Italian Vatican expert Saverio Gaeta. Thanks to a series of pre-publications and notorious interviews with the author, their work has already caused a sensation in advance. However, the full text does not add much sensationalism.
The book, which is something between an autobiographical account and a classic hagiography, aims to "show the true face" of Joseph Ratzinger, who was known in the press as the "Armoured Pope" or the "Rottweiler of God". Wrongly, according to Gänswein. After several chapters on his youth and his years as archbishop of Munich (1977-1982), Gänswein discusses Ratzinger's period as the prefect of the Congregation for the Doctrine of the Faith in his book. Ratzinger held that post for almost a quarter of a century until his election as Pope in 2005. The examples Gänswein cites show that he held strict and rigorous views as a guardian of Roman Catholic orthodoxy. For instance, Ratzinger advised his predecessor, John Paul II, against participating in the inter-religious peace meeting in Assisi. Interreligious dialogue is good in itself, Cardinal Ratzinger said, but only cum Petro et sub Petro (with Peter and under Peter): the primacy of the bishop of Rome is not in question.
Liberation theology
The late pope turned against so-called liberation theology, arguing that the church should seek freedom not by political but by spiritual means, complaining about the godless "radical enlightenment culture that has developed in our time".
Gänswein also reported lighter facts about Benedict, whom he served as a close associate since 2013 and also as prefect of the papal household since 2015. For instance, Benedict liked wearing red shoes (a privilege of the Roman emperors that the popes adopted), but not from Prada, as a fashion magazine had suggested. He played the piano, preferably Schubert and Mozart.
Butler
Gänswein elaborates on the scandal that became known as Vatileaks. In the spring of 2012, letters and reports addressed personally to the pope appeared in Italian media, referencing divisions within the curia and poor governance of the Vatican bank IOR. The protagonist in these was Cardinal Tarcisio Bertone, the then secretary of state, or Vatican head of government, with whom - it is abundantly clear from Gänswein's comments - Pope Benedict did not have a good relationship. The search for the leak eventually revealed that, quite classically, the butler did it: Paolo Gabriele, the pope's butler, had photographed the documents and passed them on to the press.
In some of the book's most entertaining pages, Gänswein describes how he managed to unmask the culprit after realising that some of the documents could only have come from Gänswein's writing desk. Gänswein admitted that he had been careless and offered the pope his resignation, which Benedict, of course, refused. On the other hand, Gabriele spent a few months in a Vatican jail cell and was dismissed.
Disappearance
One of the stolen documents related to the case of Emanuela Orlandi, the 15-year-old daughter of a Vatican employee who disappeared without a trace in 1983. Upon publication, rumours about possible Vatican involvement in the disappearance were sparked again. Gänswein revisits those stories and denies the existence of any Vatican file on Orlandi. But he also writes that he had requested all the information in the Vatican.
Finally, he comes up with his own statement: "It could be that the compassion and concern of Pope Wojtyla, who appealed to Emanuela's kidnappers in his Angelus speech of 3 July 1983, led as an unwanted side effect to dirty manoeuvres by criminals without scruples." It is possible, but Gänswein does not offer new facts on the case.
Grieved
The last part of his reminiscences deals with Benedict's resignation, his life afterwards and the relationship between "the two popes" (interestingly, the loyal Georg still calls his employer that). When the two popes met, they exchanged national delicacies such as dulce de lecce and Lebkuchen. Still, Francis did not heed his predecessor's advice and hurt him by reversing his revaluation of the old Tridentine mass, Gänswein says.
He further elaborates on an incident surrounding conservative Guinean cardinal Robert Sarah, who in 2020 presented a pamphlet he wrote against married priests as a co-production with the emeritus pope. But above all, he complained about how the current pope treated him. Francis often ignored him at official receptions, denied him the right to an official residence and unceremoniously expelled him after the incident with Sarah. "From now on, stay at home. Keep Benedict company and protect him because he needs that. You remain prefect, but do not come back to work tomorrow," the pope told a dumbfounded and grieved Gänswein. And thus, his book partly takes on the character of personal reckoning.
This article was translated by CNE.news and previously published by Dutch daily Reformatorisch Dagblad on January 12th, 2023.