Does vaccination fit in God's providence? Three Dutch pastors give a different answer
02-07-2021
Christian Life
Bart van den Dikkenberg, RD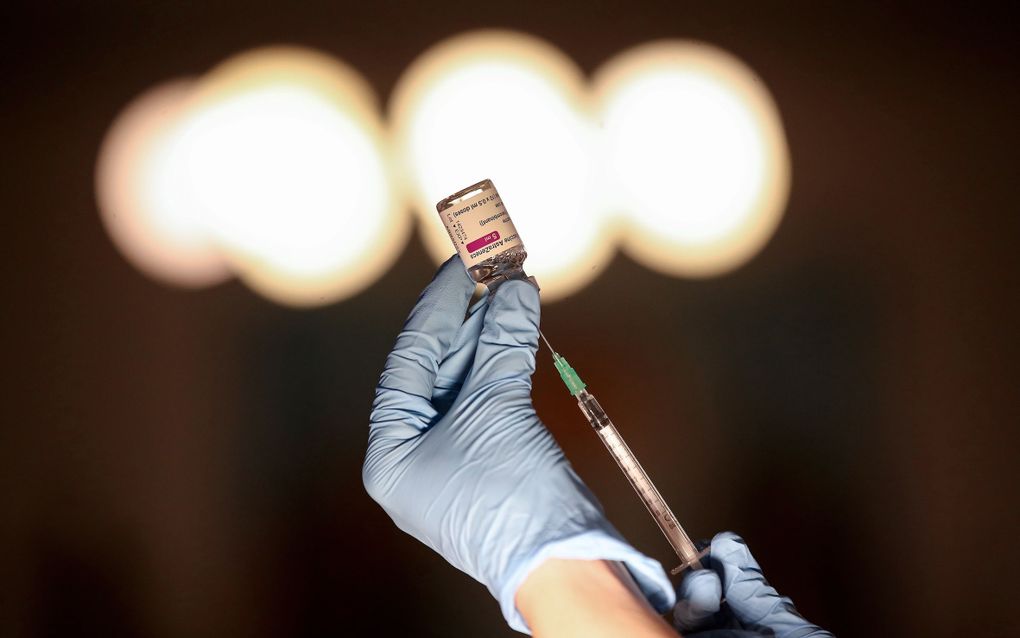 For Reformed pastors in the Netherlands, vaccination is not always easy. Some argue that a vaccine is an instrument of God's fatherly care. Others would see it as conflicting with God's providence. Three ministers explain their position: Rev. J. A. Weststrate, Rev. P. Mulder and Dr R. van Kooten.
"Inoculation is an affront to God's virtues"
Rev. J. A. Weststrate, pastor of the "Reformed Congregations in the Netherlands" in Elspeet (Gereformeerde Gemeenten in Nederland, GGiN), sees a high percentage of "naysayers" against vaccination in his churches.
He sees this as a consequence of the catechism preaching about God's providence. "I am glad about that. Because if we confess that the Lord gives sickness and health, we may not consciously introduce sickness into our bodies. Then we sit on God's chair. We must realise that diseases are a consequence of our deep fall in Adam. The 19th-century Dutch author Isaac da Costa already said: "At the bottom of all questions lies the guilt of the world's sin."
The preacher distinguishes between lawful and unlawful means. "We are obliged to prevent illness to the greatest possible extent. That is why we wear a warm coat in cold weather. Increasing our resistance is not wrong in principle, but we must use vitamins and other dietary supplements. We must pay attention to our hygiene and allow ourselves sufficient sleep. If necessary, we use medicines in case of illness. They are made to fight illness. Everything is done in prayer, dependence and submission: "If Thou wilt..." The Lord works through the means but wants to be prayed for."
Essentially wrong
Vaccination, however, is an impermissible means, argues Rev. Weststrate. "Vaccinating is essentially wrong because it is God's work to make someone sick. If we vaccinate, we deliberately introduce germs into our bodies. This brings us into the realm of ethics, of a sin against the sixth commandment. This is what we say in our catechism preaching and confessional catechism classes. But it is also completely wrong if someone boasts that he has not been vaccinated or bases his conversion on this."
Moreover, vaccination goes against God's virtues. "You can read about that in Lord's Day 10. If you allow yourself to be vaccinated, you disregard God's fatherly love, His wisdom, omnipotence, faithfulness and sufficiency. Vaccination is a temptation to offend God in His virtues."
Dutch pietists have always had objections against immunisation
According to a survey conducted by the Dutch Reformatorisch Dagblad in April 2021, a majority of Reformed Christians (53 per cent) don't take the corona vaccination.
Within the pietistic Reformed audience of this newspaper, there have always been objections against immunisation.
The leading idea among the pietists is that vaccination is not an instrument of God's providence (as other Calvinists would argue) but a form of resistance against God's guidance. The background of this lies in the Heidelberg Catechism, which says (in Lord's day 10) that both "health and sickness" come from "God's fatherly hand".
It's clear from several surveys that there are striking differences between people from various Reformed denominations. The smaller and more orthodox the denominations are, the stronger is the hesitation towards immunisation.
The Elspeet pastor knows that vaccination, and associated insurance, is not a point of discussion among the Scottish Free Presbyterian Church and the English Strict Baptists; denominations the Dutch GGiN has good spiritual contact with. "They don't really think about it. But when I talk to them about it, they say, "Interesting." And then it stops there."
Lord's Day 10 is a profession of faith for a child of God, confirms Rev. Weststrate. "But the Lord also wants to care if someone puts his trust in the Lord only outwardly. However, that does not mean that someone could be unconverted. That is why we present God's righteous demand of faith and repentance to the congregation every Sunday."
Effectiveness questioned
Someone who works in health care may be confronted with the problematic question of mandatory vaccination, the pastor acknowledges. "In such a case, it is imperative that you enter into dialogue with your superiors and present your objections to them. You may have to accept far-reaching consequences, such as being temporarily suspended from work if you become infected with the virus."
On the other hand, immunity to the coronavirus seems to disappear again over time. So, the effectiveness of a vaccine is already in question. And from a medical point of view, the vaccine's safety is far from guaranteed, the Elspeet pastor notes in passing.
Rev. Weststrate knows that Romans 14:5: "Let everyone be fully assured in his or her mind" is often used to place vaccination among matters of conscience or mediocrity. "Unjustly, read side note 28 [of the Dutch States Translation of the Bible]: "That doing so he may not sin and not purport to offend God, nor knowingly do anything contrary to His will; and that he may therefore diligently examine which of these pleases the Lord." So, it's about the use of lawful means; and vaccination is not."
"To vaccinate or not to vaccinate remains a matter of conscience"
Rev. P. Mulder, pastor of the "Reformed Congregations" in Tricht-Geldermalsen (Gereformeerde Gemeenten, GG), does not consider vaccination a simple subject. "Vaccination has many facets. For a while, there was talk of an obligation to vaccinate healthcare workers against the coronavirus. Fortunately, the situation now seems to have changed; compulsory vaccination is absolutely out of the question."
Vaccination is a matter of conscience, the minister emphasises. "It is about our personal relationship with the Lord, to Whom we are accountable. It is so important that decisions on medical and ethical issues are made in the fear of the Lord because the apostle says that everything that is not by faith is sin. Then one child of God may come to a different decision than the other. But in both cases, the decision has been taken in prayer before God."
Rev. Mulder refers to the histories of Ezra and Nehemiah. Ezra went to Jerusalem without a military escort because he trusted God, whilst Nehemiah went in faith with a military escort.
Can be personal struggle
Lord's Day 10 of the Heidelberg Catechism speaks of the faith language of a child of God. "Lord's Day 10 is a comforting text for God's church." The preacher realises that this can be a personal struggle for an unconverted person: am I partaking in that faith? "That question has to be answered from the cradle to the grave. After all, no one has the right to be unconverted. And if he is confronted with the question, to vaccinate or not to vaccinate without the true faith, then what?"
Vaccination is also about the relationship between God's providence and our responsibility, continues the preacher. "God's providence is about our whole life. In a big way, the Lord controls the course of the corona pandemic; in a small way, He controls each person's personal life. He may sometimes notice God's providence in that; in work and marriage, health and sickness."
He can very well imagine that people feel the tension between their responsibility and God's providence. "These are two things that demand dependence, reverence and a prayerful life from us. As fallen human beings, we fall short of this; indeed, by nature, we miss everything. In the awareness that God's providence guides our lives, we must understand our responsibility."
In various areas of life, especially in the medical-ethical sphere, many issues require a personal decision. "Vaccination is one. I am also thinking of chemotherapy or the reanimation policy of a hospital in the last phase of life. Here too, we sometimes have to make a far-reaching decision in prayer because of our responsibility and God's providence."
Not everything is clear
In all cases, God's Word gives direction. "The Biblical standards are objective and apply to everyone. It is clear that abortion is a sin, and so is an alternative relationship other than marriage between one man and one woman. But it is not as simple as that of weighing up our responsibility against God's providence. There it is a matter of conscience in which we cannot simply condemn someone else's decision."
Rev Mulder does not see such a big difference between vaccinating and taking medicines when a vaccine is medically safe. "There are often risks involved. Both means the Lord must bless."
But the preacher still does not want to call vaccinating a mediocre matter. "It is a matter of conscience, a personal matter in which we must make a decision before God."
"Providence not an argument against vaccination"
Dr R. van Kooten, pastor emeritus and lecturer at the Seminary of the "Restored Reformed Church" (Hersteld Hervormde Kerk, HHK), questions whether divine providence can be used as an argument against vaccination. "Lord's Day 10 is a confession of faith of a child of God, which presupposes a personal relationship with God the Father in Jesus Christ."
Anyone who uses this confession not to vaccinate uses Lord's Day 10 for something it was not intended, the pastor argues. "This question is not a computer algorithm that precisely rolls out what is and what is not contrary to providence. God's fatherly providence is a reality for me. It does not conflict with the responsibility that the Lord has also given me."
In the Bible, providence is never a starting point for action, Dr Van Kooten continues. "Then you start reasoning, and my grandfather would say: Reasoning is displeasing God. We must primarily take responsibility. In Jewish law, the owner was responsible if his stubborn bull killed someone or if someone fell off his roof. That means we are responsible for our safety and for that of others."
Responsibility differs from autonomy
But responsibility is different from autonomy, continues the pastor. "We are and remain dependent creatures. No one has built as much as Solomon, no one who has invested so much in peace. Unless the LORD builds the house, those who build it labour in vain. Unless the LORD watches over the city, the watchman stays awake in vain. (Ps. 127:1)."
The preacher further explains his point. "So, I must not ask myself whether anything can be contrary to God's providence, but I must test all things whether they are of God."
The reasoning "It is there because God wants it to be there, and therefore I may use it" is not acceptable to him. "After all, the atomic bomb and the morning-after pill are there too. I have to try and test everything; I have to live a testing life. Then I may have to reject a vaccine made using foetal cell lines on ethical --not theological-- grounds."
However, anyone who truly believes that the Lord forbids vaccination should never embark on it, Dr Van Kooten continues. "But such a person should not impose his opinion on others. Then you start ruling over someone else's conscience. And that is a great sin."
The discussion about vaccination and providence is only held in the Netherlands. It has ancient roots, the minister explains. "In the Netherlands, in the 19th century, the government wanted to oblige citizens to be vaccinated. Statesman Groen van Prinsterer strongly opposed this because the government acted as if it owned the bodies. I would be against that too. That point has now disappeared, but the argument for not being vaccinated has remained. And that is unique in the world."
Do your duty and remain dependent
Nor does Dr Van Kooten see any moral difference between the hygiene measures advised by the government, the taking of dietary supplements, medicines and vaccination. "For all the creature of God is good, and there is nothing that is rejected, being received with thanksgiving; for it is sanctified by the Word of God and by prayer (1 Timothy 4:4,5). But he who allows himself to be vaccinated and thinks: "Nothing can happen to me" he is living wickedly; God's judgment will overtake him."
As far as he is concerned, vaccinating is a mediocre matter, in which everyone must take responsibility in dependence on God. "I do what I regard as my duty, and I remain steeply dependent on the Lord."
An earlier version of this article was published in the Dutch Reformatorisch Dagblad on October 12th 2020