Why it should not be easy to close the church during a pandemic
29-06-2021
Opinion

Evert van Vlastuin, CNE.news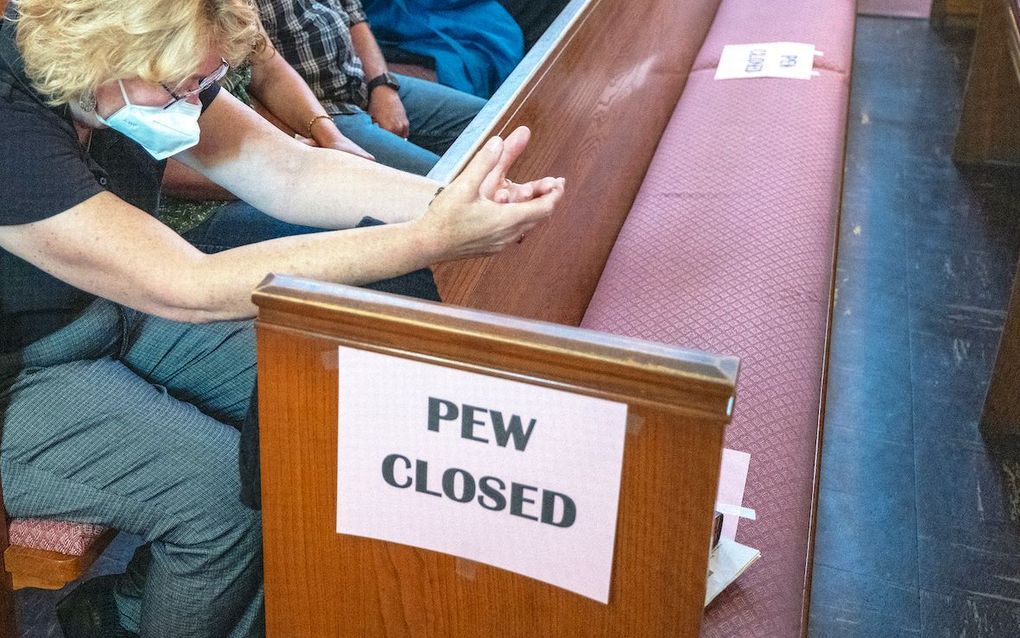 Freedom of religion is not a luxury for sunny seasons. On the contrary, it is made for crises. Even during the corona pandemic, no one needs to give an excuse for going to church. Any restriction on this freedom is illegal. Unless the necessity is proven. How different will this work out for Protestants and Catholics?
Religion brings people together. Usually for the good. But dangerous in a pandemic. Since the advent of Covid-19, church and state have clashed from time to time over how to handle church services. The core of all debates is always: who decides about having the service or not: the church itself or the state?
Freedom of religion is not an extra that you could miss, says Prof. Heiner Bielefeldt. "On the contrary, this right is paramount. It is a fundamental right in the rule of law."
The German Heiner Bielefeldt is a Professor of Human Rights at the University in Erlangen, Germany. Previously, he was Special Rapporteur on Religious Freedom on behalf of the United Nations.
Crisis has consequences
The corona crisis has quite a few consequences for freedom of religion, says the German lawyer. "To begin with, of course, very practically: many services could not take place. Also, during Christmas and Easter."
In the first wave of the pandemic, spring 2020, an uncle of Bielefeldt died. Then he saw how terrible a funeral is without people. "Everything was very impersonal. The last thing his wife saw of him was a digital photo from the hospital. This touches humanity very deeply. In the media, you saw images of coffins with corona victims on military trucks in Bergamo, Italy. And of stacked coffins in Brazil."
From a medical point of view, Bielefeldt understands all this. But in his opinion, this cannot be the last. "Dealing with the dead is central in all religions. You cannot approach that in a purely technical way. Fortunately, over the months, we have become more flexible."
Bielefeldt is also shocked by the anti-Semitism he sees during this pandemic. "It is strongly linked to the conspiracy theories around the virus. I see great danger for our society in this. Anti-Semitism is a threat to religious freedom."
Freedom is the rule; restriction the exception
If there are good reasons for restrictions on church services, Bielefeldt does not call this a violation of the fundamental right. "As long as the point is that freedom is the rule, and restriction is the exception. People do not have to apologise if they make use of this freedom. You cannot reverse rule and exception. That happens when politicians say: "You can watch the live stream, can't you? Why do you insist on going to church?" By saying that, you turn things upside down. Faith is not only a matter of personal conviction. I am also free to live it out with others."
If the government does impose restrictions on a church, Bielefeld has three conditions: necessity, reasonableness and proportionality. "It must be clear that the goal cannot be achieved in any other way. As long as you can limit the number of visitors, you don't have to close the church."
Bielefeldt refers to rulings by judges in many countries on whether or not to hold church services during the pandemic. "They don't all come to the same conclusion. But you do see that judges see public health as a reason to restrict religious freedom."
It strikes the German that there are quite a few differences between churches. "In Germany, the two big churches (the Protestant and the Roman Catholic, EvV) have been very generous in joining. The free churches have done so less willingly. You can see these differences in every country. In Germany, some services are even banned."
We have now been living with restrictions for over a year. What effect has that had?
"Clearly, that we are getting used to it. And that's a real danger to religious freedom. Public health is good. That is also allowed to lead to restrictions. But public health should not be isolated from the whole person and his convictions.
When I listen to what is said, I often hear that everything other than health is actually a luxury. I oppose that shift. Religious freedom is an inalienable right. In other words, it is a right that is part of being human. It is not something you can negotiate. Nor can it be pushed aside as if it were a privilege for better times. On the contrary, freedom of religion was developed precisely in difficult times and therefore meant for crises."
How long this situation can last, Bielefeldt does not know. "The hope is that the vaccination is successful. But others doubt it and think that the mutations will ensure that we have to deal with this situation permanently. The latter is, of course, dangerous for freedom of religion."
Protestants are firmly focused on the Word and can survive with a live stream. How is that for others?
"As a Roman Catholic, I also feel connected to the sacred space. Even outside the services, we experience the church as a sacred place. In addition, of course, you cannot partake in the Eucharist and receive the wafer in an online service. In this way, you can see differences. For a Muslim, an iftar meal during Ramadan is significant. That can't happen now either."
Do governments have enough understanding of the desires of churches in this crisis?
"That varies a bit. In Germany, the Foreign Minister is entirely indifferent to religious freedom, while the Minister of Development Cooperation is firmly attached to it. This diversity will not be different in the Dutch or any other government.
In Europe, we must be careful with the idea that religion in modern society is a private matter and should have no role in public life. Of course, the secular government is not religious. But it must guarantee space for being religious. Therefore, secularity is not an end in itself –to make everyone unreligious– but a means to an end: to give everyone the freedom to live according to their convictions.
In Europe, of course, you don't see oppression like in Iran. But you do see a marginalisation of religion due to a wrong understanding of secularity."
Hate speech about boys' circumcision
Bielefeldt experienced this himself in 2012 during the German debate on boys' circumcision. At the time, the government had to quickly enact an emergency law to prevent circumcision from becoming a criminal offence through a judge's ruling. "I stood up for the right of Jews and Muslims to be circumcised. But for weeks, I received very hateful reactions. Those people think that understanding religion does not fit in with secularism."
The Dutch Council of State (Raad van State) advised the government recently to facilitate a local mayor to close a church in case of a health emergency. How do you see that?
"That depends entirely on the interpretation. After all, freedom of religion is not an absolute right. Therefore, restrictions are possible. But at the same time, all restrictions are illegal unless the necessity has been proven.
Churches have a responsibility to society, so they must listen to the government. But they must also make clear that the burden of proof lies with the mayor. And as long as the mayor cannot prove the necessity of the measure, the closure will not take place."
Church and state clash over restrictions
The European Centre for Law and Justice (ECLJ) sees three groups of countries regarding state and church during the corona pandemic. According to the ECLJ, the Netherlands is in the most flexible group. Churches must consider basic guidelines (such as registering visitors, keeping a distance and hand hygiene). There is only an advice on numbers.
Other countries in this category are Sweden, Hungary and Spain. Many American states also fall into this group.
In the middle group, there are no recommendations but regulations. This group includes Austria, Germany and Slovenia, as well as some American states.
In the strictest group, the government would prefer to ban religious gatherings and has done so from time to time. This group includes France, Belgium, Great Britain and Ireland.
Lawsuits
In the past year, various (legal) cases have played around the question of whether churches are allowed to hold services or not. A selection:
Ireland, April 2021: Health Minister Stephan Donnelly bans all church services to stop the spread of the coronavirus. The Roman Catholic bishops consider legal advice. Evangelical preacher John Ahern of All Nations Church meets with his congregation in a park in Dublin.
Canada, April 2021: The Grace Life Church (GLC) in Edmonton is litigating over the fence that the authorities have put around its church building. The fence is there because the municipality does not comply with corona restrictions. The province of Alberta wants the church to use a maximum of 15 per cent of the seats. The church council does not accept that limit. Earlier this year, the congregation's pastor, James Coates, spent five weeks in jail for leading services in a packed church.
Brazil, April 2021: The Supreme Court decides that regional governments can temporarily close churches. "If we want to pray, we pray at home," said the president of the court. That ruling comes a week after the same court declared that religious meetings –within the coronation measures– during the Easter weekend are essential. The corona restrictions are particularly sensitive among Evangelicals in Brazil.
Berlin, April 2021: A judge in the German state of Berlin rules that banning church services during the pandemic is not a violation of religious freedom. A Roman Catholic parish had demanded the ban to be lifted. According to the judge, the intervention is necessary to "protect both the lives of churchgoers and the entire population". The judge points out that believers can, however, follow services digitally.
Scotland, March 2021: The judge vindicates 27 church leaders after the Scottish government decided to ban churches from opening. According to the judge, this decision goes beyond the government's legal powers. The judge stressed that restrictions during meetings could be lawful. The Scottish government found closure necessary to block the rise of the so-called Kentish variant of the virus.
Belgium, December 2020: The justice department of the Council of State in Belgium overturns the ban on worship services. The request came from Jewish organisations. They complained that they had to have ten men for an official service, which was not possible under the government's corona measures.
France, November 2020: The interim judge of the French Council of State rules that the 30-strong maximum in church services is "unnecessary, disproportionate and discriminatory" and constitutes an "unlawful attack" on the freedom of worship. The Roman Catholic bishops had complained that freedom of worship was not guaranteed in the same way as "freedom of trade and industry."
US, November 2020: The US Supreme Court ruled in favour of a Roman Catholic and Jewish congregation against New York State. Governor Andrew Cuomo had imposed a limit of ten visitors on churches in certain areas. According to the judges, "the Constitution cannot be forgotten even during the pandemic."
USA, November 2020: Grace Community Church of well-known pastor John MacArthur in California may still hold services, health authorities rule. In September, a judge ruled that the church had to go into lockdown. Visitors also had to keep their distance and wear a mouth mask during open-air services. MacArthur calls wearing a mouth mask part of "secular orthodoxy."
England, July 2020: The London court rejects a raft of demands to roll back restrictions on civil liberties. The only thing the court admits is that the government does not decide whether or not religious gatherings are allowed. It calls that an "unwarranted intrusion into the freedom of religion."
This article was published previously in the Dutch Reformatorisch Dagblad on April 30th 2021.