Russian church Ukraine asks Zelensky for help
17-05-2022
Eastern Europe
CNE.news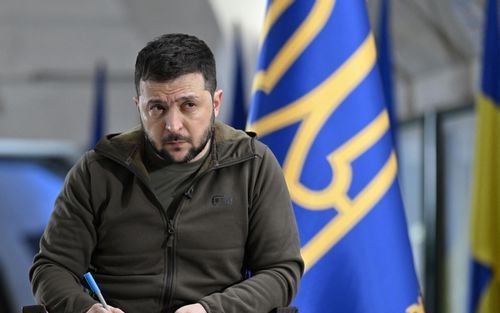 Archbishops of the Ukrainian Orthodox Church (UOC) under the Moscow Patriarchate (MP) appealed to President Zelensky to take measures against the incitement of hate toward the Russian Orthodox Church.
At a meeting of the Holy Synod, the archbishops expressed their concern about the growing incidence of inciting hatred and enmity on religious grounds in Ukraine. For example, anti-church bills have been submitted to the Verkhovna Rada of Ukraine, and local governments in the regions are trying to illegally ban or restrict the activities of religious communities of the Ukrainian Orthodox Church (MP).
As the Russian press agency Interfax reported, the city council of Kagarlyk, Kyiv region, has decided to suspend the activities of the Ukrainian Orthodox Church (MP). Meanwhile, the authorities of the Rivne region forcibly transferred the parishes of the Ukrainian Orthodox Church (MP) to the Ukrainian Church under Kyiv leadership. This reports the communications department of the Moscow Patriarchate.
According to members of the Synod, these incidents are a result of the "erroneous religious policy of Poroshenko presidency and the destructive ideology of the so-called Orthodox Church of Ukraine." This reports the Union of Orthodox Journalists.
The Synod appealed to President of Ukraine Vladimir Zelensky to halt religious hatred in Ukrainian society and take measures against lawless actions against the Ukrainian Orthodox Church (MP). They also appealed to Irina Venediktova, the Prosecutor General of Ukraine, to investigate illegal actions by the authorities against the Church.
Authority
That these actions are illegal seems to be confirmed by the mayor of Konotop. Artem Semenikhin admitted that the ban of the UOC (MP) in Konotop initiated by him was beyond his authority. "The fact is this order is somewhere beyond my authority. But I was guided by the fact that in the oath of office, it was clearly written that I was obliged to comply with the Constitution, which says that the highest value is human life and that no one should violate the borders of Ukraine, the territorial integrity. We are now seeing what is happening", the Konotop mayor said, without explaining what the UOC communities have to do with all this. This reports the Ukrainian news portal Glavkom.
When asked by a journalist how his order is fulfilled if it is unlawful, Semenikhin said that he intends to instruct the police and the territorial defence forces "to seal the churches until the community makes a decision".
Strange
The animosity toward the UOC (MP) could come across as strange. On the website of the UOC (MP), the Church is publicly taking a stance against Russia by helping Ukrainian soldiers with food and supplies.
The Holy Synod adopted a statement on Thursday, condemning the aggression of the Russian Federation against Ukraine. It further emphasised that war is a great sin.