Weekly column from Ukraine: Watch your tongue in wartime
22-07-2022
Christian Life

Oleksii Blyzniuk, CNE.news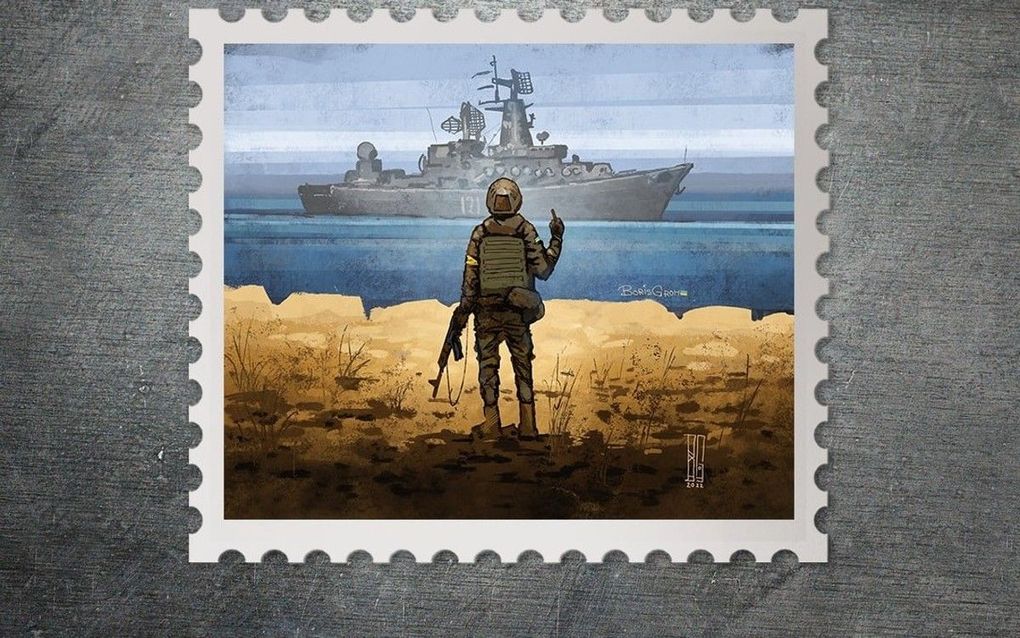 I would like to focus on a specific topic in this article. It is one interesting event that happened in the first days of the war in Ukraine but later had, and continues to have, a serious impact on the entire Ukrainian society, including Christians.
The event occurred during a Russian warship's attack on Serpent Island amidst the Russian invasion of Ukraine. A participant in the event was the flagship of the Russian Black Sea Fleet missile cruiser Moskva. Having sailed to the island, the crew of the Russian ship put forward a demand to surrender, to which one of the militaries, Ukrainian border guard Roman Valentinovich Gribov, replied with the phrase - "Russian warship, go f**k yourself!" After that, the military border guards were captured and later returned home as a result of exchange for Russian captured invaders.
Olexii Blyzniuk (1986) teaches practical theology at the Evangelical Reformed Seminary of Ukraine (ERSU) in Kyiv.
He received both a Masters from the ERSU and the Reformed Theological University in Kampen, the Netherlands.
Apart from theology, he likes motorcycles.
The Ukrainian society perceived the obscene answer uttered by the Ukrainian border guards on Serpent Island as a call for rallying. The phrase was picked up by supporters of Ukraine around the world so that it became one of the symbols of the fight against the Russian occupiers. Very soon, it became a recognisable Internet meme not only in Ukraine but also abroad, as the event's coverage also hit the pages of many major world publications, such as Reuters, Guardian, Politico, and Daily Mail. The use of this phrase turned into a kind of flash mob; thus, it could be heard not only by ordinary people but also on stage by world-class stars and even in the speech of one of the US Republican senators. The obscene phrase became public property, supplemented by the image of a military soldier showing the middle finger to a sinking Russian ship. It began to be used almost everywhere: on billboards, signs in shops, T-shirts, and stickers on cars. It is this obscene phrase that I see on my bank card on my phone every time I make a payment through Google Pay. And a soldier showing the middle finger to a sinking ship was even honoured to be depicted on a state postage stamp.
Those who consider themselves religious and yet do not keep a tight rein on their tongues deceive themselves, and their religion is worthless (Jas. 1:26 NIV)
Such canonisation of an obscene meme could not pass by the Ukrainian Christians. The more popular the meme became, the stronger the need to speak out on this subject in Christian circles grew. Perhaps the peak point was the video of one of the most viewed Christian bloggers in the country, Oleg Bokov, in which he briefly addressed to President Zelensky, politely condemning the canonisation of obscene language in our society, and stressed that our common goal is not only to defeat the aggressor but also to continue building a state with high moral values.
In his video, Oleg expressed the opinion of many Christians already tired of this meme. But for me, the reaction of many of my Christian friends and even ministers to this video was quite unexpected. In endless posts and skirmishes on Facebook, many criticised Bokov and directly encouraged the use of an obscene meme, explaining that this meme is an important rallying factor for society, which helps people vent their indignation. Besides, now is not the right time to find fault with words.
Let me comment on this. Indeed, we live in a challenging time when each opportunity to bring society together should not be ignored. But, as Oleg Bokov correctly noted, our goal is not just victory at any cost but also the further cultivation of high moral values among our fellow citizens and the young generation. Of course, as Christians, we cannot impose our narratives on people who do not share Christian values. But the same rule also works in the opposite direction - no one can impose unbiblical norms on me, which are unacceptable to me as a Christian.
The word of God is clear enough on this point. Christ calls us to strive for perfection and holiness in the image of the Heavenly Father (Matt. 5:48, same thought in Peter in 1 Peter 1:15). The Apostle Paul calls on the Christians of the Ephesian church - "to put on the new self, created to be like God in true righteousness and holiness… Do not let any unwholesome talk come out of your mouths, but only what helps build others up according to their needs, that it may benefit those who listen (Eph. 4:24b, 29 NIV)". And the Apostle James makes an even more categorical statement - "Those who consider themselves religious and yet do not keep a tight rein on their tongues deceive themselves, and their religion is worthless (Jas. 1:26 NIV)". Therefore, for myself, from the point of view of the Christian worldview, I can in no way justify the use of this obscene meme and consider it harmful.
Yes, Christians are also not perfect and do not always keep their mouths right. To my shame, I must admit that hymns of glorification and psalms of praise do not always fly from my lips when I find myself in an unexpected extreme situation. But this is by no means the norm for a Christian. The Word of God gives us a clear direction in which we must move. Therefore, of course, we can and should admire the courage of our warriors. Still, we should not adopt habits and sayings that discredit us as Christians.
Thank God there are enough sensible Christians and non-Christians in Ukrainian society who, despite low-grade moral tendencies in society, focus more on cultural artefacts that deserve support and respect. Thank God the war has also given rise to worthy slogans, songs, and images that help our people express both the pain of loss and the hope of victory over the invaders. And memes very often remain just memes; over time, they are forgotten and sent to the trash of history.