Giorgia Meloni: woman, mother and Christian
26-09-2022
Southern Europe
Aart Heering, RD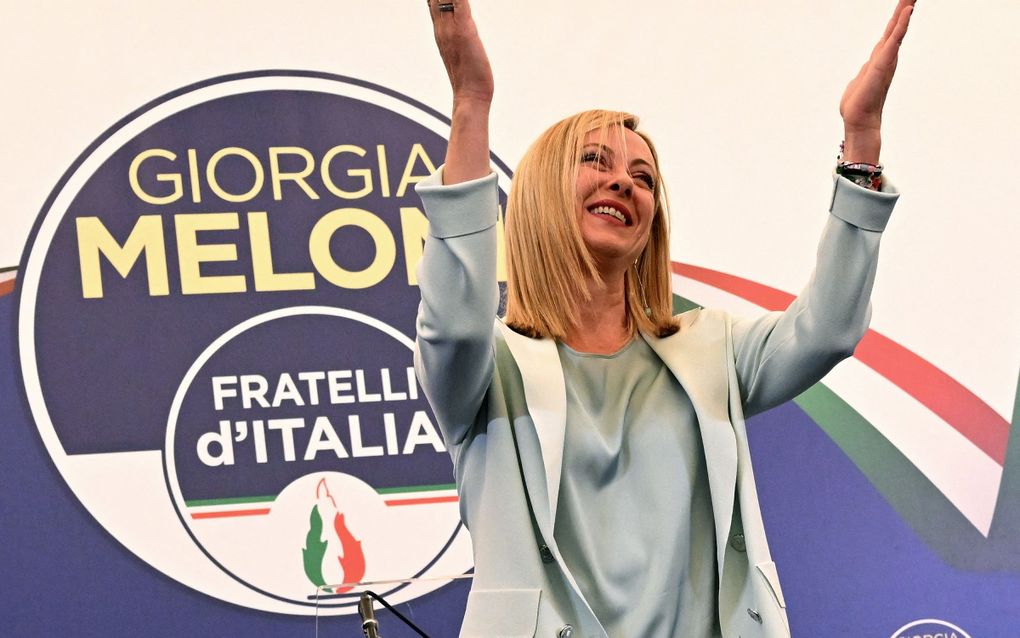 Giorgia Meloni makes no secret that she is eager to go down in history as Italy's first female prime minister under the slogan "Dio, patria, famiglia" (God, fatherland, family).
"If we win, Mattarella will have to appoint me," she argued last month. Constitutionally, that was a miscalculation. The president is free to choose the coalition builder he deems most suitable, which does not necessarily have to be the leader of the largest party. But with an election result, with the right-wing coalition she led winning around 60 per cent of the seats, it will be hard to get past her.
Meloni's party Fratelli d'Italia (FdI), which did not get beyond 4 per cent of the votes in the previous elections, received the vote of more than a quarter of Italian voters on Sunday. That gave the party the central position in Italian politics in one swoop.
The success is largely thanks to 45-year-old Meloni, who is certainly no stranger to her country. Already 30 years ago, she became active within the then right-wing political youth movement Fronte della Gioventù (Youth Front). At 29, she became a member of parliament and two years later joined the then Berlusconi government as the youth minister.
Knowledgeable
She has led the FdI since 2014 and was elected president of the European Conservatives and Reformists in 2020. As a politician, she is a skilled debater. In addition to her undeniable charisma, she possesses comprehensive dossier and language skills. The latter came in handy during the recent campaign when she was able to address critical foreign media directly in English, French and Spanish.
Her success is also linked to the decline of her coalition partner Matteo Salvini. The 34 per cent Salvini's Lega achieved in the 2019 European elections is in stark contrast to Sunday's poor 8.9 per cent.
As such, he has made a lacklustre impression in recent years. During the Covid-19 crisis, he alternately supported supporters and opponents of vaccination. He voiced opposition to the Draghi government that included his own Lega. And only last week, he distanced himself from Vladimir Putin.
On the other hand, Meloni broadly endorsed vaccination policies and favours (arms) support for Ukraine. At the same time, FdI was the only serious opposition party to the Draghi government. Thanks partly to Meloni's clear stance, supporters of the Lega defected en masse to FdI.
Standing ovation
Meloni's coronation as a new idol of the traditionalist right can be dated to 19 October 2019. At a mass meeting in Rome, the newly formed right-wing coalition of Lega, FdI and Berlusconi's Forza Italia presented itself. After unoriginal speeches by Berlusconi and Salvini, it was Meloni's turn. With her fluttering blonde mane and wide-open eyes, she roared to the crowd: "I am Giorgia! I am a woman! I am a mother! I am a Christian!" In short, her credo in four words.
The audience responded with a standing ovation, and the next day a rap version of her speech circulated on the internet. It was meant to be ironic but actually increased her popularity, especially among young people.
This article was translated by CNE.news and published by Dutch daily Reformatorisch Dagblad on September 26