EKD gives the stage to climate activists
16-11-2022
Central Europe

CNE.news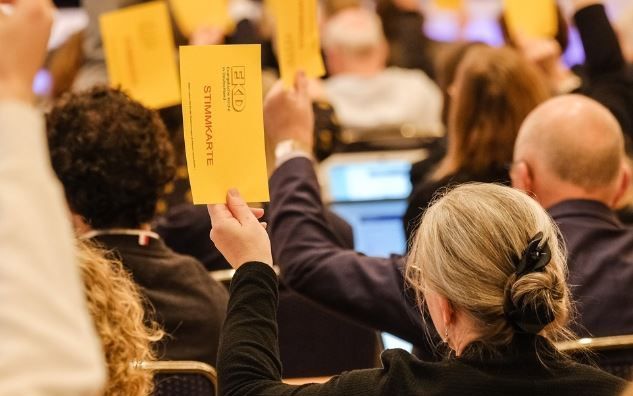 The Evangelical Church in Germany (EKD) seeks a dialogue with climate activists. That causes a lot of protests from politicians and clergy.
People put their physical integrity, their professional and family future and their everyday life at risk "because all other forms of protest have been exhausted," said the representative of the climate movement, which causes criticism with road blockades and food attacks on works of art. People resort to these forms of protest because warning voices continue to be ignored and "because we carry confidence and charity in our hearts".
The activist was given the podium for around 15 minutes to present her motives and demands. Van Baalen ended her speech with the sentence: "Thank you for showing your solidarity." A large part of the delegates of the Church Parliament answered her with standing applause.
Synod President Anna-Nicole Heinrich then called on politicians to follow the example of the Church and also to enter into dialogue with the climate activists of the "last generation". The movement should not be placed in a criminal corner where it simply does not belong, said 26-year-old Heinrich to journalists.
Legitimate
However, not everyone agrees with the ideas of Heinrich. Alexander Dobrindt, head of the CSU parliamentary group in the German Bundestag, has "absolutely no understanding" for letting climate activists speak at the synod. "I understand that churches are always talking to everyone. But to give the impression that this protest can be tolerated is misunderstood leniency", Dobrindt told Mediengruppe Bayern.
CDU-polician and committed Protestant Elisabeth Motschmann has even demanded the resignation of the president of the synod. According to Motschmann, Heinrich abused her position as a church leader in supporting the protest group. On the synod, Heinrich told journalists also that street blockades were a legitimate means of civil resistance. This reports the Christian German press agency IDEA.
German Pietists, however, do not think a resignation is wishful. Pastor Steffen Kern, president of the Evangelical Gnadauer community association, thinks that as a church, "we should talk to as many people as possible and perceive fears". Although Kern rejects full solidarity with the climate activists, calls for resignations are in his eyes "entirely absurd and out of place".
From within the EKD, there is also criticims for the decision to let the activist speak. Thomas Rachel, has warned his church against legitimizing the actions of the "last generation" climate activists. "The church can create space for different opinions," said Rachel on Thursday according to PRO Magazine. "But the EKD must not legitimize road blockades by the 'last generation'."
Prison
The regional bishop of the Evangelical Lutheran Church of Saxony, Tobias Bilz, appealed for understanding for the activities of the climate group. "I perceive that this comes from an existential concern", he said according to Idea. "At least young people have the courage to reckon with going to prison for what they do."