Glasgow Climate Summit: the Christian experience
05-11-2021
European Union
Michiel Kerpel, RD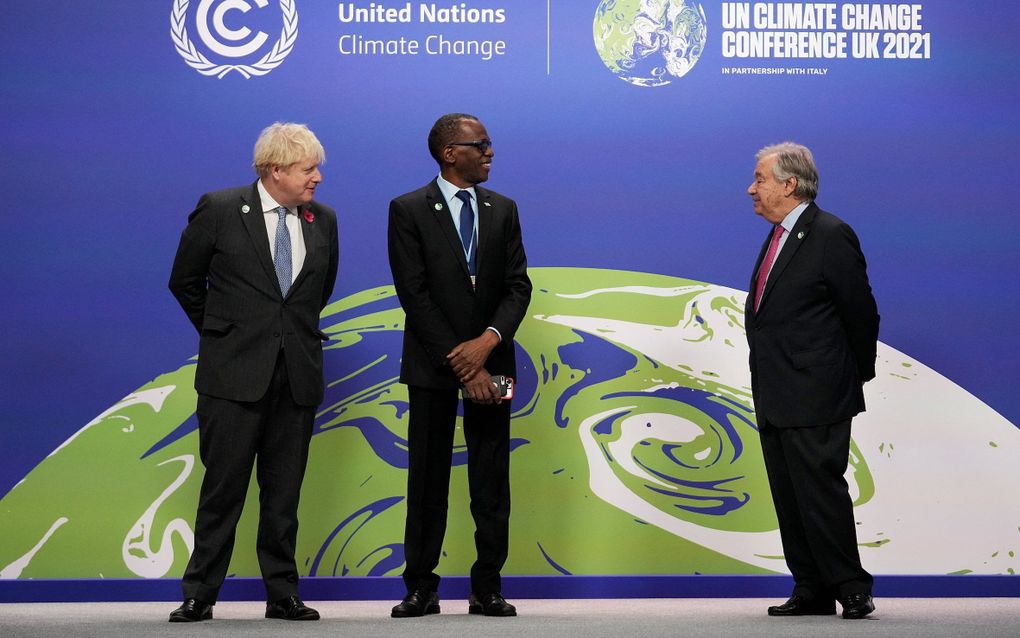 The Scottish city of Glasgow was almost flooded with world leaders this week to tackle the climate crisis. How do UK Christians view this summit and climate change?
"Climate change is the best opportunity to witness Christ"
Rachel Mander recently walked almost 250 kilometres in the approximately 2,000-kilometre climate pilgrimage from southern Cornwall to Glasgow. She did this to stand up as a Christian for her distant neighbours.
The journey was an extraordinary experience, says Mander. "We walked with about eighty to a hundred people and visited the churches we came across along the way. I found out that such a pilgrimage is significant. Because in the meantime, we talked with each other about what faith means to us, also concerning climate change. We also prayed a lot while walking."
According to Mander, fighting climate change is biblical for several reasons. "First of all, God cares about creation; you can see that throughout the Bible. God not only cares for people but for all creatures. It also says in the book of Colossians that Jesus redeemed all creation."
According to the 24-year-old British native, tackling climate change is a fundamental part of the Gospel. "It is the embodiment of the commandment to love your neighbour. We are called to radical love and justice. Climate change, meanwhile, is affecting the poorest, who have contributed the least to climate change and are also least able to adapt. Hundreds of millions more will be pushed into poverty by climate change."
Mander does not see a contradiction with the Gospel proclamation. "We are striving for God's Kingdom on earth. If we are committed to God's justice, it attracts people and provides opportunities to tell about Jesus and His grace and goodness."
And so: "A church united in the fight against climate change is perhaps the most brilliant opportunity we have in this generation to be a witness of Christ."
"God's creation plays an apologetic role in the world"
It is vital that world leaders take climate change seriously, says Rev Martin Paterson. "At the same time, there are other issues that deserve their attention."
With so many world leaders in 'his' city, the Free Church of Scotland minister is reminded of Paul's call to pray for the government. "This prayer then has a particular purpose; that the mission would proceed unhindered to all the peoples of the world."
At the same time, pastor Paterson believes it is important for Christians to develop a biblical view of creation care and climate change. He, therefore, recently wrote an article on his denomination's website. Paterson sees opportunities to link COP26 to evangelistic work. According to him, the event offers opportunities to engage people in conversation about the value of creation and then also to point to the Creator and Saviour of the world.
According to Pastor Paterson, there are more reasons besides stewardship to take good care of God's creation. He points to Psalm 19. "Creation is a voice that reveals God's existence as Creator. Creation thus fulfils an apologetic role in a secularised world." He quotes words from Dr Jamie Grant, a university lecturer in Bible studies. "Our desire should be to make that voice (of creation, MK) as clear as possible."
Climate change also has everything to do with charity, explains the Scottish pastor. According to him, there is a "luxury of ignorance" in the West because climate change does not affect people directly. In other parts of the world, it does. "In the 21st century, the commandment of loving your neighbour holds up a mirror to us when it comes to excessive consumption and our global footprint. Shouldn't we be examining our own consumption patterns?"
Finally, Paterson likes to put the Glasgow climate summit in the perspective of man's limitations. "No political leader or activist can free creation from decay. That is something reserved for God; see Romans 8. And so, we must embrace the wisdom of Psalm 118: it is better to take refuge in God than to put our trust in men and princes."
"People fill the emptiness without God with climate care"
Because people no longer believe in God, they need to fill that void. According to Rev. William Macleod, this is true for many who attend the climate summit.
According to the pastor of the Free Church of Scotland (Continuing), it seems as if the climate has become the new religion. "There is a kind of worship of Mother Earth. People talk about this subject with religious fervour."
He sees that there are 'prophets', like David Attenborough, and 'child saints', like Greta Thunberg. He refers to the thousands of young activists who came to Glasgow to walk. "They were doing a kind of spiritual pilgrimage."
Without God, the future depends entirely on man, Macleod points out. "Then there is no one to rely on and no one to whom we can pray. It is understandable then that there is great fear about the climate."
He calls on people to have faith in Almighty God. "We must trust in His covenant of grace that He has made with man. Our heavenly Father takes care of us."
The Scottish preacher is critical of activists who shout that the world will end. "Some say already in ten years. Of course, the world could end before that. Climate change will not bring about the end of the world, but it will if God intends it."
He refers to 1 Thessalonians 4,16: "There it is written that the Lord Jesus will come down from heaven with the voice of an archangel. Then the universe will surely burn, as Peter says. Out of the lake of fire will come new heavens and a new earth."
Christians need not worry about the future, said the Glasgow pastor. "God is the ruler of the world. He created the earth, did not abandon it, and He continues to care for it. He says in Matthew 6: "Be not anxious for your life, what you shall eat and what you shall drink, nor for your body, wherewith ye shall be clothed. (..) Behold the birds of the air, they neither sow nor reap nor gather into barns, and yet your heavenly Father feeds them; do you not greatly exceed them?"
At the same time, Macleod believes that everyone –including Christians– should be cautious about the use of fossil fuels. "Many scientists are certain that the burning of fossil fuels affects climate change. We must take into account their specialist knowledge."
This is a translation of an article published in the Dutch Reformatorisch Dagblad.