What is Putin's plan with the Ukrainian orphans?
24-02-2023
Eastern Europe
René Zeeman, RD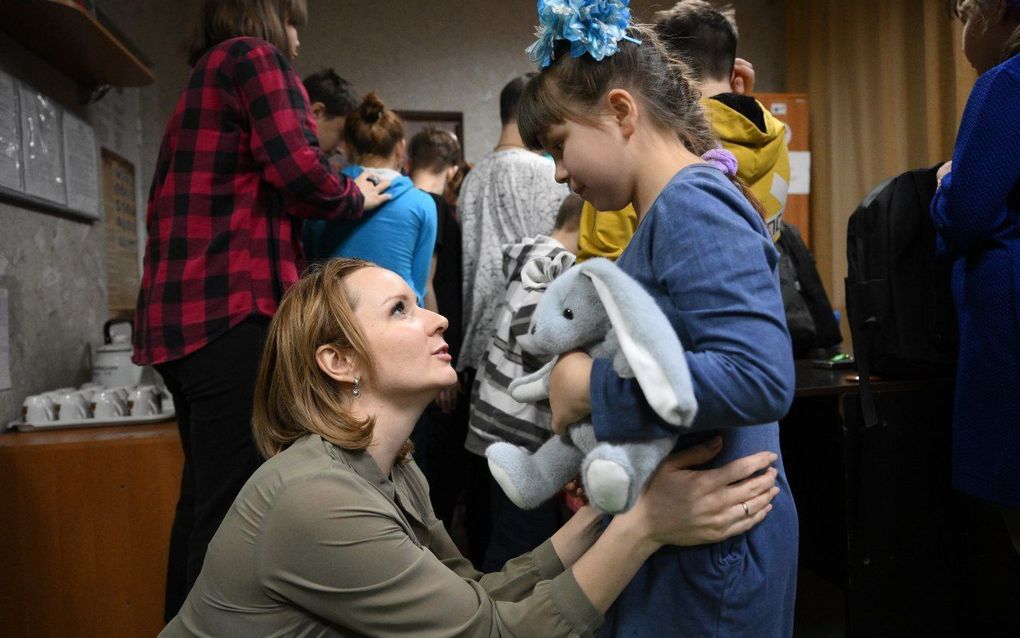 The Kremlin has dragged thousands of Ukrainian children to re-education camps in Russia. At least 6,000 youngsters are involved, according to a US study. The goal? To give them a pro-Russian patriotic upbringing.
Moscow makes no secret of the fact that Ukrainian children have been brought to Russia. In particular, these are children from the annexed regions of Donetsk, Luhansk, Kherson and Zaporizhzhya who have been "rescued". Russia claims that they are all orphans.
Saviour
A children's ombudsman has even been appointed. That is 38-year-old Maria Lvova-Belova, who is acting as a "saviour" of Ukrainian children affected by war violence. The woman comes from a Christian background and is married to a Russian Orthodox priest. The couple has ten children, five of whom are from their marriage. The other five were adopted. Russian media portray Lvova-Belova as "Mother Russia", someone with a big heart.
Last September, the woman was seen on a plane full of children landing in Moscow. "The children lived in orphanages for a long time. Now they went to adoptive families," Lvova-Belova said.
Patriotic Russian education
The report that talks about at least 6,000 Ukrainian children being taken away comes from Yale University. The study, released last week, was financed by the US State Department. The university bases its figures primarily on satellite images. The university has recorded no fewer than 34 camps. In the shelters, the children receive a pro-Russian patriotic education with militaristic traits. Ukraine speaks of indoctrination and fears that the children will eventually be used in the war against Ukraine.
The report's authors assume that the actual number of Ukrainian children abducted is significantly higher. Yale researcher Nathaniel Raymond told the media last week that the Russian crackdown clearly violates the Fourth Geneva Convention, which deals with protecting civilians in war. In some cases, it even constitutes "a crime against humanity". The report's drafters demanded access of independent observers to the camps and an end to the Russian adoption of Ukrainian children.
Forced adoption
The internet site Children of War estimates that 16,000 Ukrainian children are abducted. The site is updated daily by Ukraine's commissioner for children's rights, Daria Herasimchuk. "Those 16,000 are only the confirmed cases," she told the Frankfurter Allgemeine Zeitung last week.
Agencies are talking about at least 300,000 abducted minors. Some aid organisations even assume 600,000 cases. If so, these are often abducted children who, in most cases, were taken with their mothers to the occupied Ukrainian territories or to Russia. They, therefore, travel under escort and are often not victims of forced adoption.
Genocide
However, that is the case with the children Children of War registers. They come from orphanages, children's hospitals, and boarding schools, or they are children separated from their parents by the war. For example, there is a case of a boy who was injured in his eye in Mariupol. Ukrainian soldiers took care of him. When the Russian military advanced, the Ukrainians had to surrender. The boy ended up in a filtration camp with his mother, where they were separated. The boy was transferred to a hospital in Donetsk. His grandmother in northern Ukraine heard about her grandson and begged the medical staff not to discharge him. After two months, she was able to collect him.
The boy is an exception. Children of War reports that a total of 126 children have been returned. Ukraine is making every effort to get the children back. But because there are no longer diplomatic relations with Russia, this is difficult. Ukraine calls the abduction of the children genocide. According to Herasimchuk, Russia wants to erase the national identity of Ukrainian children. "There are cases where the children's citizenship has been changed," he said.
Absurd allegations
Russia rejects "the absurd allegations". The children were allegedly taken to safety with their families before the shelling by Ukrainian forces. This was shared by the Russian embassy in the United States late last week in response to the Yale University report. "We are doing everything to keep the underage civilians with their families. If there are none or if they have died, the orphans are placed with relatives."
Moscow does not deny that Ukrainian children are being put up for adoption in Russia. This would be to save the children. As early as last April, Lvova-Belova said 150,000 children had been evacuated from Donetsk and Luhansk. "Adoptive parents offered themselves over the internet. On the other hand, the children asked for a family," Lvova-Belova claimed.
Superpower
What does Russian President Vladimir Putin want to do with the children? Deploy them to the front in due course? The youngsters are a welcome addition to the Russian population anyway. Six months ago, publicist Sonja Margolina wrote in the Neue Zürcher Zeitung that Putin wants "to legitimise Russia's claims as a superpower to boost the population by all means".
With its 41 million population, Ukraine was a giant demographic spoils of war. In this, Putin failed. Margolina: "Now, if necessary, he violently deports Ukrainian children and also elderly people to Russia." This has been going on for a year.
This article was translated by CNE.news and published by the Dutch daily Reformatorisch Dagblad