Turkish voter sees Syrian refugee as an easy scapegoat
12-05-2023
Southern Europe
Leendert de Bruin, RD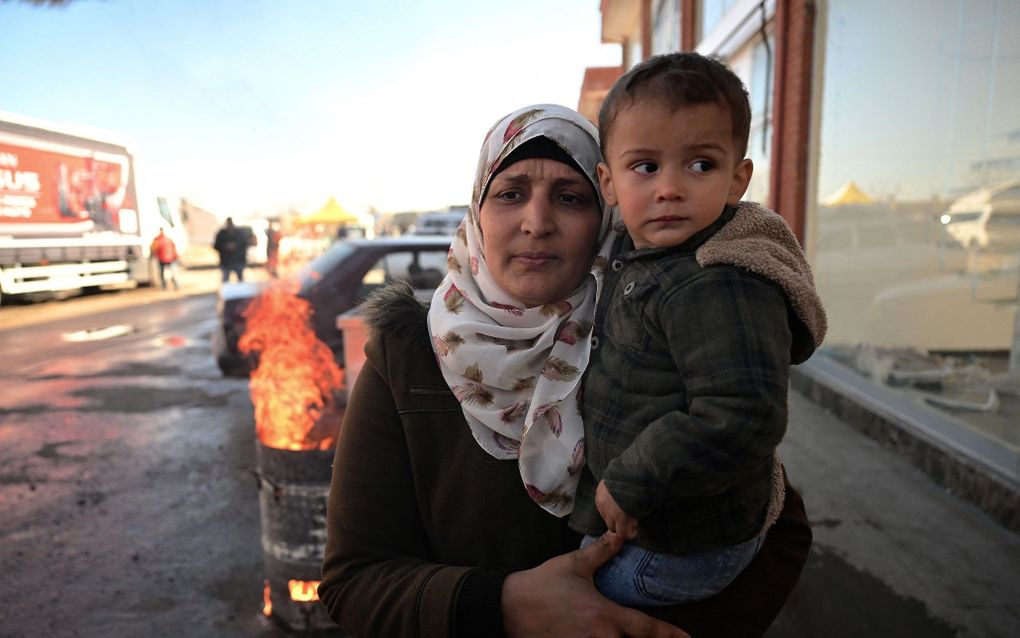 Voters in Turkey are extremely divided. You are either with or against Erdogan. But when it comes to the millions of Syrian refugees hosted in the country, even the biggest rivals agree: Turkish hospitality has ended.
The Turkish election battle plays out in miniature between merchant Rafik's neatly rolled-up carpets. Together with five others, he runs a shop in Istanbul's city centre, within walking distance of the Blue Mosque. "We are divided," Rafik says of the elections taking place on Sunday. Three of the six employees support the current president, Recep Tayyip Erdogan. The other half favours the opposition, led by Kemal Kilicdaroglu.
"Erdogan is a dictator", says Rafik's cousin, who leans against a pile of handmade rugs and does not mince words. "Our freedoms have been curtailed. Criticism of the government is not tolerated. All newspapers now only write positively about Erdogan. And the economy is in a lousy state."
Rafik laughs at his cousin's comments. "You cannot call Erdogan a dictator," he says. "You can drink alcohol here as a Muslim. And I am free to go wherever I want. Is that living under a dictator?" Yet he closes the wide-open door of his shop as soon as the conversation turns to the elections.
Expensive
Regarding the economy, the 37-year-old carpet merchant has to agree with his younger cousin: it is in dire straits under Erdogan's leadership. Although Rafik says he is still well off, he knows many people who have run into financial trouble. With skyrocketing inflation, many Turks cannot make ends meet on current wages. Rents in Istanbul are soaring too.
But can that be blamed on the current president? "I receive clients from all over the world. I hear from everyone that life has become more expensive. The pandemic and the war between Russia and Ukraine are to blame." Erdogan is, therefore, not to blame, he wants to say.
Although the thirtysomething is forgiving to the president, he vehemently rails against refugees in Turkey.
With some 500,000 Syrians, Istanbul hosts the most refugees of any Turkish city. Therein lies the cause of the city's housing problems, Rafik argues. Syrians are also said to be taking jobs. "They get paid much less. And Turks cannot get jobs as a result because they are far too expensive by comparison." If Syrians leave, it will solve many problems.
Scapegoat
Rafik's sentiments are widely shared in Turkish society. Polls show that over 80 per cent of Turks believe there is no place for Syrians anymore. With that, resistance to refugees transcends any political colour, explains researcher Didem Danis. She shares her findings at a coffee shop in Besiktas, a district of Istanbul. There, she is a migration expert at Galatasaray University.
"The current situation is frightening for many Turks. Life is getting tougher; costs are rising. This is not the refugees' fault, but in the perspective of many Turks, it is," she explains. "It is not easy to criticise the government, so they see in refugees an easy scapegoat. Whereas the government's economic policies are the problem."
Over the past decade, civil war and Islamic State have caused a sharp increase in inflows from Syria. While in 2014, the officially registered number of Syrians in Turkey was 600,000, it has now risen to 3.5 million. On top of that, there are at least 1 million more unregistered Syrians. "Erdogan's AK Party misjudged thus considerably when it opened the borders," says Danis. "The idea was that many of them would only stay temporarily. Meanwhile, the Syrian presence has become permanent."
Unease
What to do with this group of refugees is, therefore, the most important election issue after the economic situation. Political parties are trying to capitalise on the public's sense of unease. The Erdoğan government can count on criticism for its policies in recent years. "The opposition is using the refugee issue to win voters," observes researcher Danis.
Ümit Özdağ's ultra-nationalist Victory Party even floats on that one issue. Özdağ is not opposed to some controversy. Last year, the party founded in 2021 shared a video of an Istanbul in 2043 where a Syrian-led party is in power and Arabic is the official language. If it were up to the Victory Party, all Syrians in Turkey would be expelled without pardon.
Özdağ's party may have the support of only one per cent of voters in the polls, but this kind of anti-refugee policy is widely propagated. For instance, Erdogan's primary challenger, Kilicdaroglu, promises that Turkey's refugees will return to Syria within two years of him becoming president.
Unlike Özdağ, Kilicdaroglu says he does want to do so in a civilised way. To that end, he wants to negotiate with the government in Damascus. The presidential candidate previously shared ambitious plans to rebuild Syria's roads, bridges and schools. "So that they can return to their homeland with peace of mind," he said.
President Erdogan sees himself as forced by the opposition to adopt stricter policies. "This has changed the attitude of the Erdogan government. It is expelling more people to show that it is a strong government," Danis observes. The president takes an ambivalent stance in this regard. On the one hand, he is working on a return scheme for one million Syrians. On the other hand, he maintains he will never "expel" Syrians from Turkey. "Our door is wide open," he says.
The question is whether this will enable the president to convince voters. In the polls, Erdogan and Kilicdaroglu are going neck-and-neck. According to Danis, some 35 per cent of the population still holds Erdogan in their hands. "But I don't expect him to convince enough other voters to get to the required 50 per cent," she says.
Carpet dealer Rafik is also not yet sure whether his president will make it. He says it remains to be seen whether voters will stomach Erdogan any longer. The Turk uses the example of a carpet that has been on the floor for 40 years. "At some point, you get tired of that. That's how it is for many people with Erdogan too."
"Many Syrians fear what the elections will bring"
With the elections, an exciting time has arrived for the millions of Syrians in Turkey. Election rhetoric or not, the candidates' promise to deport refugees makes many Syrians fearful.
When Owis Akkad fled to Turkey in 2014, he and his compatriots could still count on much understanding from the Turkish population. "That was special. They tried to help us as much as possible. We got help in the search for rental accommodation. And if we bought something in a shop, we regularly got a discount," says the young Syrian, who fled his homeland after friends of his lost their lives in the Assad regime's notorious prisons.
Things are different now, though, he says almost in a whisper in a teahouse on the outskirts of Istanbul's Fatih district. The many Arabic inscriptions above shops indicate that many Syrians have found shelter here. "We are now seen as a threat to national security. There are warnings of a demographic upheaval with Syrians gaining the upper hand. And if a Syrian commits a mistake, it is magnified enormously."
With the increase in the number of Syrians and the deteriorating economic situation in Turkey, anti-migrant sentiment also increased. "This makes life difficult for Syrians in Turkey," said Didem Danis. She is a migration expert at Galatasaray University in Istanbul. "Discrimination and exclusion are increasing."
In some extreme cases of migrant hatred, Syrians even became victims of deadly violence. Although these are exceptions, Danis says the general anti-Syrian climate in Turkish society makes this possible. She also knows of a teacher who made Turkish children sit next to a Syrian classmate as punishment. "Things like that have an impact on someone."
Political parties openly advocate sending Syrians back. The leading opposition candidate, Kemal Kilicdaroglu, promises voters that refugees in Turkey will return to Syria within two years of him becoming president. Most refugees have a status that offers limited protection, making them vulnerable to forced return. "Many Syrians are afraid of what the elections will bring," says Akkad.
Some 200,000 of the nearly 5 million Syrians have become Turkish citizens and have the right to vote. Who will they cast their vote for? Akkad: "Almost every Syrian allowed to vote will choose Erdogan. We love him because he let us in when we had to flee."