Liveblog (closed): Räsänen not guilty, but appeal "likely"
14-11-2023
Northern Europe

CNE.news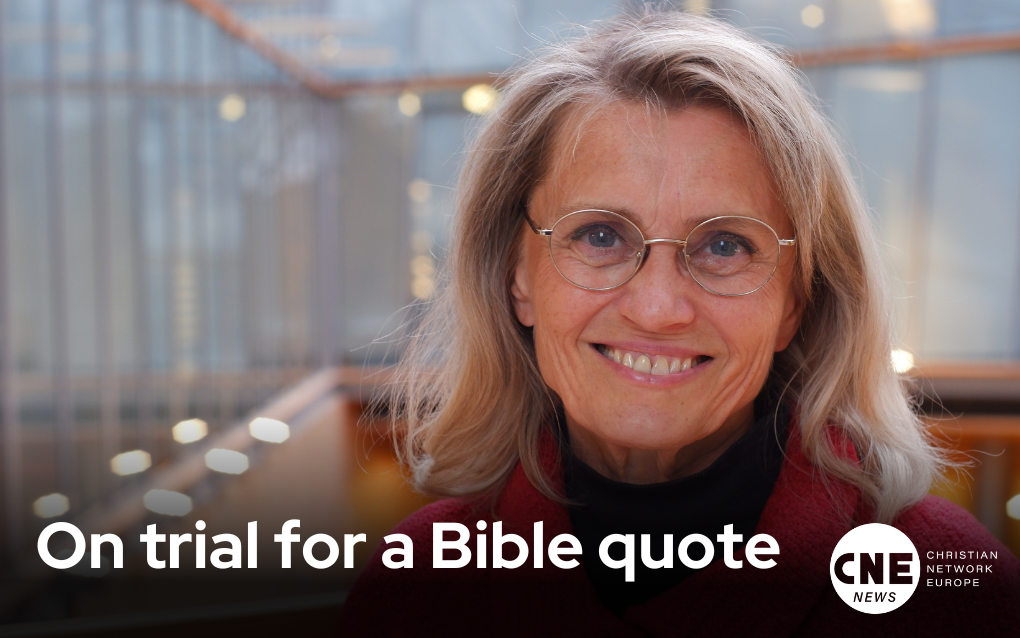 Räsänen and Pohjola "over-joyed"
Mrs Räsänen was "over-joyed with the significant win for free speech", she said Tuesday afternoon at an international press conference.
She warned that the case is not still over. "The basic human right to free speech remains under threat. You don't have to share my Christian faith to see that this freedom is essential."
During the years, she never thought about giving up, she said. "Why would I do that? It was about the Word of God. And my whole family supported me. But there have been difficult moments, for instance, when the prosecutor said that I see other people as inferior. I have never said that, and that is also against my conviction."
The Christian MP regretted that "enormous state resources" have been spent on this case, which has led to nothing yet.
Mrs Räsänen and Bishop Pohjola were informed half an hour before about the result. Pohjola shared this with his family and colleagues. "They were happy that their bishop was not a criminal", he joked.
Appeal likely, although Supreme Court only accepts 6 per cent of cases
The Supreme Court of Finland is very selective in accepting cases, Räsänen's lawyer Matti Sankamo said at an international press conference online on Tuesday afternoon. "The prosecutors have to apply for permission to appeal at the Supreme Court", he said.
He said, "we have to be ready" for an appeal since this is legally possible. "The new prosecutor general is not so "anti-free speech", so we will see."
Sankamo said he had read in the Finnish press that the prosecutor had decided to go for an appeal. "We will see whether she is able to get her office behind that."
The lawyer's guess was that it is "likely" that the Supreme Court would try the case. "There are many legal questions about the relation between criminal issues and religious texts which have not been dealt with by the Court of Appeal. So, my guess is that the Supreme Court will take this case."
Prosecutor "seriously" thinks about appealing
The Finnish broadcaster Yle reports that Anu Mantila, the prosecutor, is "seriously considering" appealing against the decision by the Court of Appeal.
She has time to do that until January 15th, 2024.
The Court of Appeal upheld the earlier decision by the District Court. That said Mrs Räsänen did not discriminate against homosexuals on the basis of their identity, by tweeting a Bible text in which homosexual behaviour is denounced.
Räsänen is "grateful" that she could testify about the Gospel
The years after 2019 were full stress, Räsänen said. But unless everything, she was "grateful" for the opportunity to go through this process. "I have learned a lot, I have been able to defend freedom of expression in different parts of the world and to present the Gospel of God's grace."
The decision is important for the religious freedom "of Bible-believing Christians", she said. And for others as well. "I hope that the decision will encourage everyone to exercise their freedom of expression boldly."
Her convictions have not changed during those years. And she would say the same things now, she answered on questions of the Finnish press on Tuesday morning.
Appeal
Räsänen could not answer the question whether the prosecutor would appeal against this decision. Legally, this is possible at the Finnish Supreme Court. The prosecutor has to decide about this before January 15th, 2024.
The Christian MP has always said, she is ready to defend her freedom, even in the European Court of Human Rights (ECtHR) in Strasbourg.
On the question how she feels about "sexual minorities today", she answered that "they are as valuable as everyone else." Räsänen did not accept discrimination against them. "Yet, I still believe that marriage is between a man and a woman and sex is part of marriage between a man and a woman. We are all sinners and we can be forgiven for our sins because of the work of Jesus Christ on the cross."
Discussing
To all who feel hurt by the debates around her, Räsänen said: "Problematic opinions should be responded to by discussing them."
The media –including social media– have an important role in this. "The media must not censor opinions. Freedom of expression also includes opinions that may be perceived as offensive or disturbing."
She has received much support from Christians in Finland. Homosexuality and gay marriage is a current issue for the Lutheran Church in Finland at the moment. "I addressed a critical question to the bishops of the church in a tweet. Some bishops have expressed to me that they support my freedom of expression."
Dignity
The central claim by the prosecutor was that you cannot seperate the value of a person from his acts. Calling some behaviour wrong was the same as denouncing the person. According to Räsäänen, this is alien to everyday understanding. "Criminals who have received harsh sentences do not lose their dignity."
Räsänen referred in her press conference to a meeting with the Chinese Minister for Religious Affairs, during the years that she herself was a government Minister. That colleague had the same "narrow view" of religious freedom as the prosecutor, she said. "The prosecutor argued in court that everyone can believe what they want, and that the Bible can be quoted, but that the external expression of freedom of expression must be limited. According to the prosecutor, it does not matter whether my statements are true or not, but that they are offensive."
"Core area of religious freedom"
In the earlier court case, the District Court argued that Räsänen's expressions were not based on an intention to discriminate but on her religious beliefs. "Sharing religious texts belongs to the core area of religious freedom," the judge stated in the earlier case. "The Biblical terms 'shame' and 'sin' must be interpreted in their religious context." The appeal court agreed on this unanimously. "Based on the evidence received at the hearing, the court has no reason to assess the case differently than the [District, ed.] court did. There is, therefore, no reason to alter the outcome of the court's judgment."
"This is not only about me, but about thousands of other Christians"
In her press conference, Mrs Räsänen said that this decision by the Court of Appeal is not only about her, but also "about the right of thousands and thousands of other Christians to express their beliefs."
It even goes not only about Christians, but "anyone's freedom of speech", she stated. "I feel that this fight is not in vain – I hope that with this decision others will not have to go through the same ordeal."
Mrs Räsänen is convinced that her statements are in line with "Biblical teaching", and that she stands for this "whatever the consequence. I will not back down from my Biblical convictions."
On 30 March 2022, the Helsinki District Court dismissed all charges against her and issued a judgment of acquittal against both Räsänen and Bishop Juhana Pohjola. He was also charged, because he published Räsänen's pamphlet in 2004. However, the prosecutor decided to appeal the unanimous decision of the district court to the Court of Appeal.
The Helsinki Court of Appeal dealt with the case on 31 August to 1 September 2023.
According to Räsänen, the court case is historic for the freedom of expression and religion. "For the first time in a criminal case, the court has weighed whether teachings linked to the Bible can be displayed and agreed with."
Räsänen: Relieved, happy and grateful
Mrs Räsänen said she feels "relieved, happy and grateful to God" by this decision. The Helsinki Court of Appeal dropped the charges against her; exactly what the District Court did earlier.
At a press conference, the Member of Parliament said she thanked "all those who have supported me in this phase of my life."
Further, she said: "The decision was in line with my expectations. I have never for a moment suspected that I have committed any offence in my writings and statements.
I have been grateful to have been given the opportunity, as a matter of honour, to defend freedom of expression, which is an absolutely fundamental right in a democratic state. I greatly appreciate the fact that the Court, in its decision, recognises the importance of freedom of expression.
When I was elected to Parliament in 1995, I expected a variety of challenges, but I never imagined that one day I would be prosecuted for publishing a Bible verse and expressing ideas based on my Christian convictions.
The investigation in my case, which has lasted more than four years, has involved untruthful accusations, several long police interrogations of more than 13 hours, preparation for court hearings, district court hearings and a hearing in the Court of Appeal, despite the unanimous acquittal by the District Court. All this could easily have been avoided by regretting the writings and abandoning them, which was repeatedly suggested to me. During police questioning, I was asked three times if I would agree to be removed from social media within two weeks."
Räsänen acquitted again
Not guilty, says our correspondent in Helsinki, Danielle Miettinen. The charges against Mrs Räsänen are dropped again. Also the Finnish broadcaster Yle says that.
Press waiting for Räsänen
"An absurd case"
According to Finnish journalist Danielle Miettinen, who covers the Räsänen case, the prosecution took ideological views into the courtroom. "It is a sign of the times we live in. I think it is an absurd case."
Prosecutor demands fine
"For the first time in Finland, the Court of Appeal will have to take a stand on whether quoting the Bible can be a crime", writes the Finnish broadcaster Yle. The prosecutor demands at least a 120-day fine for Räsänen and 60 days for Pohjola. A day fine in Finland is a financial fine based on the income of the sentenced person.
Räsänen previously said that she hoped the prosecutor would not appeal. The Finnish politician is willing to defend her case "if necessary to the European Court".
"Conviction would be devastating for church"
It would be devastating for the Finnish Church if Räsänen and Bishop Pohjola would be convicted, Pohjola told CNE earlier.
Räsänen case explained
What is the Räsänen case about, and why is this so important to Christians worldwide? CNE's Evert van Vlastuin explains.
Start liveblog
At 10 a.m. Helsinki time (CET), the Christian MP Päivi Räsänen will know whether she is guilty of defaming homosexuals or not. Follow updates throughout the day in this liveblog.