"Double the commitment to persecuted Christians"
18-11-2023
Northern Europe
Kjersti Mcelwee, KPK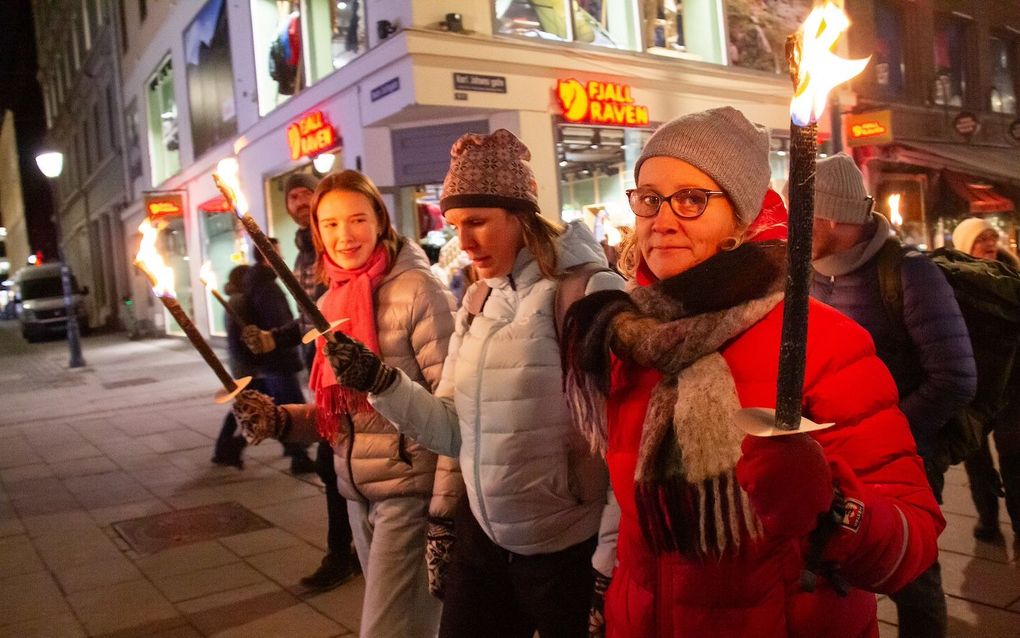 Thousands of Norwegians take part in torchlight processions for persecuted Christians. In Molde, on the west coast of the country, there was a record turnout despite the cold and autumn darkness, a report from the Christian Press Agency shows.
"The persecution of Christians around the world is a forgotten issue that rarely makes the headlines," says Morten Askeland, CEO of Åpne Dører (Open Doors).
Nevertheless, he notes that thousands of Norwegians are taking to the streets with lit torches to draw attention to the widespread persecution of Christians in many parts of the world.
Open Doors International –of which the Norwegian "Åpne Dører" is a part– conducts annual surveys to map persecution. This year, they found that the number of persecuted people totalled 360 million.
Askeland believes that these people are all too rarely remembered in peaceful Norway.
"Not everyone realises that so many people are persecuted for their faith," Sigrun Henjum, a torchlight procession participant in Oslo, tells KPK.
Doubling
It is all the better that the number of people who are getting involved seems to be growing. "There is a clear increase in involvement," says Morten Askeland.
He says that the number of participants in the torchlight processions, which the organisation organises together with Stefanusalliansen, has doubled since before the pandemic. In 2022, they attracted 3,000 participants.
"It is important to raise the issue and draw attention to it, and people in Norway are committed to the religious freedom of persecuted Christians," says Askeland, who emphasises that it is of great importance for all those who are persecuted to create understanding and commitment to the issue in Norwegian society.
Record in Molde
Ålesund and Bergen are the two cities where participation in the torchlight processions has been highest in recent years, but this year Molde also joins the torchlight processions. There was a record turnout a few days ago.
After 50 people took part in the procession in the town of Rosene last year, as many as 230 Molde residents braved the cold and autumn darkness to take part this time.
"It was overwhelming, gratifying and powerful that so many people turned up," says co-organiser Elin Bjerkestrand in Molde to KPK.
Before she joined Open Doors 15-16 years ago, she had little idea of how many people are persecuted for their faith. "It says in the Bible that we should remember those who are in prison as if we were chained together with them. I remember that verse just hit me right in the heart," says Bjerkestrand.
She would have liked to take part in a torchlight procession for both, but this case touches her particularly deeply.
She believes many people were struck by the powerful message of the speaker in Molde, Batyr Nursen, who has herself experienced imprisonment and torture in Turkmenistan.
Among other things, Nursen experienced a prison guard stomping on his mouth while he was tied to the floor. "Never again will these lips tell about Jesus and Christianity", the guard is said to have said. Nevertheless, Nursen is now travelling around to tell others about his faith experiences.
Dependent
Open Doors needs good contacts around the country. "We are completely dependent on local enthusiasts. We provide direction and organisation, but it's up to local committees to choose to do the work," says Morten Askeland.
He reports that the turnout is often just as good in small places as large ones. The smallest place where torchlight parades are being organised this year is the village of Fister.
Askeland honestly admits that last year, as someone with an above-average interest in geography, he had to get out his map to realise that this is in a village in Hjelmeland in Rogaland. Between 600 and 700 people live there.
Enormous impression
He believes that many believers can easily feel powerless in the face of major challenges, but that there are still many who are active and want to make an effort for a good cause.
"It shows that there is a need among Christians to get involved. It's good to feel that you can do something, that you can pray, raise a cause and do something that will be visible in the media. There is probably a strong desire to show solidarity with those who are persecuted for their faith," he says.
At the same time, he believes that the distance to countries with severe persecution is felt less today than before. Last year, a Syrian pastor visiting Bergen sent a video on his mobile phone from the torchlight procession there to Christians back home in Syria.
"It made a huge impression on those who were in Syria under fear of bomb attacks that hundreds of Norwegians were marching in favour of their cause," says Askeland.
Storting
This year's theme for the torchlight processions is "Banned for their faith". In this way, Open Doors and Stefanusalliansen wish to draw attention to the discrimination, exclusion and imprisonment of Christians around the world.
In a petition read during the torchlight processions, it states: "In Norway, we are used to being accepted. We are used to being able to make our own choices when it comes to faith, lifestyle and opinions. For the most part, we make choices without fearing for our lives, our jobs, our right to public benefits, exclusion from society or boycotts from our neighbours. In many places, this is not the case. Eight out of ten people in the world live in countries with severe restrictions on religious freedom. Christians are expelled, denied education, lose their jobs or are isolated."
A longer version of the petition was delivered to the Storting's Foreign Affairs Committee on Wednesday last week in connection with the march in Oslo that ended at the Storting. There, Gabriel Stephen spoke about his upbringing in one of the world's most dangerous cities for Christians in northern Nigeria.
Torchlight procession for persecuted Christians
The first torchlight procession organised by Åpne Dører and Stefanusalliansen was held in Oslo in 2007.
In 2010, a torchlight procession was also organised in Bergen.
In 2022, a record 27 torchlight parades were organised in Norway. This year, trains will be travelling to 22 locations.
Ålesund (also on the west coast) is one of the towns that has had the best attendance over the years. This year, there were 300 participants.
This article was translated by CNE.news and was originally published by Kristelig Pressekontor, KPK in Norway on November 7th, 2023.