What do European Christians do for Ukrainian refugees?
07-03-2022
European Union
Joe-Lize Brugge, CNE.news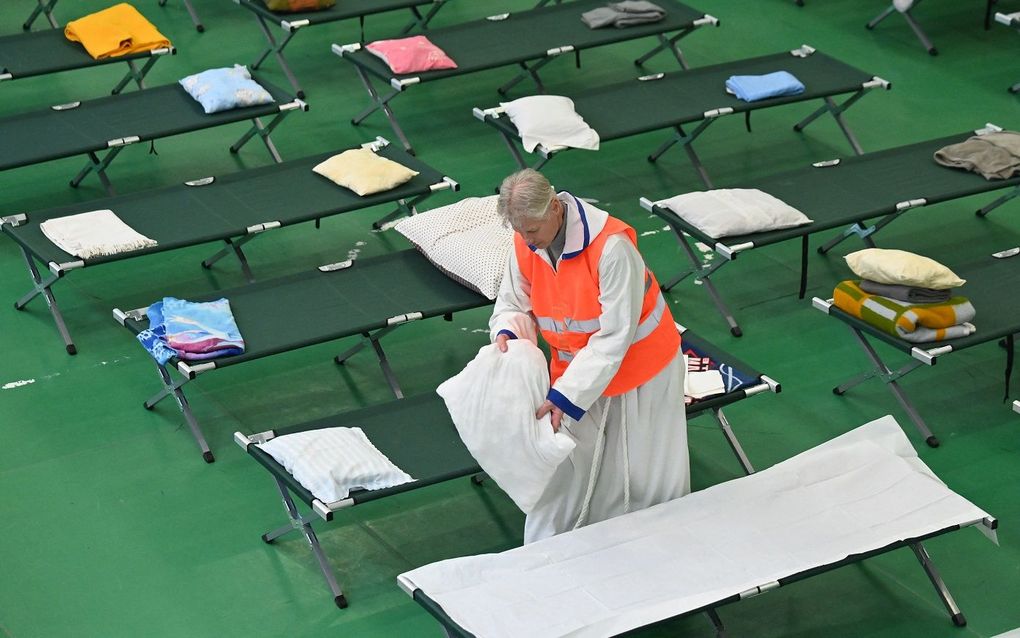 As the war continues, more and more Ukrainians flee. They leave their belongings, homes and cities behind. European Christians offer help.
Ukraine
Students of the Kiev Theological Academy prepare meals for Ukrainian soldiers. The institute reports that "with the blessing of the Rector", students provide all possible assistance to the "Defenders of Ukraine". The Kiev Theological Academy is part of the Ukrainian Orthodox Church under the Moscow Patriarchate.
The Holy Resurrection Monastery of New Athos, part of the Ukrainian Orthodox Church, receives refugees and takes care of their needs, Lviv Eparchy reports. The monastery in Lviv provides the refugees with a place to stay, meals, clothing, medicines and much more. The organisation writes that both refugees and people who help them participate in "joint prayers for peace and the victory of the Ukrainian army."
Ukrainian refugees can find shelter in several church buildings in Lviv. The chaplain of the Lviv City Council, Father Pavlo Drozdyak, told Religion Pravda that "the protection of God is most important", but that he understands that churches "can serve as a shelter for citizens." Examples of churches that opened their doors for refugees are the Church of Saints Peter and Paul of the UGCC, the Church of St. John Chrysostom, and the Church of the Holy Trinity of the PCU.
Several foreign parishes of the Ukrainian Orthodox Church send humanitarian aid to Ukraine, the UOC External Church Relations Department reports. For example, pries Ioann Malysh, rector of the Ukrainian Orthodox parish of the Italian town of Forte dei Marmi, sent humanitarian goods to Ukraine. A German priest from Hamburg did the same. Moreover, many parishes constantly pray for the war's end, peace, and health for Ukrainian soldiers.
Poland
John Paul II, the Catholic university of Lublin, offers special programs for Ukrainian students. Die Tagespost reports that the institute has set up phone lines, collects donations and provides overnight accommodations from Ukrainian students. Furthermore, it advises students on how they can continue their studies in Poland. Also, students can get psychological help at the university.
A Ukrainian Baptist Church in the Polish town of Chelm serves as a transit point for Ukrainian refugees. That is reported by Svitogliad. The church can accommodate 220 refugees overnight. Therefore, Ukrainians can only stay one night. After that, they are taken in by others, not only in Poland but also in Germany, France and Estonia.
Romania
The organisation Fight for Freedom receives dozens of refugees in its House of Freedom in the Veresti commune, about ten minutes from the border of Ukraine. At the house, the Ukrainians get a chance to sleep, eat and sanitise themselves.
The Romanian Orthodox Church sent a train loaded with humanitarian goods to Kiev. That is reported by Ukrainian Orthodox Church. The transport contained food, hygiene products and other basic necessities, which were brought to distribution centres in Kiev.
Slovakia
Slovakian churches are actively helping refugees, Kathpress reports. Slovakian Christians, for example, hand out soup and tea at the border. The Roman Catholic Church of Slovakia holds prayer sessions with other religious denominations.
Bulgaria
The United Evangelical Churches in Slovakia call their members to pray for peace, start fundraisers and donate money. In a statement, they write that their churches are preparing to provide care and assistance to refugees. The Churches have opened a fund where people can donate money.
Germany
The Christian aid organisation AVC International helps refugees in Eastern Europe. (Idea reports that the organisation supports the evacuation of children's homes in Eastern Ukraine.
It also supports aid given to Ukrainian refugees in Poland, Romania and Moldova. Idea writes that local AVC employees have taken in 130 children, young people and women with babies in the past few days. Many women are traumatised from their flight because they do not know if and when they will be reunited with their husbands and sons.
Christian aid organisation, "Samaritan's Purse – The Good Samaritans", supports the accommodation of refugees. In cooperation with the Evangelical Free Church from Cologne-Ostheim, about 40 refugees have already travelled to Germany. Moreover, the organisation writes that it supplies medical care and personnel to an emergency hospital and two other clinics in Ukraine. In addition, Samaritan's Purse hands out "backpacks of hope" to refugees arriving in Germany. The backpacks contain some hygiene articles and a Ukrainian Bible.
A German working group for people with disabilities evacuated disabled persons from Ukraine. Die Evangelische Allianz Deutschland reports that, after an arduous journey, they arrived safely in Lublin, Poland.
Furthermore, several German aid transports found their way to Ukraine, Idea reports. The local missionary organisation of Nuremberg, Youth with a Mission, sent a delivery with sleeping bags, insulating mats, blankets and winter clothing. This week, another truckload will leave for Poland. From there, the goods are sent to Ukraine. Furthermore, pastor Andreas Hamburg from the Bremen Evangelical Church organised an emergence delivery to Ukraine, Idea reports. The transport is worth more than 30,000 euros.
Switzerland
The Swiss Protestant Mutual Aid (EPER) donated 700,000 CHF (about 700,000 euros) worth of aid to victims on-site and released 150,000 CHF (150,000 euros) for support measures for Ukrainian refugees in Switzerland.
The Reformed Church from Zurich contributes 50,000 CHF (about 50,000 euros) to humanitarian aid organisation EPER. The money is meant to help Ukrainian civilians. It is also used to support refugees, and host families in countries, like Romania, Hungary and Slovakia, Ref.ch reports.
Many Swiss churches, parishes, families and individuals have already welcomed Ukrainian refugees, Evangeliques Info reports. For example, the Chrischona community in Frauenfeld has taken in five women and seven children, Idea writes. Pastor Paul Bruderer has set up a website to coordinate a network of churches that want to welcome refugees.
Norway
The Norwegian Pentecostal movement has started a fundraiser for Ukrainians. The total amount of donated money will be spent on emergency aid, such as food, shelter, medicine and wool blankets, Dagen reports.
The Catholic aid organisation Caritas has collected items to help Ukrainians in need. Caritas attempts to help refugees by providing blankets, food, and medicines and offers counselling and psychophysical support, Vartland writes.
The Norwegian Church Aid's foreign director, Arne Næss-Holm, says to Vartland that the organisation is preparing for a long-term crisis. Currently, the organisation is working on water distribution and handing out food and hygiene items to Ukrainian refugees. However, he stresses that psychosocial help is even more important.
The Church of Norway, an Evangelical-Lutheran denomination, has sent four buses with 24 volunteers to help Ukrainian refugees. Their goal is to drop off donated emergency items and take 170 refugees to Norway. Vartland reports that the volunteers have fundraised money to be able to cover the expenses of the trip.
The Christian Council of Norway requests the government to accept Ukrainian refugees. Dagen writes that members of the council emphasise that the suffering is enormous, and that the country should take its responsibility and take care of displaced Ukrainians. Refugees are a controversial topic in the country. Norway has strict rules. For example, one is not allowed to enter the country without the correct papers, Vartland writes.
The Netherlands
Dutch organist Harm Hoeve organised a concert in the Grote Kerk in Zwolle, Dutch daily Reformatorisch Dagblad reports. During the concert in the old church, Hoeve played the Ukrainian national anthem, among others. He wants to give "encouragement" and express his solidarity with Ukraine.
The Israel Board from the Netherlands Reformed Congregations sends Christian books to Ukraine. A Russian children's Bible is among the literature. The books are brought to Eastern Europe by various transports to Poland.
In the Dutch town of Kampen, there are Ukrainian church services starting Sunday, March 13. Dick van den Noord, the spokesman of the organising committee, told the Reformatorisch Dagblad that Baptist Rev. Daniel Vinogradsky from Zhitomir (Ukraine) will speak during these services in the local Bazuinkerk.
The Dutch Reformed church in the village Valburg-Homoet takes in 54 Ukrainian refugees – mothers and children. The congregation sends a convoy to pick up the Ukrainian families, who will stay with members of the congregation.
Christians for Israel released 500,000 euros for the Jewish Agency. Christians for Israel reports on its website that the Jewish agency evacuates Jewish refugees from Ukraine. They will travel through neighbouring countries to Israel. According to the organisation, more than 10,000 requests of Jewish families are on the waitlist.
France
The French organisation Secours Protestant collects humanitarian goods to be sent to Ukraine. Secour Protestant published a list with urgent needs, like sleeping bags, medical kits and non-perishable foods. Secours Protestant works together with the Romanian organisation Fight for Freedom.