Churches in and around Ukraine reckon with many refugees
22-02-2022
Eastern Europe
CNE.news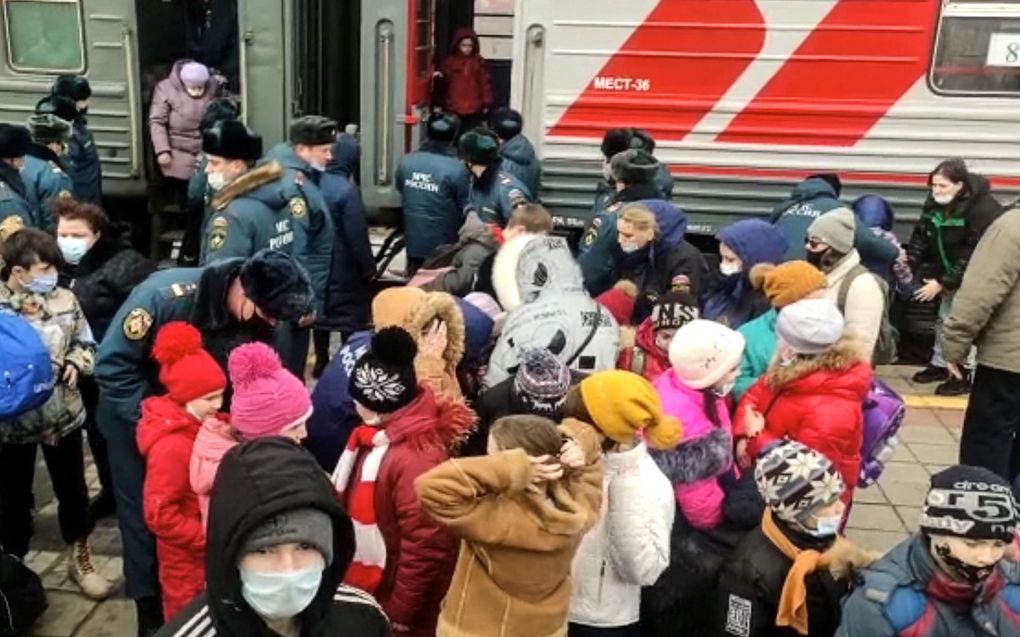 Churches in Ukraine and surrounding countries are preparing for a time of unrest with Russia. Church leaders promise refugees shelter and aid shipments are on their way to the conflict areas.
The president of Poland's Catholic bishops' conference appealed to Poles on Monday to show "open and hospitable hearts" to refugees from Ukraine in the event of further military action, Catholic News Agency reports.
In a message, Archbishop Stanisław Gądecki lamented the escalation of tensions in Ukraine, including the reported shelling of a kindergarten in the south-eastern Donbas region. "In this situation, I appeal to my compatriots to have open and hospitable hearts for refugees from Ukraine who will want to find sanctuary from the war in Poland," he wrote.
Polish officials believe that up to a million Ukrainians, out of a population of 44 million, could seek refuge in Poland in the event of a full-scale Russian invasion. Poland, which borders both Russia and Ukraine, has almost 38 million people.
The issue is more pressing since the Russian President Putin has recognised two separatist regions in Eastern Ukraine on Monday evening. Immediately after this, he sent peacekeeping troops over the border. It is not clear yet what consequences this will have in terms of internal Ukrainian migration.
Western Ukraine
In Ukraine, the Council of Bishops of Lviv stated last week that churches are ready to receive Internally Displaced Persons (IDP's) if necessary. The bishops said so during a meeting with the city council of Lviv in western Ukraine, Religion in Ukraine reports.
The Council of Bishops of Lviv stated that it is ready to receive people in churches and shelters if necessary. They also noted the importance of hope and peace in the community and the inadmissibility of spreading panic.
Republics of Donbas
Meanwhile, the humanitarian aid centre of the Don Metropolitan Church of the Russian Orthodox Church (ROC) has started to deliver humanitarian aid to refugees from Donbas daily, Russian press agency Ria Novosti writes. "Since 18 February, the Centre for Humanitarian Aid of the Don Metropolis has been in daily operation mode", the Metropolitan Church's press service said.
Two orphanages of the Don Metropolis are hosting refugee children from Donbas, Igor Petrovsky, press secretary of the head of the metropolis, said. "We are expecting to receive 24 children from four to 14 years old from Donbas. We place them in a family-type children's home", Petrovsky wrote on Facebook.
Earlier, the Donetsk People's Republic (DPR) and Luhansk People's Republic (LPR) announced the temporary evacuation of citizens to the Rostov region in connection with the threat of Ukraine's invasion. First, the evacuation concerns women, children and the elderly. The Ministry of Emergency Situations of the DPR reported that it is planned to evacuate about 700,000 people from this republic.
Refugees in Rostov region
Metropolitan Mercury of Rostov and Novocherkassk appealed to the bishops and those responsible for social work of the Don Metropolis with an appeal to provide all possible support to refugees from the self-proclaimed republics Donbas, Russian news agency Interfax writes. "At this moment, dramatic events are unfolding in front of our eyes in the Donbas. The news reports contain disappointing news about provocative military actions that endangered civilians," said Metropolitan Mercury in a statement.
The metropolitan noted that refugees are already beginning to arrive in the Rostov region, the number of whom is still difficult to ascertain. "These people are in an extremely difficult situation; they need comprehensive support and timely assistance. And our Christian duty is to support them in this difficult moment," the bishop wrote.