Weekly column from Ukraine: Relying on God in the New Reality
18-03-2022
Christian Life
Oleksii Blyzniuk, CNE.news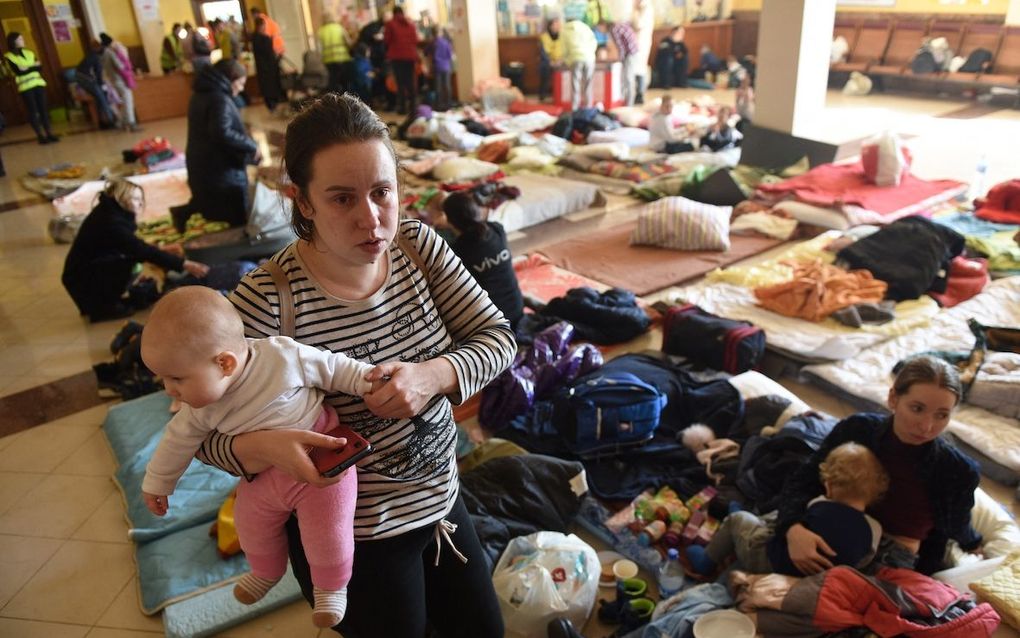 The theologian Oleksii Blyzniuk was in his home in Kyiv when the war broke out. What to do? He and his wife decided to leave in western direction, to Lviv. There is he staying now.
February 22nd
On the morning of February 22, my wife and I returned to Kyiv. Five days before, we had decided to evacuate for a short time to a sister church located in western Ukraine near the border with Romania. U.S. President Biden had claimed that Putin would invade Ukraine on February 16th, influencing our decision to leave Kyiv for a few days. Thank God there was no invasion that day, so we returned to Kyiv as quickly as possible.
Olexii Blyzniuk (1986) teaches practical theology at the Evangelical Reformed Seminary of Ukraine (ERSU) in Kyiv.
He received both a Masters from the ERSU and the Reformed Theological University in Kampen, the Netherlands.
Apart from theology, he likes motorcycles.
Based on the data available at the time and seeing how events were unfolding, we feared that Putin might escalate the war in the eastern and southern parts of Ukraine. Therefore, the seminary staff decided to equip the building of ERSU (Evangelical Reformed Seminary of Ukraine) to be used as a reception centre for refugees. Immediately after returning to Kyiv, our colleagues and we began to buy everything the seminary would need: generators, food, medical supplies etc.
February 23rd
Meanwhile, the news became more and more disturbing. We began to hear that Putin's regular troops in the east had already entered the self-proclaimed republics of the LPR/DPR and were fighting with the Armed Forces of Ukraine (AFU). The situation in the east worsened rapidly, but we tried to carry on as normal.
On the evening of Wednesday, February 23rd, we gathered with friends for our usual Bible study group. That evening, we prayed, comforted each other, and discussed options in the event of a full-scale invasion, although we hoped that this would not happen. With this thought, we returned home and went to bed.
It was the last night of Ukraine as we knew it before the war.
February 24rth
At 5:30 am, we woke up from a powerful explosion not far from our house. The floor and windows shook in our apartment. It was a missile attack. We were being bombed.
The war had begun. At that moment, our life and the life of the entire civilised world was divided into "before" and "after" the war.
Car alarms squealed all over the area. My wife and I crawled into the bathroom. My hands were trembling. I tried to type messages to someone I knew, but my thoughts were confused, and I could not formulate sentences. After about ten minutes, I calmed down a little and could gather my thoughts.
I began to receive messages from friends and relatives from all over Ukraine saying they were also being bombed. News began to come in that Russia had carried out massive missile strikes, hitting military infrastructure throughout Ukraine. Explosions even occurred in Ivano-Frankivsk and Lviv, located deep in the west of the country.
We waited a few hours and made sure everything was quiet outside before heading to the seminary. We met with the staff who had remained in Kyiv. There was not much information about what was happening, so we decided to continue to act according to the "seminary-asylum for refugees" scenario.
We got into the car and drove to the nearest supermarket to buy as many groceries as possible. There were long queues everywhere. Banks and ATMs were temporarily closed. The food stalls were half-empty, with many goods already sold out. We managed to buy only some bread and ready-to-cook products.
Back at the seminary, we began to think about what to do next. The news was becoming increasingly concerning. We slowly realised that the morning's missile strike was not a one-time act of intimidation but rather a prelude to a full-scale invasion that began immediately after the morning strike.
By 6 pm, it became clear that Putin had decided on Kyiv's blitzkrieg: the occupying troops had already crossed the border from Belarus towards Zhytomyr, Kyiv, and Chernihiv, and from the Russian Federation towards Sumy and Kharkiv and Mariupol. We understood that the invaders would do everything possible to take Kyiv in the next few days. The Ukrainian media also reported: at 10 o'clock that evening, the roads into and out of Kyiv would be blocked with AFU checkpoints.
If we were going to get out of Kyiv, we needed to do it by car before 10 pm. In half an hour, we collected our most necessary things, loaded everything into the car and around 7.30 in the evening, we left the seminary. There were six people in our compact hatchback. In the back seat, people sat on each other's laps.
According to Google maps, the 600 km journey from Kyiv to Lviv should have taken 7-8 hours. But, due to traffic jams, roadblocks, and blown-up bridges, after 23 hours, we had only reached Ternopil, still 200 km from the church in Lviv. We spent the night at a church in Ternopil and drove to Lviv the next day.
February 25th
From the beginning of the war to our arrival in Lviv seemed like a lifetime. We have been under bombardment; slept and woke up in the car, having spent about a day in it; we sang hymns of praise and cried throughout the journey because we could not believe that all this was really happening; we stood for several hours in queues at gas stations trying to get our limit of 10 litres per car; sleeping in a church in Ternopil, we got up several times during the night with air raid sirens and hid in the basement.
At the same time, along the way, we got used to the idea – this new reality of war in which we live. In this reality, we need not fall into despair but continue to be a church. We continue to serve people where the Lord has put us and not lose faith.
Day 20
As I write these lines, it is the twentieth day of the war. It has been more than two weeks since we were in Lviv. By the grace of God, we quickly found a place to live and immediately got involved in volunteer service. Now the seminary staff has slightly different tasks than in peacetime: the spiritual care of students and members of our churches who were forced to leave their homes and flee, as well as those who were called to the AFU to defend the country. We have ongoing online seminary staff meetings to coordinate and distribute funds and resources to those in need. We deliver evacuees to the closest European borders and search for medicines and military supplies that aren't available. We write online articles, like this one, covering the actual events in Ukraine and much more.
We have been living in a new reality for twenty days now, and we have also changed. We realised that the "second army of the world" turned out to be little more than a pile of obsolete rubbish with terrible logistics. We got to see the "Russian world" in all its beauty: The bombing of residential areas, hospitals, maternity hospitals, schools, and kindergartens. The shooting of unarmed civilians. The use of prohibited weapons such as vacuum and phosphorus bombs. The constant lies that saturate Russian propaganda from people living in some parallel reality.
But we see that our army has reached a turning point. There are indeed many more battles to come before the final victory. But we are sure that a final victory will come. The entire civilised world is on the side of Ukraine, while Putin's regime is falling apart at the seams.
This war demonstrates the unpleasant truth that tyranny has no boundaries. It will continue to destroy until it swallows everything around it. NATO and other forces have many difficult decisions to make in favour of Ukraine to save the world.
God's judgment
But most importantly, in this war, we can see God's judgment on the lies and lawlessness of Putin's regime and God's support that we receive through the prayers and practical help from brothers and sisters from all over the world. This war has brought and will bring many more tears and grief. But we believe that the merciful Lord, who holds everything in His hands, did not allow all this in vain. After the war, humanity will have to rethink all the mistakes made that led to such a catastrophe.
This war has changed all of us. We hope it has changed us for the better.
But you, O LORD, laugh at them; you scoff at all those nations.
O my Strength, I watch for you; you, O God, are my fortress, my loving God.
God will go before me and let me gloat over those who slander me. (Psalm 59:8-10)
God save Ukraine!