Marriage is a marathon, not a sprint
01-06-2022
Northern Europe
Marja Salminen, Seurakuntalainen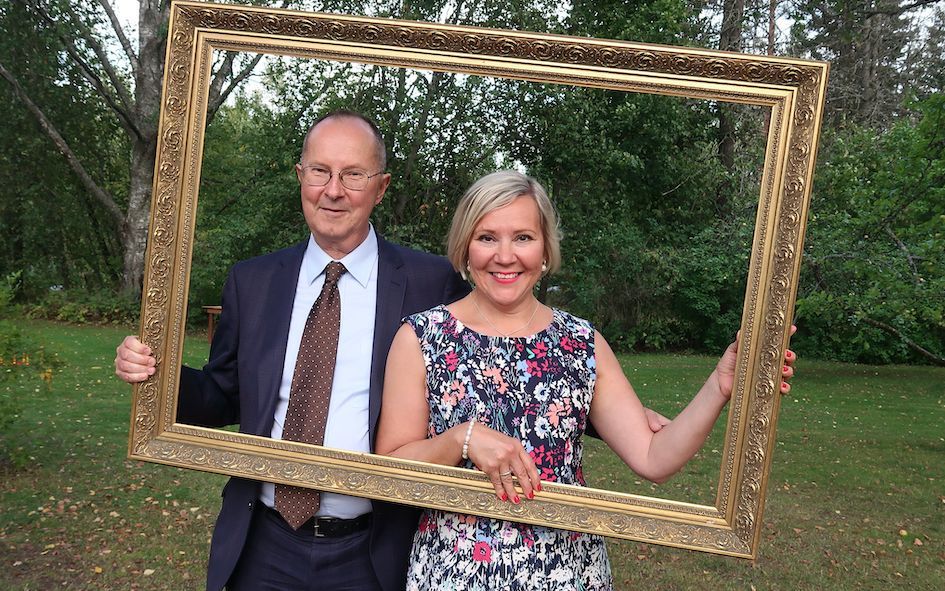 Sari and Juha Savela sport together and participated in marathons together. Furthermore, they are active in relationship counselling. Both of them do not believe in quick wins in marriage. For a marriage to work, the relationship has to survive hardships. Also, differences between partners must be accepted.
When Juha Savela, a law student from Helsinki, became seriously ill, he had to go to the intensive care united. He then had to let go of his dream of living a happy family life – or even of an average grey everyday life.
An unrecognised illness had had to the stagnation of the man's heart in his twenties. Not until the cause of the disease – an autoimmune disease – was found, appropriate medication was obtained, and recovery began. Only then Juha was able to return to his studies.
The law student met Sari at a Christian student organisation a few years later. She was eight years younger than himself. During wedding preparations for mutual friends, Sari and Juha got to know each other better. Surprisingly, they found that they had similar hobbies, interests and backgrounds, in addition to similarities on spiritual grounds.
Juha fell in love with Sari's beauty, temperament and sense of humour. On the other hand, Sari was impressed by Juha's determination and extensive educational background. Juha had already finished two different degrees and lived on his own.
The puzzle pieces fell into place. After six months of dating, the two were united in matrimony at the Huopalahti home church in 1989.
Conversational connection
Sari is a respected media all-rounder. Her thoughts have been heard in the Aftermath of Radio Dei, and she edited the series My Prayer Journey, which is based on her book. In addition, she is the editor-in-chief of Seurakuntalainen.fi. She loves photography and writing.
Juha has made his career in administration work and the finance world.
The couple has discovered an excellent way to counterbalance their mental work. They often go for bike rides or walks together.
Three children have been born into the marriage. Both Juha and Sari praise their relationship as successful. "We have a conversational connection, and we can talk about difficult things", Sari says.
Juha adds that they always try to admit their own mistakes and change their behaviour. According to him, faith and prayer help out when your strength is tested. They experienced so ten years ago when both were diagnosed with exhaustion.
"God has taken good care of us", Juha says gratefully. "We may not have experienced any sudden radical changes while practising our faith. But in the long term, we have received many blessings."
Trial and tribulation in marriage
Their union, which has lasted for more than 32 years, has also been shaken. "At one point, we drifted apart from each other. Personally, I had experienced spiritual renewal and processed that myself", Sari starts telling. "That change in me caused frictions between us. I started pushing Juha also to go down that path of change."
After several years of consideration, the couple decided to participate in a marriage event in 2002. "One insight that we gained on this journey has been that I can only change myself, not the other", Juha sums up. "Actually, it is a blessing that we do not know in advance what life will bring as it comes. That knowledge would crush us."
Transparency and forgiveness
Sari and Juha have served as lecturers, relationship counsellors and supporters of the Parempi Avioliitto (translated as Better Marriage Association). They admit that they, too, had to learn how to argue constructively. In Juha's parental home in North Ostrobothnia, no one raised his voice. The unspoken agreement in his family was that everyone was trying their best.
"You must deal with issues when there are disagreements. The most important principle is the basic confidence that we do not run off in different directions. It is great to know that the other does not abandon or leave us, even if we raise issues openly."
Sari, who is from the large city of Helsinki, hopes to deal with disagreements wiser than her family used to do. The atmosphere was controversial at times, and arguments were not adequately resolved. "Juha and I are both temperamental, so the clashes between us can be quite intense", she smiles. "But we also calm down quickly, and we know how to ask for forgiveness."
Fear of commitment
The Savelas have discovered that people nowadays often find it difficult to attach themselves to someone. Sari: "That can result from fear and barriers of commitment. Or people think that there must be another person who suits them even better. Then it feels like the back door is always open. Infertility can also have a negative impact."
Marriage is a sort of endurance, Juha adds. His severe disease and the experience of being close to death taught him to appreciate the average days that he asked God to give him when he was in the intensive care unit.
Juha: "The attitude in marriage determines whether I take or give. Of course, I should take care of my own needs. However, when I only take from the marriage what I need, I may not get what I expect. The Bible also states that when you give, you will receive. When I want to build a common good and help my spouse, then there is more chance of a successful marriage than to remain in debt all the time."
This article was translated by CNE.news and published by Seurakuntalainen on April 21, 2022