Compulsory vaccination in Austria: how will that work in the future?
30-11-2021
Central Europe
Mark Wallet, RD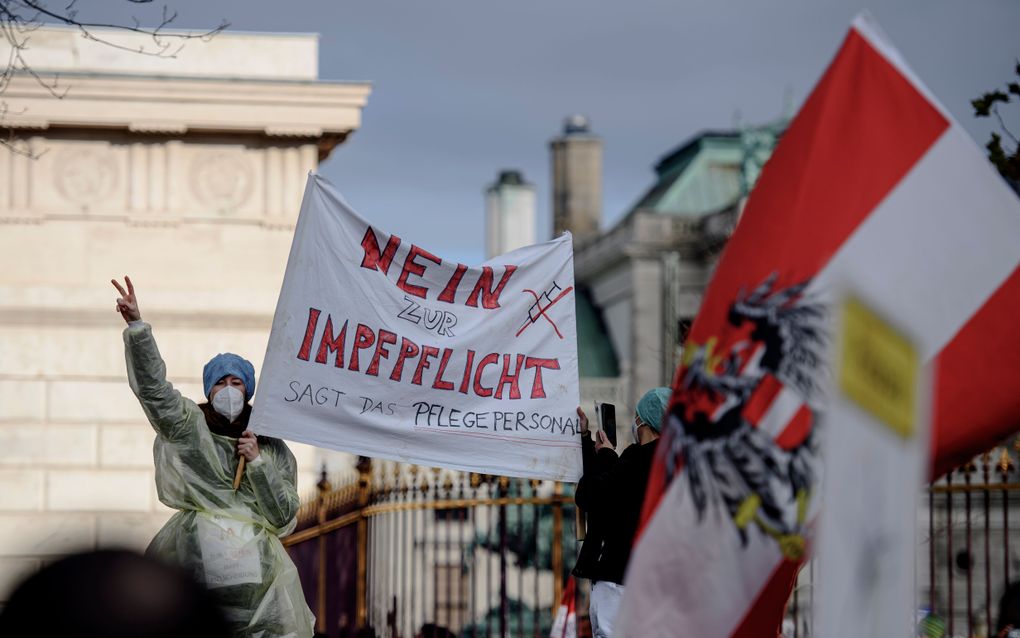 Austria is the first European country to decide on a general vaccination obligation because of corona. Such mandatory injections have been in place in Europe for other diseases for some time, however. When violating these requirements, there are usually fines.
"We want to get out of the vicious circle of measures and lockdowns," Austrian Chancellor Alexander Schallenberg motivated the decision to introduce a vaccination obligation at the BBC last week. "The only ticket we have to the exit of the pandemic is the vaccine."
He presented it as a last resort because ten months of vaccination campaign had not had the desired effect. Just under 66 per cent of Austrians have been fully vaccinated against corona, significantly less than in most European countries.
When asked whether vaccination is not a personal choice, Schallenberg replied that he entirely agrees in principle. However, he explained, society is our common body, and we have a shared responsibility for that. "As such, you do have not only rights but also obligations. (…) Nobody wants to end up in a situation in which they can not go to the Intensive Care Unit because there are unvaccinated corona patients. At last, everyone suffers."
Already mandatory
It is an old argument. In 1948, Austria obliged residents to be vaccinated against smallpox in the public interest, a regulation in effect until 1981. A fine of 1000 schillings was imposed on refusal in 1948, which, converted to the current purchasing power, would come down to about 1200 euros. The alternative was 14 days in prison.
Such a vaccination obligation against smallpox had already existed for a long time in Germany, France and England, among others. The Netherlands had a variant of this: in 1823, King William I made vaccination against smallpox compulsory for all school-going children. It was a provision that disappeared in 1857 due to fierce criticism. However, it returned for some time in 1872 after a major smallpox outbreak.
Smallpox was officially labelled as a disease that disappeared in 1980, and with that, the vaccinations against it also disappeared. However, vaccinations are still mandatory in several European countries against other diseases, such as diphtheria, polio and measles. One or more vaccinations are required by law in at least eleven countries, including Belgium, France, the Czech Republic, Hungary and Italy.
Sometimes there is a general obligation; in other cases, vaccination is a condition for access to childcare or (kindergarten) school. In Austria, refusal to vaccinate children means that parents will receive a discount on child benefits.
Fines
The sanctions for non-compliance with the vaccination obligations usually consist of fines. However, it differs greatly per country to what extent work is done on this.
The Austrian government is also thinking of fines when enforcing the vaccination obligation for corona, although much is still unclear. The penalty is consistently circulating at 3600 euros, which, according to some reports, could be converted into four weeks in prison. An exception would apply for people with insufficient financial means, for example. Austrian lawyers emphasise that duty, in any case, does not mean that there will be physical coercion, whereby an injection will go in unwillingly.
Legally, the government does not seem to encounter any obstacles with a vaccination obligation. "It is not a new legal instrument that we are deploying", Chancellor Schallenberg told the BBC. There are also judicial statements at the European level that offer room for a compulsory vaccination. An appeal made by six Czechs who objected to compulsory childhood vaccination at the European Court of Human Rights was rejected in April this year.
This judgement is, however, not an unlimited license for compulsory vaccinations. Legitimacy must be assessed on a case-by-case basis and weighed against, for example, the right to physical integrity, as laid down in the European Human Rights Convention. However, general public health is usually regarded as higher interest. According to Austrian lawyers, the government must then make it clear that the emergency is acute because of overloading the health system. Because the vaccine is new, the government should also guarantee any unforeseen side effects in the event of an obligation
Dividing
The imminent vaccination obligation, meanwhile, is dividing the population of Austria. In the small Reformed community of Graz, in the federal state of Styria, the developments are a topic of discussion, according to pastor Peter Drost. Most members and regular visitors have not been vaccinated and, according to him, do not want that either or not yet.
The reasons for this vary widely. "One person thinks the medical risks of the vaccines are still too great or that they have not yet been sufficiently tested. The other wonders if the vaccination is the sign of the beast. Another mainly sees the political developments that take place in the background and the accompanying spiritual battle between the powers of this world and Christ."
Drost himself was "pretty surprised" when he heard the government announce a vaccination obligation. "I couldn't imagine that the Supreme Court would approve that. Later, however, I understood that an obligation is not new."
Jeannette Wilbrink, a Dutch woman in Carinthia, notices that the initial excitement about the decision gives way to resignation in her community. She hears from people around her that nobody knows what will happen now, so it makes no sense to keep thinking about it endlessly. She heard from several people who had not been vaccinated until now that they were still getting a shot. Others put their heels in the sand. "A friend is discussing with a brother-in-law who is a lawyer whether she can get some kind of certificate stating that she refuses the vaccination and that she, therefore, accepts that she will not be permitted at an Intensive Care Unit if she gets corona."
Other countries
The discussion about compulsory vaccination is now also taking place in other European countries. A poll by German weekly Der Spiegel found that 72 per cent of Germans would favour such an obligation, remarkably higher than the percentage of fully vaccinated (68 per cent) in the country.
The Belgian Minister of Health, Franck Vandenbroucke, told Belgian broadcaster VTM Nieuws that he would no longer rule out a general vaccination obligation. The Walloon Parti Socialiste, the second party in Belgium, has already announced that it favours an obligation.
This article is translated by CNE.news and was previously published in Dutch daily Reformatorisch Dagblad, on November 27th, 2021.