Räsänen prosecuted for tweet: Keep testifying your faith
21-01-2022
Northern Europe
Leendert de Bruin, RD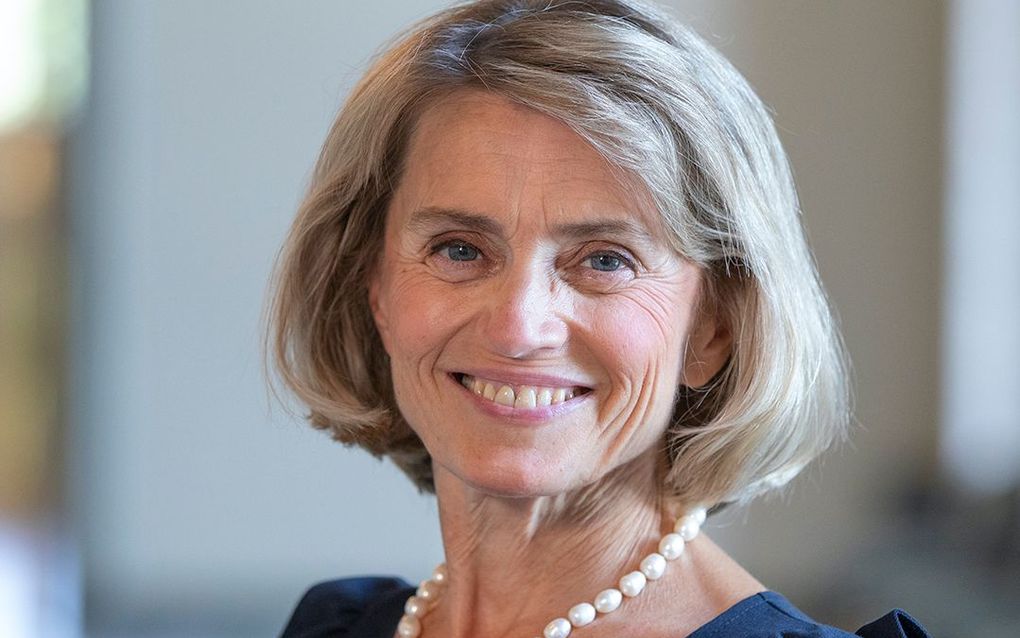 Finnish Christian politician Päivi Räsänen has to answer the court on Monday, for her statements about homosexuality. "Keep testifying your faith while you can."
The whirring sound of a stove fills Päivi Räsänen's room. The freezing cold has not stopped her from moving to her summer cottage just after New Year. From there, the video interview takes place. Working remotely is also the norm in Finland due to the corona situation. "You're not bothered by the noise, are you?" she asks, concerned as she partly disappears from the screen to turn the heater at her feet a notch warmer and thus louder.
Päivi Räsänen
Päivi Räsänen (1959) has a long track record in politics. She has been a member of the Finnish Parliament for the Christian Democrats since 1995. Currently, the party has five seats.
The former doctor is pro-life and entered politics to raise medical-ethical issues. From 2004 to 2015, she led her party as chairman. From 2011 to 2015, she combined that position with the ministry of the Interior. She is currently the parliamentary group leader.
The politician is married to Niilo Räsänen, pastor of the Lutheran Church. He is the head of the Finnish Lutheran Mission Bible College, which grew out of one of the Finnish revival movements. Niilo is of great support to her, Räsänen indicates. The couple has five children and seven grandchildren.
The Finnish politician tells her story at "the crime scene", as she calls the summer cottage with a smile. It is here where she was on her knees in the summer of 2019, praying for wisdom, before she decided to send out a tweet that would lead to a lawsuit against her. The open Bible that is in front of Räsänen marks her struggle. She wants to conduct it based on the Word of God and for its preservation.
It all starts with a statement from the Evangelical Lutheran Church of Finland. The church, which is dear to Räsänen and of which she is a member, has expressed its willingness to support a Pride event in Helsinki. Räsänen says she is shocked. According to her, the Bible teaches that sexuality belongs to a marriage of a man and a woman. In response, she posts a photo of the first chapter of St. Paul's Epistle to the Romans on Twitter, where the apostle describes homosexual acts as something shameful. She poses the question to church leaders: How does the Bible lend itself to "inflaming shame and sin as a matter of pride?"
Someone is filing a complaint against her because of that tweet. Later, charges were added in response to a much older booklet she wrote in 2004 about marriage ("Male and female he created them") and her statement about homosexuality in a radio program. Räsänen must answer for this during a hearing on Monday. She could face up to two years in prison. But according to Räsänen, there is a good chance that she will get away with a fine if convicted.
How did you experience the holidays and New Year's Eve with the lawsuit ahead?
"Honestly, I'm a little nervous. The case has been dragging on since 2019, but the trial is now coming very close. Nevertheless, I am at peace. Since it's all in God's hands, I do not have to worry too much. I trust in His guidance. I constantly think about the promises in the Bible. For example, the one from Matthew 10, where it says that if you are arrested, you do not have to worry about what to say. At that time, the right words will be given to you. I pray that I may have it."
According to the prosecutor, your statements incite hatred against a minority group. What is your reply?
"My statements were primarily aimed at the church leadership. How is it possible that the church supports acts that the Bible calls shameful and sinful as something to be proud of? I questioned the leadership about this contradiction. In doing so, I did not slander or insult any sexual minority.
The prosecutor says that I see homosexuals as inferior. However, I never said that. In my book, I wrote that homosexuals are just as valuable as other people. We are all created in the image of God. At the same time, we are also sinners. In Romans 1, the Bible clearly states that homosexual acts are a matter of sin and shame. And that the Biblical marriage is one between one man and one woman."
Do you regret your statements?
Absolutely not. I would do the same again. Of course, I read the book I wrote again very thoroughly. But I stand behind the statements I have made.
The funny thing is that I was also asked the same question during the three police interrogations. The agent also asked me to delete my social media posts. They gave me two weeks for that. I refused, saying: "I stand by my statements." The attorney general indicated that it could positively affect the case if someone has regrets. But that would be catastrophic. It's not just about my sayings; it's about the traditional teachings of the Christian faith."
In Pride Week, people will likely take offence at your post. Would it not have been wiser to wait a few days?
"My message came three weeks after the church's statement. I had thought about this for some time and thought it was a good time. The debate about this in the Finnish media and churches has continued for much longer. Many Christians are very concerned."
Was a tweet the right way to voice your opinion on such a sensitive topic?
"I posted the message not only on Twitter but also on Facebook and Instagram. Social media is the way to reach people these days. I wanted to make a clear statement to the church leadership, but also to my fellow Christians."
What are you concerned about?
"I fear the leadership of the church is destroying faith in the Bible. When young people read the Bible, they see the contradiction between what it teaches and what the church says. This is confusing and will damage faith in the Word of God.
And more importantly, it is about salvation. It is about what God teaches in the Bible about sin and forgiveness. So, it is a question of our eternal destiny. It is important that it is not us humans who define what sin is and what is not, but that it is God who determines it."
How is your church responding to the case?
"Very divided. The leadership is quite liberal. We have huge battles in the church between the Bible-believing and the LGBT-friendly wings. The official teaching in the church is still that marriage is a union between a man and a woman. Despite of this, pastors and bishops have married same-sex couples. A bishop even took part in the Pride procession.
But the Lutheran church also has several powerful revival movements. Organisations that want to hold on to the authority of the Bible. My husband and I belong to that kind of revival movement. For example, our movement only has male pastors."
Have you ever considered leaving the church?
"Many of my friends have already done that. I was shocked and saddened by the church's statement and asked myself that question. I got down on my knees here and asked God what I should do. Then I envisioned my church as a sinking ship. People are sleeping on that boat, in great danger of being dragged into the depths. Is it time to jump off that boat and save myself, or should I try to wake up as many people as possible?"
How does your Christian Democratic party look at the case?
"There is also division there. Some members think I am harming my party. But the parliamentary group supports me. Our party can also be called quite conservative."
To what extent can you, as a Christian politician, still propagate Christian values?
"Important themes that I promote are the protection of life and the well-being of families. In all my 27 years of being politically active, it has never been more challenging than today. It is also increasingly difficult to defend the Biblical view of marriage. The same goes for my views on homosexuality. It is so difficult for modern man to understand that from a Biblical point of view.
When I was Minister of the Interior (2011-2015), I gave a lecture on Christian values with my husband. That was during a vacation. I spoke that we should obey God instead of people. I gave the example of abortion and told the public that as a doctor –that was my profession before my time in politics– I would not perform an abortion. After my lecture, senior officials received nearly fifty complaints about me saying that I was not following the law. However, the Ombudsman concluded that I was at liberty to say so."
What have you been able to accomplish in all your political years?
"Before entering politics, I worked as a doctor. Medical-ethical questions sparked my interest in politics. Abortion was the main issue why I was elected to parliament. I wanted to stand up for the life of the unborn child. It has always been an important theme for me. I have made some proposals to reduce the number of abortions.
As Minister of the Interior, in particular, I had many opportunities to influence Finnish society. I was also responsible for church affairs at the time. It was unlikely that I would hold such a post. We are a small conservative Christian party. I, therefore, see it as guidance from God that I ended up in that position.
We were part of a complex coalition. It was a combination of parties that were very far apart in terms of values. There was a lot of disagreement, including about gender legislation. In our law, we recognise two genders, male and female. Other parties tried to make room for more genders. I was the only one against this and could prevent a change.
What I have also been able to achieve as a minister is in family politics: the possibility for families with small children under the age of three to take care of children at home and receive financial support for this. Other parties wanted to abolish that."
What if the court will convict you?
"The biggest problem is that my statements will be banned. My statements are a traditional interpretation of the Bible about gender, marriage and homosexuality, as churches and Christians have believed for decades. If I am found guilty, it will have major consequences.
The Finnish constitution still guarantees freedom of religion, at least in theory. But that is now being tested. A case like this has never happened before in Finland. The question is whether you are free to believe in the Bible and propagate what you believe.
It will also affect religious freedom in other Western countries. LGBT groups have a very good network across national borders. They will try to achieve the same in other countries in Europe. And that's why it is so important to get the win. That is what I pray for and do my best."
Is your case a barrier for other Christians to speak out about their orthodox views?
"Yes, this lawsuit has a chilling effect on Finnish society. Many young people have written to me to say that they are afraid to express their faith in, for example, university. Because they will be labelled as haters of gay people. Some ministers send me their sermons and ask, "Will I get in trouble if I say this or that?" The process alone has created self-censorship.
But I want to encourage everyone to exercise their freedom of religion now. We must not be silent. Because the quieter we are, the more limited the space offered."
You received messages of support from all over the world. From denominations in Russia to members of the US Congress to lawyers. What does that do to you?
"I am very grateful for all this support. The series of events after the start of my case is surprising. Almost daily, I get messages from people telling me that they are praying for me, my family and Finland. I believe that when God raises up people to pray, He has something good in mind.
I hope this case encourages people in Finland and beyond to trust the Bible and be open about their faith. We must testify as long as we can."
Follow live updates of the trial on Monday at CNE.news.
Räsänen in Christian media all over Europe
CNE.news
The case about Mrs Räsänen has been in many Christian media this week.
In Norway, an article by Stein Gudvangen from the Kristelig Pressekontor (KPK, Christian Press Office) was published in the newspapers Dagen and Vart Land. The article mentions that Päivi Räsänen never had the intention to spread hatred.
Two days later, Vart Land published a column by Anne Christiansen, in which she says that the court case is a test of values. In a democracy, there should be freedom. But on the other hand, nobody should be in danger for giving an opinion that is not mainstream.
Still in Norway, a lengthy article was published on Norge Idag. Together with that article, there is a 10-minute video in English.
Also, a video was published by ADF International. ADF is the international organisation that is helping Räsänen in this court case. Much of this 20-minute interview comes back in the article on Evangelical Focus.
In Sweden, Dagen reporter Johannes Ottesig wrote an overview of the case in his newspaper. He also quotes from the ADF material.
In Lithuania, the Roman Catholic news platform Laikmetis gives an impression of the case as well. A Christian trade union in Lithuania is asking for support for Räsänen's case, according to an article on Laikmetis.
Other Catholic media writes about the case as well, as the German version of Catholic News Agency.
In Finland itself, many media have been writing about the case continually already. The platform Seurakuntalainen gives practical information about a demonstration on the first day of the case, Monday, January 24th. But the platform publishes a lengthy reflection on the whole issue as well.