Churches suffer from storm Eunice
21-02-2022
Western Europe

CNE.news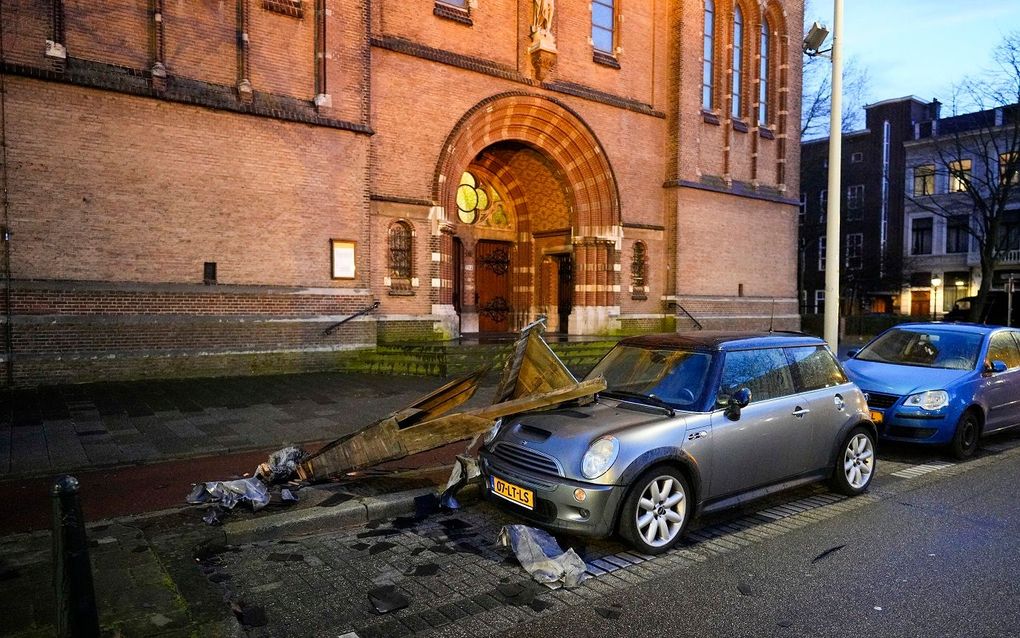 Last weekend, Dutch churches were literally in heavy weather. Storm Eunice ravaged the country and damaged several buildings.
The Elandkerk in The Hague had to undergo emergency repairs during the height of the storm on Friday evening, as one of the towers – both 72 metres tall – was shaking in the wind. It danced "like a belly dancer", spokesman Alex Keijzer told the Nederlands Dagblad. Roofing slates crashed down on the street, and wooden bar falling down, damaged a car.
Residents from 20 houses had to evacuate and stay somewhere else in the night from Friday to Saturday. On Saturday, two wooden bars were repaired, which made the tower relatively stable again, according to Keijzer. "One of the bars had collapsed and was fixed. Closer inspection will happen later." Sunday services were cancelled because there was still a risk that roofing slates would fall down.
Trees Krans (89), one of the churchgoers, says to the Nederlands Dagblad that she is not worried about the church building. "Only one of the towers wobbles. The other is stable; it contains the bells, so it is extra heavy. Really, they will survive. Our pastors in heaven will have to keep an eye on our church."
Yet she hopes that services can soon continue again. "Even if you are in church only with a handful of people, it is nice to meet each other. If I watch a church service on television, I miss the communal sense."
Krans is not worried that the tower of the Church will fall. She waits patiently for the results of the inspection. "If the inspection approves the building again, I will confidently enter the church again."
The Elandkerk was built in the late 19th century.
Roof tiles
Storm Eunice also damaged church De Hoeksteen (The Cornerstone) in Barneveld . On Friday, several rooftiles were blown off, the Reformatorisch Dagblad reports.
Island
Also, the German island Wangerooger, located in the North Sea, was hit hard by two storms, Ylenia and Zeynep. The church on the island was barely damaged, local pastor Egbert Schlotmann says to Katholish.de. The wind only broke an "angel bench" on which two angel wings were screwed.
However, the beach of the island, about 100 metres away from the church building, is almost gone. About 90 per cent washed away during the storms.