In war, there are only two genders left
12-03-2022
Opinion
Birgit Kelle, Die Tagespost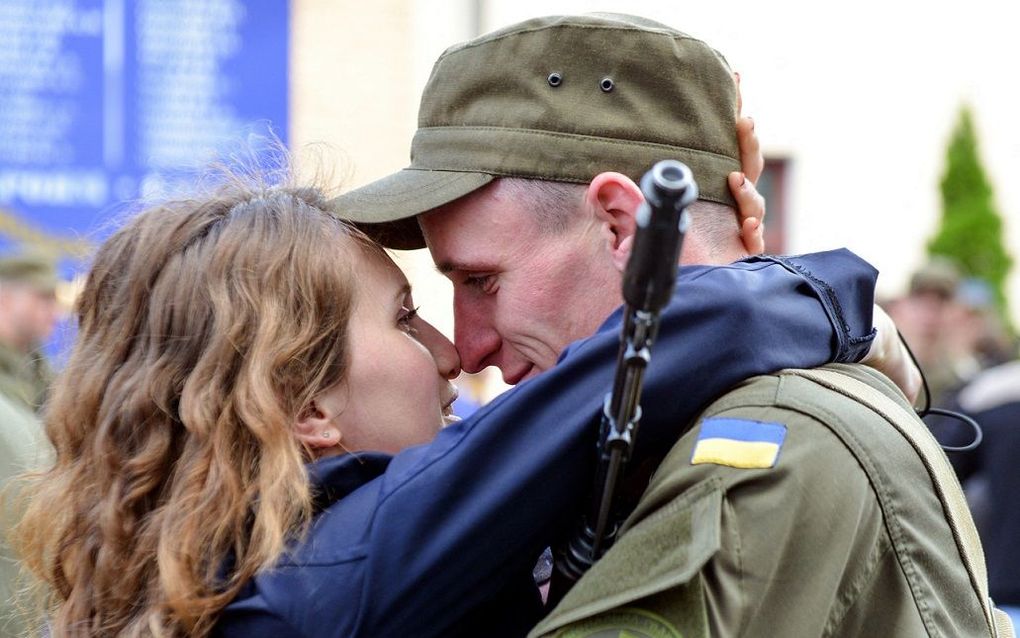 Once war breaks out, only two genders are left. Dying in war zones does not call for a women quotum. The images of the long line at the recruitment office in the beleaguered city of Kiev show men only.
At the same time, women and children are evacuated out of the country or into subway tunnels to safety. Since the outbreak of the war, there has not been any call for gender equality at street fights or a minimum number of queer soldiers in the army.
As a woman, one has to love the Ukrainian man who still defends his family and country as a matter of course, without requesting a gender-neutral toilet facility. In the face of the Ukrainian war, a well-established pattern emerges: men defend their country, women and children. That issue is neither questioned nor rejected, at least in Eastern Europe.
Thankfully, something like that still exists.
Protecting the 'weaker sex'
In the meantime, the German Twitter feed is full of experts on feminist foreign policy. The most significant risk they have ever taken is parking their SUV backwards. With their master's theses on "change in the image of men in the focus of Gender Studies", they think they have professional training.
"Toxic masculinity" is much scolded in the western 'peace-joy-pancake world'. But in practice, it is that masculinity who protects the 'weaker sex' when it comes down to it. And in case of doubt, the one that perishes in the process.
The Ukrainian president, Volodymyr Zelensky, who remains unshakable in the capital and defends his country, is an example of this type of male. His response to an offer of evacuation as the head of state was: "I need ammunition, not a ride." John Wayne could not have said it better.
Silly photos and videos of his past as a comedian and actor still exist. In 2006, Zelensky won the Ukrainian version of the TV show "Let's Dance." Now, he is winning the hearts of his people and the world. He instructed his administration not to hang his picture in their office, but a photo of their family, so that they were constantly reminded for whom they worked.
Pregnant women driving a tank
On the other hand, the German Bundeswehr has emerged into luxury debates instead of preparing for an emergency. These debates almost seem absurd. They rank from the Puma tank, suitable for pregnant women, to mirrors in the lockers, quotas for women in high -ranking positions, and ensuring tolerance for gays and transsexuals. Luckily, we have not been attacked because we would not survive.
Only the cars in front of the day-care centre of the military barracks are operational. Yet, the German Bundeswehr prided itself in its first "transgender commander", who was bid farewell with a giant rainbow unicorn on top of a tank. She only appeared once in a detailed interview about how she liked to be "banged" at sex parties in dark rooms.
The Russians would undoubtedly be impressed with our army. Our country's pacifism has led to a situation where men willing to defend their country and loved ones are seen as sexists and killers in uniform.
Average citizen willing to die for family, country or faith
While all second left-wing political convictions are thrown out in the face of a real war, Germany wants to spend 100 billion euros on arms in 2022. Weapon deliveries to beleaguered nations are suddenly possible. Even the reintroduction of conscription and nuclear energy is being discussed again.
We should almost be thankful that a left-wing coalition currently governs us. Because if the SPD and the Greens had been in the opposition, they would certainly fight against everything they now have to decide themselves for the impact on reality. "Who would you die for?" I asked the question on Twitter in regards to the war these days. Almost every second, the same answer appeared: family, country, faith. At least the average citizen still thinks normally.
Birgit Kelle is a German publicist. She is known for her criticism on feminism and her defence of the traditional family. This article was earlier published in the German weekly Die Tagespost on March 5th, 2022.