Why is story reading so important for children?
08-09-2022
Christian Life

Evert van Vlastuin, CNE.news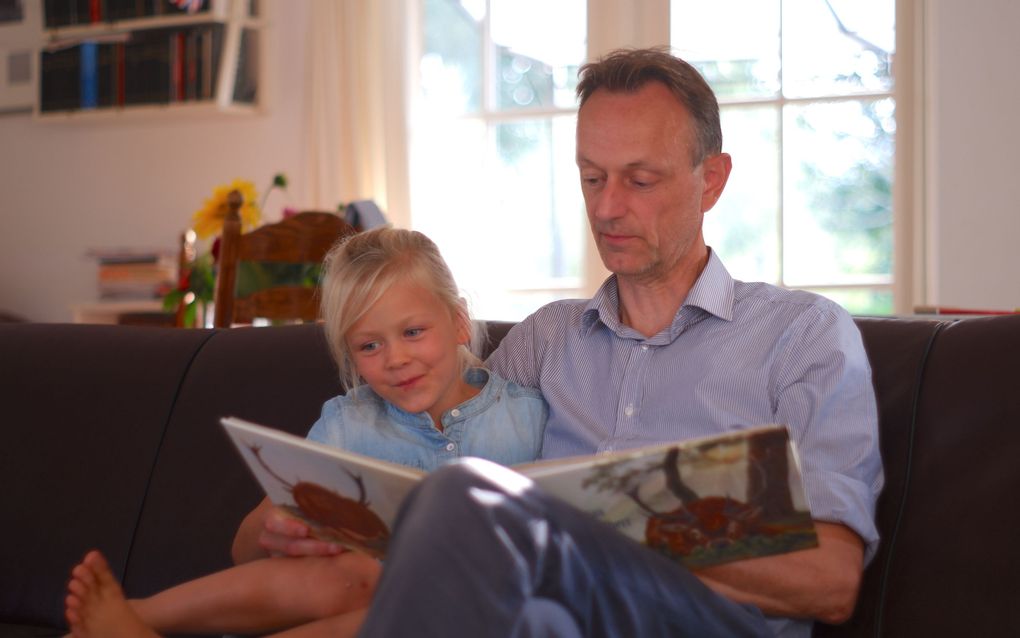 Today, it is the UN's Literacy Day. Most of the dedicated days pass unnoticed by me. But since I see myself as an ambassador of story reading to kids, it is my honour to cherish this day.
Get a book and sit down on the couch. Start reading and see what happens. The children will come and want to sit close to you. One on the right, one on the left, and another on the railing.
Do they follow the story? Oh yes, sometimes they might. But that's not only what is reading about. Reading to children is building a relationship. The children are seeking warmth.
But undoubtedly, they learn a lot too. Every page you turn, there is so much new for them to learn.
Scientists try to count how many words children learn when their parents read to them. The one researcher says 10,000, another one 30,000. The exact number does not matter. It is clear that the child gets familiar with the language.
And not only language. Story reading brings you much more. Robinson Crusoe not only teaches words such as storm and deserted island. It also makes an abstract concept of loneliness and isolation concrete.
Research even shows that reading to children helps them with other subjects, like mathematics. At first sight, that has nothing to do with language and exciting stories. But reading might also stimulate specific skills that help with understanding numbers and models.
Loving Uncle Tom
Up to a point, children could get these things from a film as well. But a book does more. Before you start, a book is just a stack of paper with a hardcover. By reading aloud what is in that pile, the child discovers that there is a unique world in that paper pile. There are people you can love, like Uncle Tom (the one from the cabin, you remember).
To go from A to Z through that pile of paper takes patience and perseverance. That is a skill you train your child while reading. Isn't it a fantastic job?
I have travelled to different countries, and I have seen that there are famous children's books in all languages. For instance, in the Protestant world in the Netherlands, a renowned author was (and still is) W. G. Vandehulst. Our youngest daughter still likes it to be read from "The Jolly Baker".
For me, it is fascinating that many Vandehulst titles have an English version (published by Inheritance Publications in Canada). It isn't easy to imagine an author with a more apparent Dutch stamp than W. G. Vandehulst. Get into a boat from the City of Utrecht to Loenen aan de Vecht, and while sailing on the River Vecht, it's all Vandehulst around you. "Bruno the Bear" plays in Utrecht, and the "Pig under the Pew" could have been in Loenen (where my wife comes from).
I would love to know whether these books in English have the same atmosphere and imagination as in Dutch. If somebody has experience with that, I am open to listening to a report about that.
Blessed with Christian books
Another reason to read stories to children is that this is a way to educate them about norms and values and form their historical awareness. In our days, we are blessed with so many good Christian books. Take for instance John Bunyan's "Pilgrim's Progress". That story is available in different versions for several age groups.
Apart from this, there is a lot of material from church history. Please, let the children know about St. Augustine, Martin Luther and John Newton.
Last but not least, there is the Bible itself. Reading and listening to the Word of God requires training as well. Whether you use an old or a new version, the language of the Bible is different from ours. It not only speaks about guilt, grace and gratitude; words that would not be used so much in everyday language. But it also uses complex images, like the Prophet Isaiah (chapter 40,3): "A voice cries: In the wilderness, prepare the way of the Lord; make straight in the desert a highway for our God. Every valley shall be lifted up, and every mountain and hill be made low."
In a flat and fruitful country such as the Netherlands, it isn't easy to recognise these images. So, you must explain that because this is the language in which God speaks about Himself and His Son.
Drawn by a simple story
I have discovered that a story does not have to be particularly 'good' to be read to children. A simple tale quickly draws children. My impression is that it is more important that you, as a parent or reader, are charmed by the book you read.
You don't have to be afraid either that you take a too difficult book. Of course, reading from a study book won't be exciting for kids. But for reading to them, you can take a book that would be too difficult for them to read by themselves.
Although, by doing that, you can end up in funny situations. I remember, while reading to our children a book about the Second World War, that one of our younger children was not aware of the fictitious character of it. In the story, everything seemed to go wrong just before the final end. At that moment, she said: "Daddy, if this all goes wrong, I have another idea to help them."
Of course, my experience as a father is limited. But my impression is that reading to children is helping them to read for themselves. As soon as they understand characters, they try to understand the message. Today, our children love to read the Dutch version of "Ranger's Apprentice" by John Flanagan at quite a young age. Well, that is not Shakespeare. But you will never read Shakespeare if you miss the skills to go through "Ranger's Apprentice".
Writing easier than reading
Reading skills are so important. A few weeks ago, my colleague Dr Enny de Bruijn wrote that "today it's easier to write a book than to read it". Anything you can do to help your children with that seems a bonus to me.
This is more important in these days of digitalisation. Of course, this article would not reach you without the electronic world. But I also know that electronics lead to a decrease in reading in many households. Many years ago, the theologian Prof Jakob van Bruggen had written a bundle of children's stories. Reading them was a "powerful tool" in families, he said. "With a little reading and telling you immediately win it over the television", he said in an interview. "Grab a simple reading book, sit on the couch and read at a fixed time, and within a short time you have a group of children from the neighbourhood around you. To the mothers' surprise, they do not understand how little John possibly forgets his television program."
Well, for all this, UN's Literacy Day is very needed. Not only for the kids but for the parents as well.