Weekly column from Finland: What is the ultimate meaning of life?
30-09-2022
Christian Life
Sari Savela, CNE.news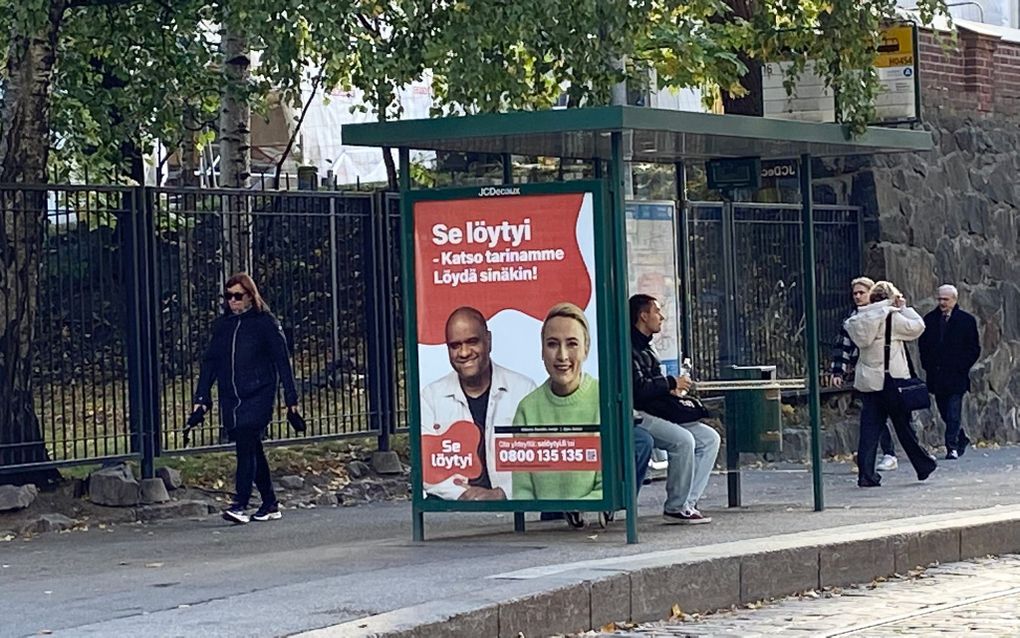 It will be the largest-ever nationwide Christian media campaign. It started in Finland on September 19th. The "Mediamissio 2022 campaign" will be seen in Finnish media and at events all over Finland till mid-October. Nearly 400 Christian churches and organisations are involved in the Mediamissio 2022 campaign, which is called "It was found".
During the media mission, many churches and individual Christians take to the streets to meet people and talk with them about faith. Many evangelistic actions take place all over Finland.
The aim of Mediamission is to awaken Finns to the ultimate meaning of life, to alleviate loneliness and to help those in need through "diaconia", Onni Haapala summarises. She is the mission's main coordinator. According to her, personal encounters and conversations are important.
Sari Savela is editor in chief of Seurakuntalainen, a Christian news website in Finland. She is also active as a photographer. In her free time, she is involved in municipal politics.
She is married and mother of three grown-up children. Together with her husband, she does marriage work.
In the first week of the campaign, a free "It was found" booklet was distributed to 2,2 million households. It explains the core issues of Christianity. The most compelling content includes the real-life stories of sixteen people who tell how their faith changed their daily lives and gave meaning to their lives. Among those who have shared their stories in the book are an ex-prisoner, an academy professor, a sports director, a top athlete and a singer.
Former life prisoner Lauri Johansson tells in the booklet how he found God's grace:
"In 2007, I was awake again at night in the prison thinking of my life, distressed, and desperate. I realised I would go to hell if I died at that moment. If I decided to end my days, I would end up there in that case as well. I had only one lifeline. I was crying as I knelt to pray. I asked Jesus to forgive my sins, and I felt that He really forgave them as my mind was filled with amazing peace and great gratitude. I immediately knew what I had to do the next day when they came to open my cell. I had to confess to the murders I had committed in 1992 and 1998."
Markku Kulmala is leading the flagship for climate research in Finland. In his field, he is one of the world's most respected experts who never thought that there should be contradictions between science and Christianity. In the booklet he testifies:
"As a Christian, I regard it as my mission to spread hope. Let's save our marriages! Let's save the earth! Let's grow some forests! Let's take care of each other and make our forests grow. Let's not burn and destroy them. Everyone can reduce their consumption. Every day is a possibility to do better than before. Luckily, we don't have to squeeze hope from ourselves. Our hope is in God."
Finland has traditionally been a Christian country where most people belong to the Evangelical Lutheran Church. Today, less than 70 per cent of the population belong to the church. Most of them are Christians in name only. According to some survey about 8-10 per cent of Finnish people are born-again Christians. Finland is a secularised country as are the most European countries nowadays.
The living Saviour
According to a Church survey published two years ago, Finnish faith in the Christian God has almost halved in 20 years. In 1999, almost half (47 per cent) of Finns believed in God; in 2019, only one in four believed in the God the Church teaches.
The results of the surveys confirm the need for evangelistic campaign. People need to be told that Jesus is the living Saviour. He is risen and whoever believes in Him has eternal life.
Jesus is the living Hope in the midst of the turmoil of the world. In the words of a Finnish hymn "When there is safety in God, there is safety in a better place." The hope that is based on Jesus's resurrection endures.
Maybe later I will report the results of the ongoing evangelistic campaign. Now it's too early to say anything. But I can ensure you there has been a lot of prayer before this campaign that God would once again give revival to Finland.