Christian is having hard times, in Europe too
16-11-2022
European Union
Eunice Hoekman-Stuijvenberg, RD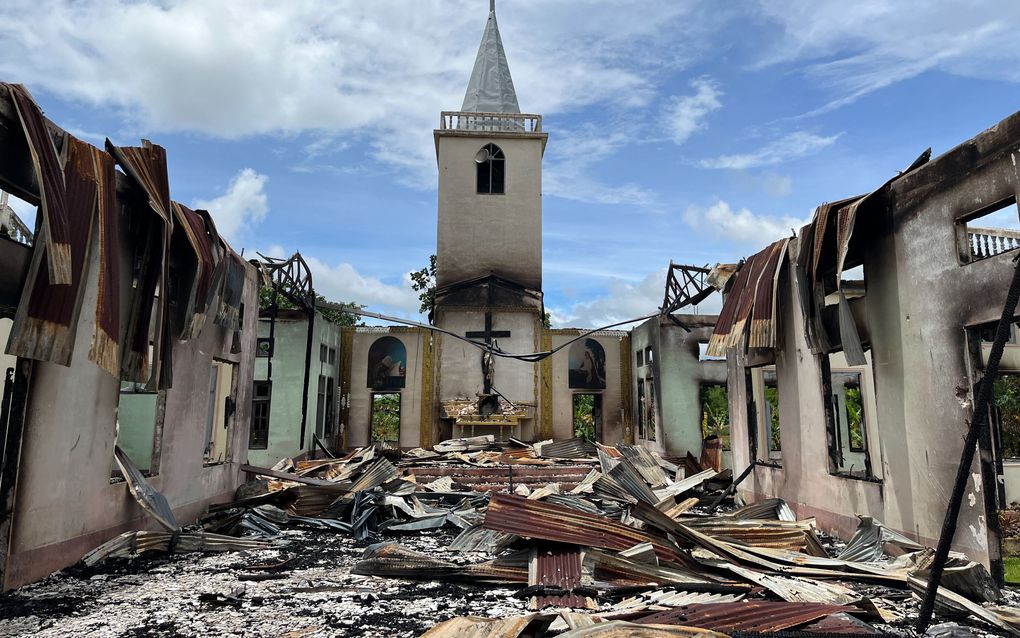 Two different reports on the persecution of Christians worldwide show increased repression. In Europe, hundreds of incidents occurred in 2021.
Research published on Wednesday by the Roman Catholic organisation Church in Need (Kerk in Nood) found that 75 per cent of the 24 countries surveyed –these are countries already known for violations of the right to religious freedom– saw increased repression or persecution between October 2020 and September 2022, a trend that has been visible for decades.
Church in Need came after two years with the report "Persecuted and forgotten?" For instance, they spoke to the Nigerian pastor who lost 40 members of his congregation in an attack on Pentecost Sunday, 2022. His congregation is "devastated with grief", he said. No one came to rescue. Not the police, not bystanders. To this day, the perpetrators are unknown. Not just Nigeria but the entire African continent is suffering from the rise of Islamic extremism. Boko Haram, Al-Shabaab and Islamic State of West Africa Province (ISWAP) blare threats and murder.
In the Middle East, crises and ongoing migration threaten the survival of three of the world's oldest Christian communities – in Iraq, Syria and Pakistan. Paradoxically, there are signs that the situation for Christians in parts of the Middle East is worse than during the Islamic State occupation. The exodus is most evident in Syria, where the number of Christians fell from 1.5 million (10 per cent of the population) in 2011 to around 300,000 now (less than 2 per cent of the population).
Intolerance
The Observatory for Intolerance and Discrimination against Christians in Europe (Oidac) recorded 500 cases of violence and other crimes motivated by intolerance towards Christians in 2021. In Europe, that is. Most (around 300) of these documented "hate crimes" are related to vandalism, such as defacing a church building or damaging property. One of the slogans was: "The only church that gives light is the church that burns".
About 80 cases involved the theft of offerings or religious objects, and 60 involved arson, whether deliberate or not. There were also 14 known cases of physical violence, insults or threats, and four murders.
France and Germany are at the top regarding incidents resulting from anti-Christian sentiments. The report shows a picture of a somewhat elderly Frenchman after he was attacked in Paris. His balding head and checked blouse are covered in blood.
Through tags (signatures or symbols of graffiti sprayers) and by studying online messages, it is possible to picture the background of the perpetrators. Sometimes they are Satanists, the report says, sometimes Islamic groups. Other attacks come from far-left groups, feminists or LGBT activists.
The report speaks of a "growing secular intolerance" in Europe. Oidac received "alarming numbers" of negative stereotyping, excuses for violence and insults against Christians and Christian denominations, coming from public figures and "even" politicians and journalists. For example, a singer was called mentally retarded because he was a Christian. Journalists described Christianity as a "dangerous ideology" and believers as "stupid religious fanatics."
Christian ethics
Legislative proposals or new laws touching on Christian ethics, such as abortion, euthanasia and gender issues, stir up divisions all over Europe, Oidac notes. Partly as a result of rising tensions, Christians are increasingly imposing self-censorship on themselves. In other words, they are more cautious about expressing their beliefs publicly for fear of discrimination or sanctions. Oidac is clear about the effect: "This indirectly affects religious freedom and affects their mental health."
This article was translated by CNE.news and previously published by Dutch daily Reformatorisch Dagblad on November 16th, 2022.