'Revival' in the United States; how Christian media in Europe report about #Asbury
22-02-2023
Christian Life

CNE.news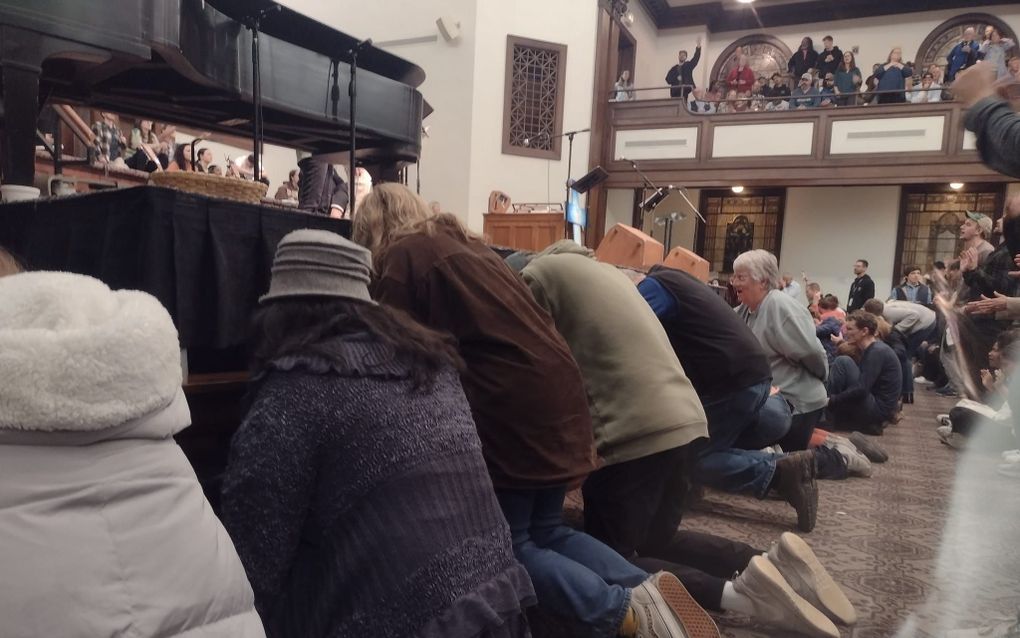 A university gathering has sparked the attention of Christians across America and Europe. The movement, which first began as a student chapel service at Kentucky's Asbury University, has attracted thousands of visitors since February 8th.
One Tik Tok video with the hashtag #AsburyRevival shows multiple people worshipping, praying, and weeping before the University's church altar. It's been viewed at least 31 million times. As the event continues to unfold into its third week, some European Christian media are calling it a revival while others are more cautious, preferring to using the term, "awakening".
Size
According to the Norwegian publication, Dagen, the "revival meetings" have attracted thousands from across the nation and world. Because of its size, the university's staff has had to spread out the meetings around the campus. The 1,500-seat auditorium has not been able to accommodate all the guests. According to Dagen's manager, Jonen Redaks, it is still uncertain to know whether the fruits of this "revival meeting" will continue to spread outside of the university's campus.
"What will be the long-term fruits of a Christian renewal or revival, we cannot know while it is in progress. From a Christian point of view, there is every possible reason to be happy about a Christian awakening where the center can be the center: People open their eyes to the fact that they are lost in themselves and need Jesus Christ as Saviour. God's grace does not become dry theory, but an experienced and inalienable reality," he said in an editorial.
Viral phenomenon
In Finland's Seurakuntalainen, the gathering is described as "a wake" that has become a "viral phenomenon."
In another Norwegian publication, Verdinytt, the emphasis was on the thoughts from Asbury University's senior executive who said that many experienced the "fruit of the Spirit." According to Kevin Brown, demonstrations of "radical humility," complete submission to Christ, and the fruits of the Spirit have been demonstrated throughout the meetings.
Journeys
In the Dutch publication, Nederlands Dagblad, the focus on long journeys became apparent. Freelance filmmaker, Tate Hipps and his two friends made the six-hour journey from Alabama to the university. According to Hipps, he came because he wanted to be "available to God".
"I see all sorts of things happening around me: healings, people accepting Jesus as their Saviour. But I want to take home some of this spark, of what God is doing here. I want to infect people in my own community with this love and teach them to live in intimacy with God. We have to lift up our own communities," he said.
ND also featured a Brazilian couple who came from Columbus, Ohio to witness the "move of God" taking place. Although Geziel Marques 29, and his fiancé, Fermanda Oliviera 34, waited for several minutes in freezing temperatures, the experience was worth being there.
"They need a revival, because there is a need for something new. Many people are tired of the daily routine where every day is the same and there is no change. I have a heart for people who feel that way," says Marques.
Roots
In Reformatorisch Dagblad the events taking place is a reminder of previous revivals that started at universities. The First Great Revival in 1740 and Second Great Revival in 1800 can all trace their roots to higher educational institutions. As for Asbury University, revivals had previously taken place in 1970 and in 2006. While the events at Asbury have been largely embraced by many scholars, some are still sceptical. Denny Burk, who is a Calvinist and Bible Studies Teacher at a Southern Baptist Seminary said in the RD report that he is "by nature" critical but "hopes and prays" that something good will come out of it. However, Pete Grieg, founder of the organisation, 24/7 Prayer said on his Twitter post that he was "thrilled to hear of many "credible accounts" of the Spirit's "powerful work."
In Spain's Protestante Digital, reporters summarised what was happening at Asbury as a "revival," and in one place, a "cult that does not end but has been marked by simplicity". However, according to Christians for Ukraine, the continuous prayer and worship sessions are being described as "something special taking place" and a "unique phenomenon."