Number of Ukrainian Christians on the rise during war
22-02-2023
Eastern Europe

CNE.news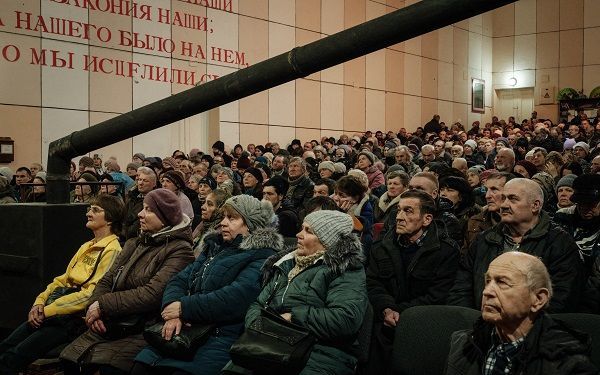 After the war broke out in Ukraine last year, the number of Christian believers increased throughout the country.
According to data from the Razkumov Centre, which was published in the Religious Information Service for Ukraine (RISU), at least 74 percent identified themselves as believers. In 2021, that number stood almost 69 percent. At the same time, the number of non-believers and "convinced atheists" decreased. For non-believers, the figure decreased from 13 percent to 12.2 percent. For "convinced atheists," that number dropped from 3.4 percent to 2.1 percent.
Religious fabric
According to a release from the Foundation of Ukraine on the Razkumov Centre, the war has caused many changes in the religious fabric of Ukrainian society.
"Under the influence of literally constant stress, public attitudes toward religion, expectations of the church, and assessments of its role in the life of society, the state, and the individual have changed. The nature and depth of religiosity, the need for communication with fellow believers and pastors have changed," the release said.
Age and region also proved to be a factor as recorded in the RISU report. Young adults aged 18-29 experienced the largest increases in religiosity. In the 18-24 age group, the figure jumped from 48.2 percent to 60.6 percent. For those aged 25-29, the number of believers went up by almost 9 percentage points from 56.1 percent to 65.1 percent. Central and East Ukraine saw the biggest increases while the west experienced a decrease.
Attitude
Although the number of believers is on the rise, general attitudes of trust towards Ukrainian clergy remain low. According to Spiritual Front of Ukraine and published data at the Razkumov Centre, only 23 percent believe that "most clergymen are deeply moral and spiritual persons." The level of trust in the church has consistently gone down over a ten-year period. However, the attitude of the church being a "moral authority" increased in 2021 (49 percent) but decreased the next year.
In addition to the marked increases, the stress and poverty from the war has led many churches to step up their aid efforts. In a report from All-Ukrainian Cathedral, at least 74 percent said that their religious communities helped displaced people since the beginning. As for getting moral support, at least 54 percent of respondents said that their religious community offered it. At least 47 percent also received psychological support.