German Baptists build tents in earthquake zone
15-05-2023
Southern Europe
Leendert de Bruin, RD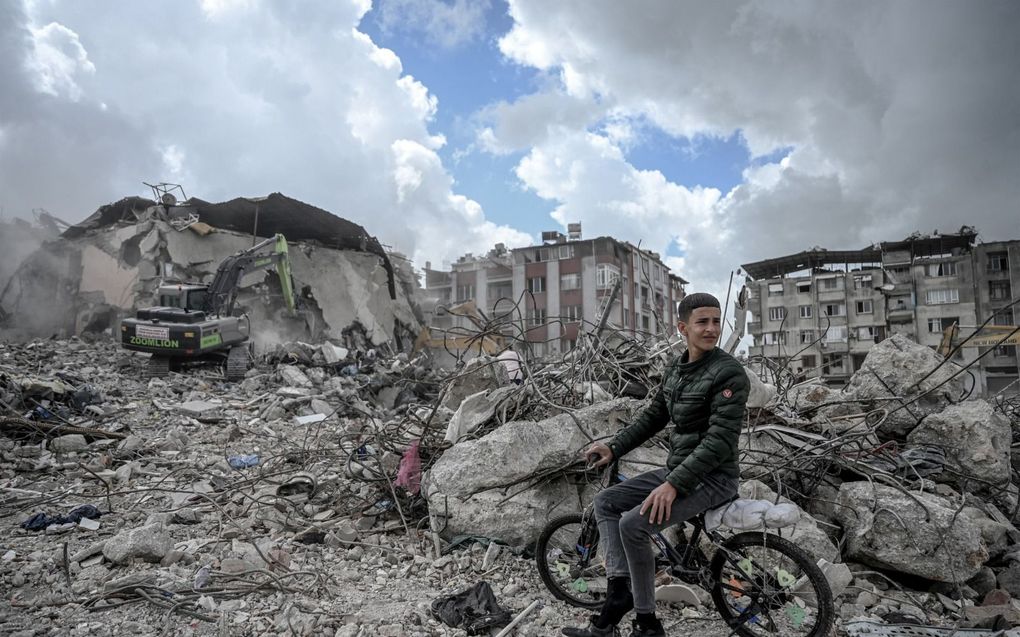 While many large relief organisations left the earthquake zone in eastern Turkey, local churches -supported by foreign volunteers- continue providing emergency aid. "The love of Christ compels us to do so."
Setting up the emergency tent is sometimes a bit like a Babylonian confusion of tongues. "A knot has to be tied somewhere. How do you say that in English?" it sounds in German. Then again, Hungarian and Arabic words can be heard. There appears to be a search for a pickaxe, but how do you make that clear?
The mixed company of volunteers is on the road to set up tents for a displaced Turkish family on behalf of the local Protestant congregation in Antakya -the ancient Biblical Antioch. Three months after the devastating earthquake in early February that killed more than 50,000 people across Turkey, those left behind still live in tents.
Despite the language barrier, the volunteers assemble the tent in about 35 minutes. At the base of the shelter is a rust-brown curved frame. They apply several layers of insulation and tent fabric with a big swing, tying it down with a rope. Then the whole thing is lifted and set on legs. No pegs but chunks of rubble from collapsed buildings should ensure the tent remains upright even in strong winds.
Emergency aid
"It is mainly the language that makes it difficult," says Jonas Dück (17). The teenager is part of five volunteers from a Baptist congregation in Waldbröl, near Cologne. It is already the third team of members that have travelled to the town in southeast Turkey to help provide emergency aid through the local Protestant church -the Antakya Mesihçiler Kilisesi-.
In the short week he has been in Antakya, the distress of the Turkish people in the earthquake zone touched Jonas deeply. "You see how the city centre is in ruins. Within two minutes, these people lost everything. They have nothing left. It's impressive to hear the stories of the residents."
What motivates him to come to Turkey? Jonas thinks for a moment. "Die Liebe Christi drängt uns," someone says spontaneously in German. One of the group members is ahead of him. "The Bible tells us to help people in need," Jonas adds. "Suppose someone has no clothes or food, and we would only wish him well; that is no use, is it?" he refers to James 2 verses 15 and 16.
Rigged
From the opening of an already erected tent, Itir Çiçek looks on. "We have been staying here since the day of the earthquake," she says with the help of a translation app. The kindergarten teacher lives with her fiancé, her parents, her brother and her grandparents at the site, where four tents are already rigged. "We were sleeping when the earthquake started. It lasted an incredibly long time for us. My fiancé lost his parents; we lost our houses."
When she heard from friends that she could get a tent through the church, she immediately volunteered. "We are incredibly grateful that this is being done for us," she said. When the last rope is tied, her father appears with cardboard cups of steaming tea and water bottles. Curled orange peels -sourced from a glass jar full of sugar water- are eagerly enjoyed by the volunteers.
After a brief pause, these volunteers look at their watches again. The aim is to put up at least ten tents today at various locations around the city. "Will you pray again, Antoine?" The 45-year-old Lebanese nods. The volunteers form a circle between the emergency tents. The rest of the relief team does not understand a word of the Arabic prayer, but the Muslim family all the more.
What he prayed for? "That they may come to know Jesus' love," explains Antoine Abou Haidair on his way to the following location. "That He may dwell in their hearts."
Haidair is not afraid that such words might meet resistance. "But of course, we are careful. We don't start talking about Jesus right away. We are here, first of all, to set up tents. In this case, we have been asked to do so by these people themselves. Actually, we don't even need to talk. By simply providing help, we are already showing something of Christ's love."
Rented church
At the end of the morning, the group returns to the Protestant church's camp, a few kilometres south of central Antakya. A handful of units and makeshift tents are located on a bed of gravel. They accommodate some 30 volunteers. One of the container houses is the home of pastor Hamdullah Akin and his wife, Yeni Elmas. Not only the rented church but also their house has collapsed.
They took a seat under a cloth to escape the scorching sun. After a cold and rainy spell, the mercury is now ticking the 30-degree mark. "And then the summer heat is yet to come," sighs Elmas, who usually does the talking. However, the couple does not even consider leaving. All their time is taken up with setting up relief projects.
They face big challenges. "Right now, we are desperately in need of housing units," says Elmas. "They are sturdier and more durable than tents." The demand for food also remains high. "Many people have lost everything. They no longer have a job, so they have no income either. So how will they put food on the table?"
Ruins
Outside the camp gate, it is a coming and going of people. Neighbours pick up parcels of perishable food, bottles of water and sanitary items. A mother with a small child on her arm receives a tin of powdered milk. No one leaves empty-handed.
"We are currently providing assistance to at least 10,000 people," says Elmas. "1,600 families already signed up for our food distribution." In addition, the church meanwhile set up hundreds of tents in the earthquake zone. She does not have exact numbers. "We lost count," she says.
The camp of Elmas is one of five places in Antakya and its surroundings where Turkish Protestant churches operate. One of these is located in the centre of the ruined city and is run by the Izmir Protestant Church. Although the congregation is more than 800 kilometres west of the disaster area as the crow flies, the church was active in the area within 48 hours, says Paul Sinkuc, who is coordinating the aid. "I arrived soon after. For the first few days, we had to sleep in a car."
Food
Meanwhile, a camp has also been built here. On the site of an abandoned car dealership, five tents are set up. These accommodate some 40 volunteers, although not all the beds are occupied. Across the busy thoroughfare is a 50-metre-long tent.
The smell of food betrays from a distance that this is a soup kitchen. At least ten volunteers cut vegetables under the direction of a cook. Around 25 kilograms of food simmers on the stove in pans at least a metre in diameter. Outside the tent, there is a queue of people waiting to be seated at the tables in the dining area.
"With our soup kitchen, we provide about 1,000 people with a meal three times a day," says Sinkuc. Initially, the church distributed food in several neighbourhoods. "But that became too much for us. Now we only distribute food in this neighbourhood. We are trying to provide about 500 more families with a monthly package of food, water, and hygiene items."
The service attitude of the First Christian Church in Antakya contributed to the growth of the church in this area, one of the volunteers knows. "How special it is that we as Christians are allowed to do the same in this day and age." Despite the language barrier, these Christians still speak the same language.