Christian leaders worldwide recommend corona vaccination
21-05-2021
Opinion
Mark Wallet, RD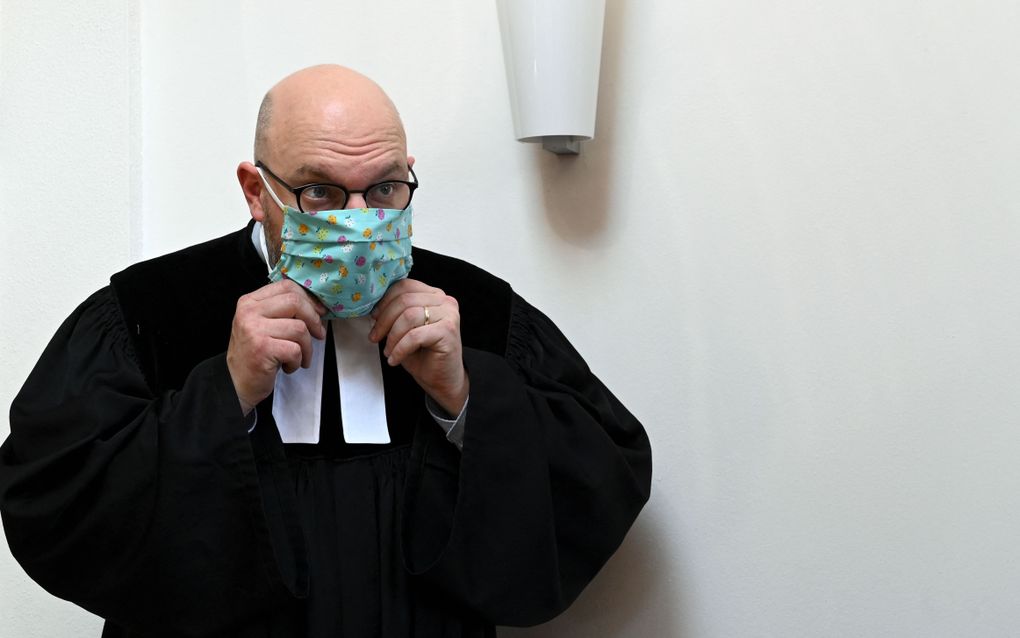 Beware: corona vaccines are diabolical and affect your DNA. They are a sign of the end times and the coming of the Antichrist.
Such messages are frequent among American Evangelicals. Virtually no church community worldwide has a negative opinion of vaccines, quite the contrary. But on the grass-root level, the situation is very different.
South African Chief Justice Mogoeng Mogoeng stirred up controversy in December with a prayer at a ceremony to thank health workers in the town of Tembisa. "If there is a vaccine that is the work of the devil," he prayed, "and that is designed to inject 666 into people's lives and affect their DNA... may it be destroyed by fire."
A storm of protest broke out, but Mogoeng Mogoeng defended his prayer. He had not said that vaccines are devils but only prayed that harmful vaccines would be destroyed. "According to Christians, this is the end times," he declared. "If there be a vaccine that's of the devil, meant to infuse triple-six in the lives of people [and] meant to corrupt their DNA, any such vaccine, Lord God almighty, may it be destroyed by fire, in the name of Jesus. Any clean vaccine they have to produce quickly; people need that for their health."
This explanation could not convince his critics. He sows doubt and undermines confidence in scientifically tested vaccines, they judged. Interest group African Alliance, therefore, filed a case against him in January.
The views expressed by Mogoeng are not strange in the wider Christian world. In the United States, reports are circulating on social media about the relationship between anti-corona vaccines and the end times. In a detailed article in February, The Washington Post described a video of young people on the app TikTok by American youths. They act out a scene in which they are forced to be vaccinated against the coronavirus. It ends with images of them covered in fake blood and balancing on the edge of death. The message: this is how vaccines can herald the end times.
Distrust
"Last summer, I still thought that we only heard such noises on the fringe," said Christian epidemiologist Emily Smith in the same newspaper. "But the longer the pandemic lasted, the more I realised how widespread they were. I was amazed how many Christians and local churches support them."
Smith knows the Evangelical world well: she works at a private Christian university in Waco, Texas, and is married to a Baptist pastor. She decided to post some critical comments about the conspiracy theories on her Facebook page, bringing her hostile reactions and even threats.
The message is not only seen online but also in some mega-churches. Pastor Guillermo Maldonado of the mega-church King Jesus International Ministry in Miami, for example, warned his audience in December not to get vaccinated in any case. "Believe in divine immunity," he said.
In earlier sermons, he proclaimed that the virus changes DNA and would be used by the government to track people. The end times play an essential role in his ideas: the coronavirus vaccine would lay the network for the coming of the Antichrist.
Other pastors in the United States similarly expressed themselves. "We are against masks, against keeping our distance, against vaccinations", stated Pastor Tony Spell of the Life Tabernacle Church in Boston Rouge, Louisiana, for example, to Deutsche Welle (DW) in December.
Research by The Washington Post and ABC News Poll in January showed that 44 per cent of white Evangelicals surveyed would probably or definitely not get vaccinated. Among the general American population, the percentage of naysayers is less than a third.
In earlier polls, the percentage of Evangelicals who were sceptical about vaccination was even higher. For example, a December Pew survey found that about half of American white evangelical adults do not want a vaccine. Among their black fellow believers, this percentage was even close to 60 per cent.
The scepticism, by the way, is not only rooted in end-time-related theories. "The main reason is a deep distrust in government," said historian Prof. Sam Perry of Baylor University in DW. "It is the result of decades of distrust in science, modern medicine and 'the global elite'."
Among black Americans, that distrust is further fuelled by negative experiences with the general American community in the past. Deep in the collective memory, there is still the infamous Tuskegee syphilis study, which the US Department of Health conducted in Alabama between 1932 and 1972. Without their knowledge, 600 poor black Americans were used as subjects in a study on untreated syphilis.
In the fight against disinformation on vaccination, 2,700 American Christian leaders signed an open letter at the end of August, calling for trust in science. The letter called on Christians to "wear face masks, get vaccinated and counter disinformation."
Fundamental objections
The idea that vaccination is resistance against God's fatherly providence, as an interpretation of the Heidelberg Catechism, is rare outside the Netherlands, not even among Reformed people. However, such objections do exist in the United States and Canada within communities with roots in the Netherlands.
In 2013, the American epidemiologist John Grabenstein published a study on religious convictions surrounding vaccinations. He mapped several dozen outbreaks of infectious diseases in religious communities. He identified only two groups that rejected vaccinations generally: Christian Scientists and Dutch Reformed.
Christian Science is a movement that bases itself on the Bible and a book by founder Mary Baker Eddy. It is generally very suspicious of modern medical science. By the way, Cristian Science does not have a strict, blanket ban on vaccination.
The picture has not shifted since 2013, Grabenstein believes. "There is nothing new in the Bible, of course," he responds in an interview with Reformatorisch Dagblad. "The views in all major religions are consistent: the overall idea is that actions that save life and health are desirable. The most important religious bodies, therefore, accept and even encourage vaccination against Covid-19. Pope Francis spoke of Covid vaccination in terms of obligation and branded rejection as suicidal."
He sees that the internet has taken on a more significant role in the spread of "unsubstantiated conspiracy theories." Fundamental theological considerations, such as those in part of the Dutch Reformed denominations, he has not found elsewhere in the world. "Such visions are certainly not coming from the official bodies here in the United States and Canada," says the Roman Catholic epidemiologist.
Even very conservative communities such as the Strict Baptists in England and the Free Presbyterian Church of Scotland do not reject vaccination.
What is clear is that since Edward Jenner developed the smallpox vaccine in 1796, there has been criticism, including from religious quarters. Some clergymen labelled the immunisation "unchristian" because Jenner's vaccine was made from cowpox and came from an animal. Other theologians argued that vaccination goes against God's will.
The Parisian historian Patrice Bourdelais has done a lot of research into epidemics and health care. In a book, he writes about the objections of Quakers in Great Britain and Baptist groups in Sweden. "Worldwide, it is now mainly the more fundamentalist religious movements that are sceptical about science and therefore also about vaccinations," says Bourdelais. He points to Pentecostal churches, among others.
Ethical hierarchy
Thresholds for Christians to anti-corona vaccines can be the human cell lines from aborted foetuses. These apply to the vaccine of AstraZeneca. For this reason, Roman Catholic Church leaders in Australia, among others, recently called on the faithful to ask the government for a vaccine other than that of AstraZeneca.
Their colleagues in the United States drew up an "ethical hierarchy" of vaccines, with Pfizer and Moderna considered "non-controversial". However, if AstraZeneca can be avoided, the bishops said, that would be advisable. If there is no such alternative, Catholics are allowed to use it because the interests of public health outweigh the benefits.
In general, however, the bishops recommend vaccination "as an act of love to our neighbour. And as part of our moral responsibility for the common good."
A Dutch version of this article was published in Reformatorisch Dagblad.