Evert's comment: You may only praise vacation if you love your work
16-08-2023
Opinion

Evert van Vlastuin, CNE.news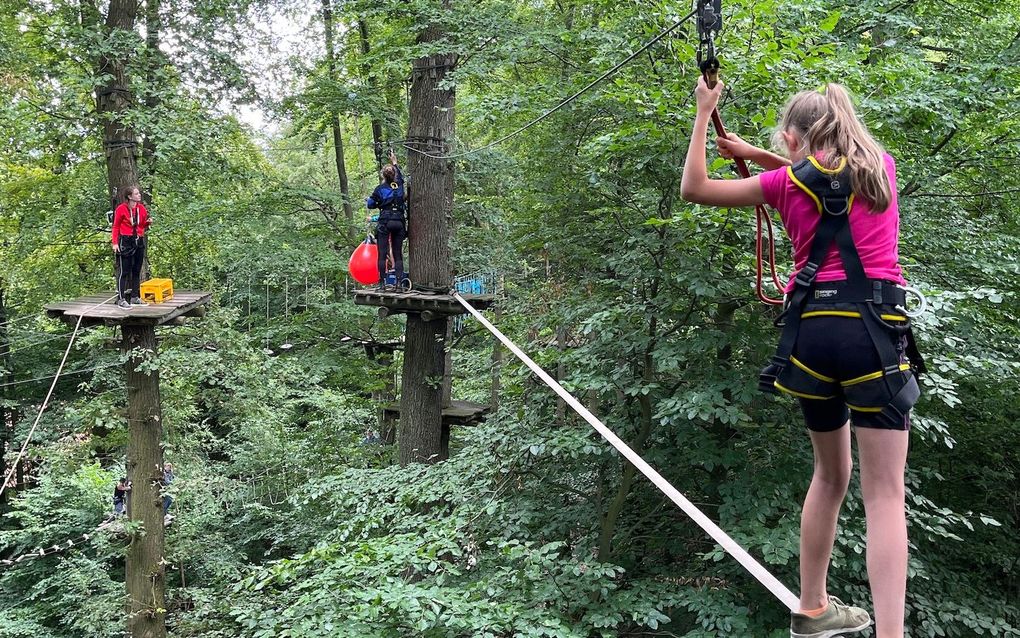 What did you do during the vacation? And: where did you go? That are the two main questions at the end of the holiday season.
No, I don't have a problem answering these questions. Or asking them myself. But sometimes, I get the impression that being out and about, far from home, is perceived as our natural destiny. People seem to believe that we are made to be free from work and away from home. And that the rest of our life is just dull or, at its best, preparation for the next vacation.
Of course, I enjoyed being in Germany with my family and doing things together. Especially good was our "day in the trees" in a climbing forest. But now I am back at work; I am enjoying that again. Of course, I have more obligations, and I wake up at the sound of my alarm clock again.
Honestly, our holiday would have been much different if the weather had been drier and warmer. It was wet and cold. That was fine for me. We don't have a natural right to a dry and hot vacation.
In great parts of Europe, the weather could have been better for holidays. On Rhodos, there were fires. In Slovenia, there was flooding because of heavy rain. And in Norway, there was a dangerous storm. And also, in Western Europe, there was much rain between mid-July and mid-August.
Emptiness
For Christians, the vacation season is sometimes tricky. Man is made to work, many think. And because of that, the holiday is just seen as emptiness.
This summer, it struck me how often ministers responded to that by pointing to Biblical texts in which Jesus speaks about rest, as Mark 6,31:
"Come away by yourselves to a desolate place and rest a while." For many were coming and going, and they had no leisure even to eat.
I think the word "leisure" is very well used here. It is a halt to the usual workload to refresh. And during that pause, you can relax and speak with each other. Especially as a family, that is very important. After that, you go back to tasks again.
In a critical article about the holiday culture, the Dutch pastor Rinie van Reenen referred to Neil Postman's book Amusing ourselves to death from 1985. I remember reading that book repeatedly as a student. I still have it, and I think I will go through it again.
Of course, this title is very strong. Postman chose this to ask attention to the idleness of only watching television for leisure. But that equates leisure to laziness, which is not what Jesus and His disciples did. And Van Reenen does not say this is the only thing that can be said about vacation.
Distraction
Another referral to the same Postman title I found this summer in Work & Leisure in Christian Perspective by Leland Ryken. The version I bought was printed in 1989, the year when the Berlin Wall came down, and had since been waiting for my order in a storehouse somewhere. It was very good to read.
Ryken also refers to the negative stereotyping of both work and leisure. For the consumerist, work is only reasonable to pay the costs at the weekend. And for the person with the old-fashioned "Calvinist work ethos", leisure is only a distraction from the important matters.
Ryken simply strikes both extremes. Work and leisure are both rooted in God's creation and belong to each other. For him, it is clear that God was not lazy or idle on the seventh day. He enjoyed the work of creation. That is also an advice to let our weekly work behind us with satisfaction and receive a day of rest.
For Ryken, it is clear leisure is rooted in the "creation order". Nobody has to feel guilty about it; on the contrary. But work and leisure go together and belong to each other. That's very helpful, I would say. Don't love your work above your leisure, and vice-versa.
Reaping potatoes
Another thing that Ryken points to is family and church life. For a workaholic, family life is difficult. And such a person has no chance either for church tasks because he "can't find the time for it". But both family and church belong to the leisure part of our life, the author says. Ryken stresses that all leisure must have an element of worship in it. Otherwise, it would derail and get disconnected from God. Also, Sunday should be spent "leisurely".
But the same is true for work. If we don't do that for the service of our neighbour and the glory of God, it becomes a burden or an end in itself.
Ryken also speaks about a scale between work and leisure. On the one extreme, there is the necessary work for your income. On the other extreme, there is playing chess with your family members. A play can be important as a social event, but it is no more than that.
Halfway the scale, there is what Ryken calls the "semi-leisure". I spoke about that with my daughter when we reaped the potatoes in the garden. Having a vegetable garden is not a necessary task for our survival. But as soon as you have something like that, you are bound to reap the potatoes when the time is there. Otherwise, the garden would become a mess.
Honestly, this is my relaxing model: being busy with other things. Chores in the house, reading, or doing other tasks. By focusing on other matters, you forget what worried you so much about in your daily duties.
Noah's telescope
This summer, I had to lead a church service as well. In our church tradition, an elder does that by reading a sermon from somebody else. I decided to read "Noah's Telescope" by Archibald Brown.
When I prepared and translated that sermon, I discovered that Brown (1844-1922) had once published a booklet The Devil's Mission of Amusement.
In Ryken's book, I read that the English Puritans were very reserved against amusement, especially when connected with the pub and the drinking of alcohol. Brown was a successor of Spurgeon and, because of that, very much in the Puritan tradition.
But by reading the small booklet, I discovered that Brown was not so much arguing against amusement as such, but especially if the church itself tried to attract the masses with it. Preaching the gospel, Brown said, was very different from an attraction or a "dramatic performance".
The devil has seldom done a cleverer thing – than hinting to the Church that part of her mission is to provide entertainment for the people to win them into her ranks. (…) Here, now, is an opportunity of gratifying the flesh – and yet retaining a comfortable conscience. We can now please ourselves in order to do good to others. The rough old cross can be exchanged for a "costume," and the exchange can be made with the benevolent purpose of elevating the people.
As I said, this is not about leisure in general. It is changing the nature of gospel preaching. But at the end of his text, Brown appears to be very critical towards some forms of entertainment. Visiting a theatre would lead to forsaking the prayer meeting and an empty life.
Well, that is something to think about: what has priority in our life, and do we actually prioritise that as well?