Aurora rescues refugees in dangerous conditions on the Mediterranean Sea
17-10-2023
Southern Europe
Michiel Bakker, RD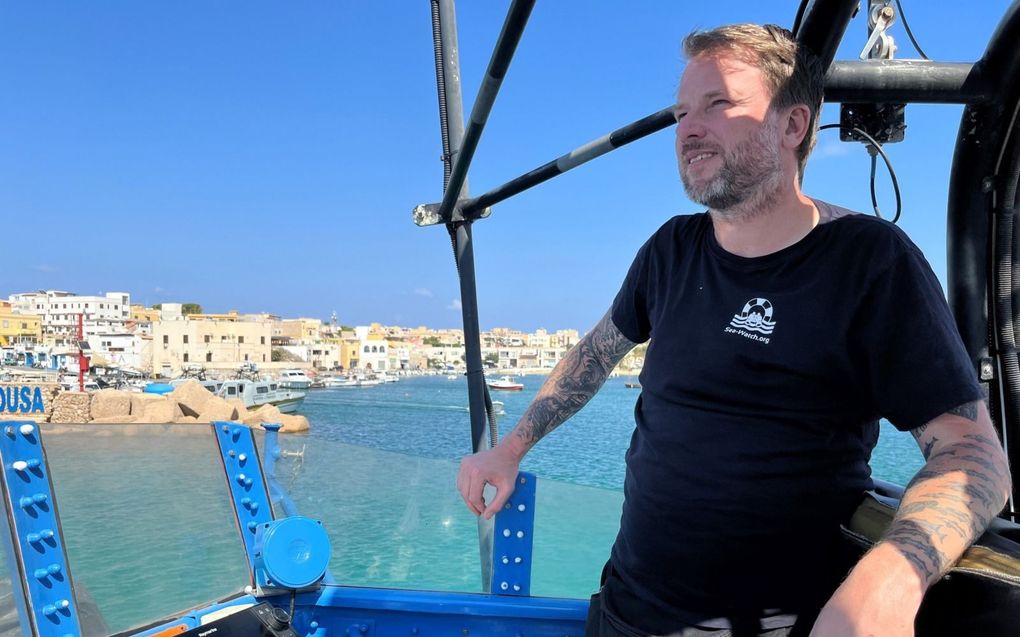 On the Mediterranean Sea, an overcrowded boat carrying refugees and migrants capsizes. Dozens of those on board end up in the water. Suddenly, the rescue ship Aurora emerges through the high waves. Sea-Watch staff reach out to help the drowning people.
For many years, the German organisation Sea-Watch has been active in the Mediterranean. Since 2018, it has had its base of operations in Lampedusa. The southern Italian island is some 110 kilometres away from the coast of Tunisia, one of the countries from which thousands of refugees try to reach Europe every year.
On a sunny autumn day, the Aurora, Sea-Watch's Search and Rescue ship, lies in the island's harbour, surrounded by pleasure yachts and others. "I love Lampedusa" is written in large letters on a wall further down. In another -not accessible- part of the harbour, four ships of the Italian Coast Guard are moored along the quay.
Raft
Hendrik Simon (47) from Bremen walks over a jetty to the Aurora and steps on board. On deck, a supply of 250 life jackets for children and adults catches the eye. Simon explains that the ship can accommodate 72 guests, as Sea-Watch calls the refugees and migrants. The Aurora also has a raft on which another 60 people can be brought to safety.
A small sick bay is set up behind the captain's chair. Simon, who has a coordinating role on board, shows his regular spot on the other side of the wheelhouse, where he has radio and telephone equipment within easy reach. Manoeuvring through the narrow aisles on the ship, he points out a supply of drinking water and emergency food, "a kind of biscuit".
Suffocated
When a migrant boat in the Mediterranean is in distress, the Aurora rushes out at a speed of up to 18 to 20 knots. During rescue operations, Simon regularly experiences harrowing situations. This started back in 2016 when he was still working for another NGO. He still remembers his first mission. When he arrived at a boat in distress, those on board handed over a 16-year-old girl to him and his colleagues. "They said she was asleep, but we soon found that she had died, suffocated on the crowded boat," he said.
On another occasion, an African woman pressed a plastic bag into Simon's hands immediately upon arrival. Moments later, it dawned on him that it contained a baby born at sea one or two days earlier. "Unimaginable that that mother had to give birth on a boat, with no toilet, amidst all the junk on board. How is that possible in this world?" says Simon, who later heard that "fortunately, mother and child were doing well".
Careful
His experiences at sea have had a great impact on the rescue worker. "After my very first mission, I cried for days. Now, when I go back to Germany after a stint on Lampedusa, I first have to land completely in a completely different world. Then, I have to be careful not to react wrongly to friends who worry about whether a coffee cup is yellow or green. What helps me cope with upsetting events is talking about them a lot, sharing my stories with others."
Deployed
In a few weeks, Sea-Watch will commission another rescue ship, the Sea-Watch 5, with a hospital on board, in addition to the Aurora. This ship can take care of 400 people and will be deployed in the central Mediterranean, Simon says. The Sea-Watch 5 departed on 4 October from Flensburg, Germany, via Rotterdam to Burriana, Spain. There, final preparations are now taking place before the ship is actually deployed.
On Lampedusa, Sea-Watch has not only a ship but also two Beechcraft Baaron-type aircraft, says Felix Weiss (33). "Safe passage" is written in Arabic on the organisation's spokesman's T-shirt. He lives in Berlin but spends three to four months a year in Italy.
Sea-Watch planes regularly take off for an eight- or nine-hour flight over the Mediterranean. If the crew sees that a boat is in distress, it notifies NGOs operating in the region. Then, the Aurora or a rescue ship from another aid organisation rushes out.
Weather conditions
Refugees from Africa mainly use three routes, Weiss outlines. The Tunisia corridor is currently the most widely used. From the Tunisian coastal town of Sfax, among others, large and smaller migrant boats set course for Lampedusa. Other routes run from western or eastern Libya towards Europe.
The extent to which routes are in use depends partly on weather conditions and the political situation. "In Tunisia, things are downright bad at the moment. Among other things, the country is suffering from an economic crisis. Some 25 to 30 per cent of young people are unemployed. Africans who went to Tunisia often found jobs there before, but not now. Therefore, they mostly travel directly to Europe."
In the West Libyan region, the coast guard has been quite active lately, Weiss signals. "Frontex carries out strict controls there, and people who want to cross the Mediterranean regularly face pushbacks. As a result, refugees are now more often leaving from Tunisia, where the coast guard lets boats through more easily. I think the country wants to use this to put pressure on the EU because it has not yet received some of the money promised in the Tunisia deal."
Patrol vessels
From the air, Sea-Watch regularly records the actions of the Coast Guard. On 29 September, for example, it was reported that the Libyan coastguard "rammed" a boat in distress, causing about 50 people to fall into the water (see "Cedar: Libyan coastguard action shocking"). "We do not know if and how many people lost their lives," he said. Survivors who boarded a Libyan patrol vessel were "illegally towed back to Libya", Sea-Watch stated.
The staff of the organisation, which works with volunteers from numerous European countries, say they regularly feel hindered by the authorities in their rescue work. For example, the Aurora was recently denied permission to return to Lampedusa after a rescue operation. Weiss: "We had to go to Sicily, which is more than a 24-hour longer sail. Such an extra long trip adds more stress to the crew and guests."
Also, a rescue ship is only allowed to take people on board from one capsized boat. "There have been occasions when we already had people on board when we came across a second boat that was in trouble. We felt obliged to rescue those people, too. We were then banned from sailing for 20 days. If it happened a second time, we were not allowed to set sail for three months and after a third time, it was the end of the story."
Enemy
Weiss knows the noises from critics who argue that organisations like Sea-Watch encourage refugees and migrants to cross the Mediterranean illegally because lifeboats are ready when things go wrong. He calls this criticism "nonsense" and argues that people are trying to reach Europe anyway. "The government is looking for an enemy, and that is usually the NGOs. By hindering us in our work, the Italian government wants to show the outside world that it is doing something to stop migrants."
Crew member Simon says he finds the "opposition" of authorities the most difficult thing about his work for Sea-Watch. "But we won't be stopped and intimidated. I am convinced we are doing what we have to do."
This article was translated by CNE.news and published by the Dutch daily Reformatorisch Dagblad on October 13, 2023