New trade agreement forces African countries to follow European ideas
06-07-2022
European Union
Pieter Beens, RD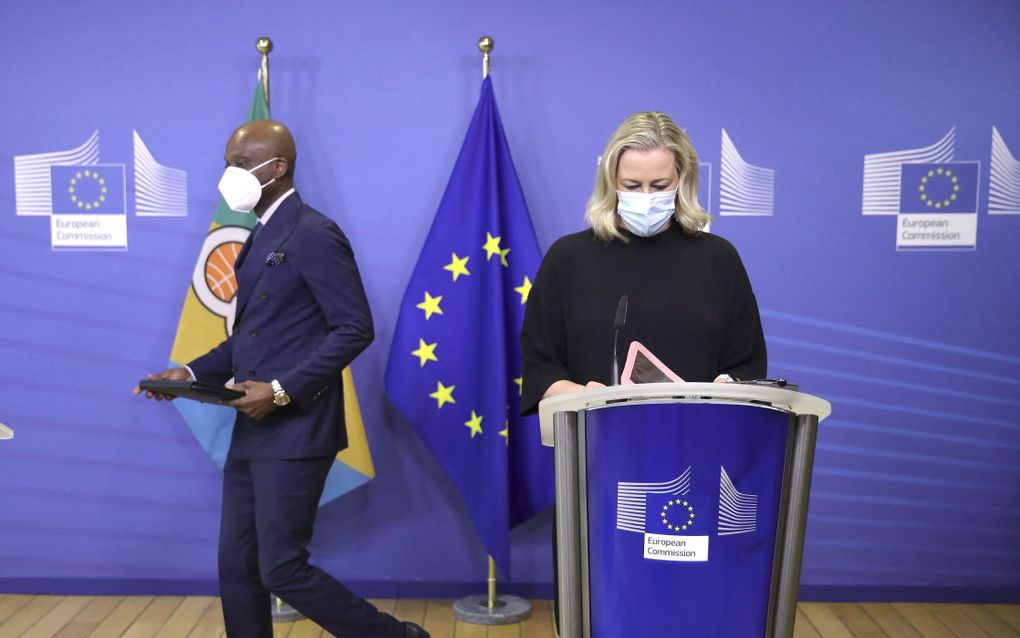 A new trade agreement with the European Union should bring African countries welfare and security. But in return, these countries must prioritise abortion and sexual diversity on their agenda. They also have to support the European Union within the United Nations. African countries feel put on the spot. They speak of 'cultural neo colonialism'. In addition, the European Union acts contrary to its own agreements.
Jennifer Shamalla is concerned. The politician from Nairobi is truly happy with a new trade agreement with the European Union. But she discovered how it contains provisions about abortion, sexual health and reproduction. Shamalla, lawyer for the Kenian Supreme Court and MP for the ruling Jubilee Party does not sugarcoat the issue: "Trade agreements are about trade and development. I cannot understand why these rights are included in this agreement."
According to her, also neighbouring countries, like Uganda, Rwanda and Tanzania, would not sign the agreement if politicians there would understand the consequences of it concerning sexual reproductivity and health.
Shamalla is one of the few politicians and diplomats who publicly turn against the agreement. Other politicians of the SADC – the development community of southern Africa – have objections. They refuse to talk however, being scared for financial consequences, or only want to speak anonymously.
The topic of discussion is the draft of an agreement of the European Union and African countries, the Caribbean and the Pacific Ocean – together called the "OACPS countries". The treaty, that was presented in April 2021, is officially called a trade agreement. But the negotiators did not hesitate to include sensitive ideological themes to political and financial support.
A new reality
Already 20 years ago, it was agreed upon that there should be a new treaty. In June 2000, the then 15 members of the European Union signed a trade agreement with 77 states in Africa, the Carribbean and the Pacific Ocean in Cotonou (Benin). That agreement expired on February 29, 2020.
But in the two decades after the "Cotonou Agreement" was signed, much changed. Wars, climate change, famines and floods brought about unknown floods of migrants. And where life was good, terrorists sew unrest.
In the meantime, China's influence increases worldwide. The country reveals itself as the most important source of money. African countries adjust their shape to favour their donor in return for economic and financial support.
Thus, the islands of Samoa – the location where the successor of the "Agreement of Cotonou" will be signed – concluded a bilateral treaty with China. "Samoa and the People's Republic of China will work together to realise more cooperation to realise shared interests and agreements", the government wrote in a press release.
In the meantime, crises also hit the European continent. An economic crisis, quarrels about how to deal with boat refugees and Brexit undermine trust in the European Union.
And while Eastern European countries debate abortion rights and gay rights, Western Europe calls louder and louder for free expression of your one's identity.
Al these developments leave their traces in the negotiations about the successor of the "Cotonou Agreement": political cooperation, achieving sustainable development goals, and building effective international alliances are prioritised in the new agreement.
To give European member states maximum participation in the agreement, a mixed agreement is chosen. The result is a treaty between individual states and their trade partners – contrary to an "EU only" treaty, which makes the European Union the agreement partner on behalf of the member states.
Cultural neo colonialism
Negotiations between EU Commissioner Jutta Urpilainen and Robert Dussey (Minister of Foreign Affairs of Togo) take a long time. But on April 15, 2021, the negotiators lay down a final concept seemingly from nowhere.
Urpilainen is satisfied. "This agreement is a turning point, making our relationship more political," she said during the presentation. "It clearly describes our vision of developing peaceful societies and a world where no one is left behind. How? By giving human rights, gender equality, democracy and good governance a crucial role."
In Brussels, no one is surprised by those words. But a South African diplomat studying the concept encounters worrying passages.
That starts with references to two unofficial documents: the "Maputo Protocol" and the "Beijing Declaration and Programme of Action". Both documents contain controversial passages on sexuality and abortion rights.
Roman Catholic bishops in Africa turned against the "Maputo Protocol" in 2008 because it recognises abortion as a human right. The European Union still does not see the termination of a pregnancy as a fundamental human right, even though the European Parliament has often attempted to include in the list of human rights. Human Life International, an American pro-life organization, even spoke of "a Trojan horse for a radical agenda.
The "Beijing Declaration and Platform for Action" contains such broad formulations for sexual and reproductive health that the sensitive issues can be interpreted very broadly.
Both documents are not binding, but if they are officially included in the trade agreement they will be so. Countries must then ratify the documents. Those who fail to do so commit a "breach of contract", possibly facing sanctions.
The draft treaty also contains provisions on "comprehensive sexuality education". This fairly new term does not yet have an official definition, but for Western politicians it includes all sexual themes that children should be introduced to at an early age - ranging from the right to abortion to gender and sexual identity.
That the topics ended up in the draft agreement is striking. According to the EU Treaty, health and education are matters for the member states themselves. Others should not interfere. Yet that is exactly what the European Union is doing in developing countries. There is therefore grumbling from Africa. "This is cultural neo-colonialism," one person involved says.
Lawyer and politician Shamalla denounces the "sneaky way" in which the European Union is trying to influence attitudes around gender and diversity in her country. "This trade treaty finances this ideology," she says. "As long as you arrive with a big bag of money, you get a lot done. Don't get me wrong, in light of the growing influence from China, I can quite understand this treaty. But international trade has nothing to do with sexual health and sex education. And for contraception we don't need a treaty."
But the Dutch foreign minister is proud of what the negotiators have managed. The country played a key role in the creation of the articles on sexual reproductivity and health rights, Sigrid Kaag writes in a parliamentary letter in June 2021. "During the negotiations, the Netherlands worked hard to ensure that human rights, including Sexual and Reproductive Health and Rights (SRHR), and the principle of non-discrimination became firmly anchored in the Partnership Agreement."
She goes on to write that the negotiators from the OACPS countries could not agree to literally naming sexual orientation and gender identity in the text.
The government regrets this, but a solution was found: the words "other status" implicitly put the issue on the map anyway.
Unequal situation
There are also objections in Africa to the provision that all countries will work together on joint resolutions, declarations and statements. In addition, they must coordinate their positions and possibly vote jointly in international and regional forums. This should provide "better representation and a stronger voice" at meetings of the United Nations, for example.
African diplomats are afraid that the article will force their countries to vote with European countries on sensitive issues. Moreover, their financial dependence on the European Union makes it difficult for them to represent their own interests.
"And there are also certain regional protocols in the European Union that are now only binding on European member states, but will soon have to be implemented by our countries as well," a South African diplomat who only wishes to contribute to this article anonymously says.
The diplomat is concerned about the one-sidedness in the treaty. "When countries do not comply with the provisions, this brings with it a certain responsibility. In the past, the European Union has unilaterally blacklisted countries for not complying with European treaties and protocols, without knowing those countries. It is therefore to be expected that the European Union will soon enforce provisions that it considers important. That will create an unequal situation."
Unlike Shamalla, the diplomat is not convinced of the financial benefits of the treaty. "The concept does not contain any direct economic benefits or specific development assistance for South African countries," he states. He points out that the economic aspects are already agreed upon in economic trade agreements and that development aid is laid down in another document. What remains, he says, is a treaty in which the European Union sets its own priorities and implementation partners. "As if the EU comes to African countries with its own priorities for aid instead of the other way around. That makes this new treaty a political agreement, which does not necessarily bring benefits in terms of aid and trade."
No one knows when the new trade treaty will finally be signed. The internal divisions are simply still too great. That is why the current treaty was extended for another year. Only when two-thirds of ACP countries and all European member states have ratified the treaty it can enter into force. As things are, that could take some time.