Column from Ukraine: Small victory over winter!
03-03-2023
Christian Life
Oleksii Blyzniuk, CNE.news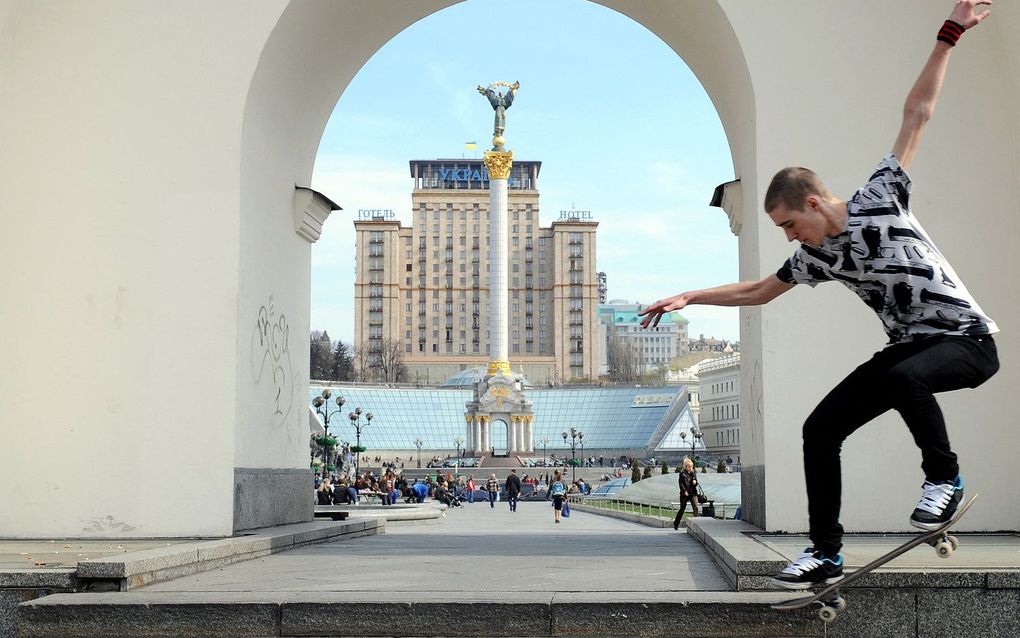 We survived the winter! For now, that is probably our greatest joy. In this column, I want to share thoughts about people's moods in the capital of Ukraine, Kyiv, that prevail at the moment.
Thank God for our survival!
We are truly grateful to the Lord for being able to survive the cold season. The beginning of January was very warm, and in some regions of Ukraine, the temperature reached +20 degrees. Sunny weather, which more resembles April, awakened bees, butterflies, and plants.
In particular, in the capital, where the thermometer often showed above +10 degrees, Sakura blossomed. Kyivans gathered around the pink flowers, saying that spring in the middle of winter is a sign of victory. Such record temperatures entered the historical records as the highest in 142 years.
Timely support
Isn't this a divine miracle and His timely help? On the eve of winter, the propaganda channels of the occupiers, without choosing their words, threatened that they would do everything possible to destroy the energy system of our state and literally freeze its inhabitants.
However, by His providence, the Lord sent us the warmest winter in almost a century and a half! This is God's mercy without exaggeration.
But the weather is only one factor. No less important was the timely assistance of Western partners with weapons and, in particular, various means of air defence. Although the latter does not allow us to completely close the sky over Ukraine, it effectively destroys enemy drones and missiles, from which we suffered greatly in the autumn.
According to the latest data, at the moment, the effectiveness of our air defence reaches 80 per cent, which is a fairly high indicator, given the enormous length of the defence line.
Changed tactics
Weather factors and modern effective weapons also influenced to some extent the tactics of the occupiers. A week ago, on February 24, exactly one year passed since the beginning of the war in Ukraine. On the eve of this date, we were warned of a very high likelihood of missile attacks on this day, as the aggressor country likes to "celebrate" round dates. Many of our acquaintances left the city for several days to ensure the safety of themselves and their loved ones.
My wife and I also did not ignore the warning, and on February 21st, we left our apartment and moved for a few days to the seminary building where I work. It has an equipped basement where you can work and sleep relatively safe.
Thank God, there was no large-scale shelling. The occupiers launched several drones, which were promptly shot down by our air defence forces, and that was it. We were expecting that shelling might occur the next day.
However, a week has already passed, and there has been no major shelling. Therefore, analysts have started talking about the fact that the occupiers most likely realised that they could no longer do anything to our power system and decided to change tactics. What exactly the new tactic will be, no one knows yet. Perhaps they will switch to other infrastructure objects. Time will tell.
It's already better, but it's still too early to celebrate.Thank God, thanks to the reduction of shelling, our energy workers are restoring the damaged energy infrastructure quite quickly. There are fewer power outages. In the last few days, the light has almost never turned off. Emergency power outages only occur when missile launches have already been detected. Then the energy workers can turn off the light in advance so that there is no sharp overload of the systems if a missile hits some energy object.
Due to the decrease in the frequency of outages, people began to think about what to do with all the gadgets they bought (gas cylinders, power banks, portable power stations, gasoline generators, etc.) because they gradually become less necessary. For example, in some stores, prices for these gadgets have dropped by more than 50 per cent in the last month!
Alarm signals
However, it is still too early to rejoice. I can report that since February 24 of this year, the intensity of air raid sirens has increased by about two times. Currently, as I am writing these lines, another alarm has started. However, their duration has become noticeably shorter. It seems that the enemy is preparing for something and is practicing new manoeuvers. Therefore, we are trying not to lose vigilance and not to ignore alarm signals.
At the same time, the situation on the front is very difficult. The city of Bakhmut (and its surroundings), where the fiercest battles are taking place, is almost surrounded by the enemy, and there is a high probability that our troops will have to leave the city and abandon it.
Olexii Blyzniuk (1986) teaches practical theology at the Evangelical Reformed Seminary of Ukraine (ERSU) in Kyiv.
He received both a Masters from the ERSU and the Reformed Theological University in Kampen, the Netherlands.
Apart from theology, he likes motorcycles.
At least until Ukraine receives enough necessary weapons from Western partners for an effective offensive. It is predicted that a sufficient amount of weapons will arrive this spring. Moreover, many expect that key battles that will determine the further dynamics of this war will take place this spring.
Continue to pray
On our part, we continue to pray for victory and hope that God will turn these upcoming battles for our benefit!
Meanwhile, we continue to help our soldiers on the front line in every possible way.
Thank you for your prayers and support!