Lennart's comment: Why we should not forget Anne Frank
03-05-2023
Opinion

Lennart Nijenhuis, CNE.news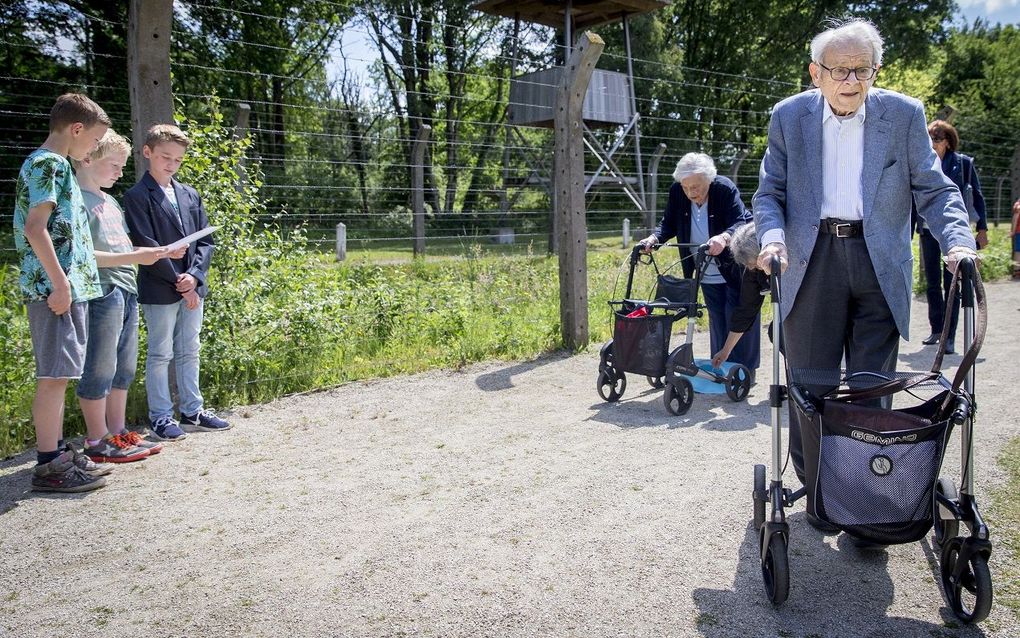 The approaching death of the last Holocaust survivor makes Holocaust education more important than ever. But how do you keep the youth involved?
Two weeks ago, my wife and I visited Germany's capital Berlin for a short vacation. In a city packed with history, the aftermath of the Berlin Wall stands out. But even though most structures from the Second World War are gone, it is hard to overlook the references to Germany's dark past.
The most obvious testimony is undoubtedly the Holocaust memorial. At the epicentre of German power, near the Brandenburg Gate and the Bundestag, 2,710 concrete blocks refer to the murder of some six million Jews by the Nazi regime.
These blocks vary in height and are placed on an undulating surface. According to the architect, American Peter Eisenman, the field of undulating blocks evokes a sense of disorientation and isolation: symbolic of the experiences of the Jewish population during the Nazi regime.
When we visited the memorial, we saw that the blocks also seemed to have another function: children played hide-and-seek, and youth sat on the blocks smoking cigarettes. For me, this was somewhat alienating: how can you be so nonchalant about such a fraught subject? But there were also school classes. Children listened enthralled and silently to their teachers.
The Topographie des Terrors, a documentation centre and museum on Nazi atrocities, is about a kilometre from the memorial. It stands on the foundations of the former Gestapo headquarters. There was a lot of youth there as well. And there, too, was a difference in perception. While many read and listened to the stories engagingly, others waited impatiently for this history lesson to end.
That some find history more interesting than others should (unfortunately) be no surprise. However, these images got me thinking. After all, much of these young people's interest is likely because their grandfather or grandmother consciously experienced this period. But what happens to this part of our collective memory when we are one generation down and the last ones to experience the nazi atrocities are no longer among us?
Legal
A collective memory of history connects us. It melts the individual's experiences and forges them into a collective narrative. And these narratives hold us together in times of polarisation. Although the political left and right seem alienated from each other in many countries, they come together on a subject like the Holocaust. In my own country, the Netherlands, we will see that this week when we commemorate the dead of the Second World War, among others, on Thursday. Then ideological differences blur, and people stand shoulder to shoulder: never again.
But apart from the unanimity evoked by these atrocities, this history should also not be forgotten because of the sheer unimaginable horror it produced.
In a few years, six million Jews died at the hands of the Nazis. Men, women and children fell victim to a ruthless regime. It is nearly impossible to fathom how people must have felt. Disoriented and isolated from the rest of the world, helpless in the hands of their persecutors. Not to mention those other people persecuted and killed because of their disability, political affiliation or race.
And one of the most shocking aspects of this mass murder? It was 'legal'. The Nazis, who were initially democratically elected, enacted laws that authorised this genocide. No one in Germany could protest because they had elected the authorities democratically. This shows that horrific outbursts can occur even in a civilised, modern society. It happened in 1933, but it could also happen today, ninety years later. Therefore, this history should be a warning for now and future generations.
But how can we keep this memory alive in a society that is increasingly distant from these events in terms of time? Also, society has changed. Refugees and migrants are part of European society but often do not share the same past. How do you keep them engaged?
Horrors
The Dutch Jewish lawyer Abel Herzberg once wrote: "There were not six million Jews exterminated in World War II, but one Jew was murdered and that six million times." Herzberg brought the elusive large number down to six million people like you and me, thus awakening them to life.
To involve future generations in this history is more necessary than ever. Most historians and teachers understand that the Holocaust does not require a standard history lesson that dryly states the facts. Like Herzberg, they bring out the human element from this inhumane past. We see a steady flood of (non-)fiction stories about camp experiences and other hardships being published. However, a romanticisation of the horrors lurks in this.
With constant new technological developments, it is becoming possible to pass on the memory of this mass murder in new ways. In this, however, the ethical plane must be retained sight of. For instance, to what extent can and should you recreate historical circumstances?
Despite a lack of historical bonds, engagement in Holocaust education does not seem to be a problem for migrant children. A study from 2022 shows that they even have a higher involvement than their native peers in some areas. They seemed to be more aware of why they felt learning about the Holocaust was important and what it linked to in the wider world. However, one of the key findings of the study also showed that it was mainly the refugee students that held antisemitic views or gave antisemitic responses.
In my opinion, sharing the stories of people who lived through these hardships is the strongest. Therefore, trying to get people to talk about their experiences is necessary. Talk with them, hear them out, and if they agree with it, share their stories with the public.
One
While driving back to the Netherlands, my wife and I stopped at the Bergen-Belsen concentration camp near Hannover. Over 70.000 people died in this camp. They were mostly prisoners of war and Jews.
Apart from the documentation centre, little remains of the camp. Besides some building foundations, it is the mass graves in particular that stand out. They form low hills in the wooded landscape. A single weathered stone records a shocking message: 1,000 dead rest here. Further on, a similar mound with a different message: 2,500 dead. And so, they form the memory of the horrors that took place here.
It was a rainy day, but that did not stop school classes from visiting the campsite. In silence, they listened to their teacher talk about a 16-year-old girl from Amsterdam. Here, on Lüneburg Heath, the world's most famous diarist breathed her last: Anne Frank. And she was just one of six million whom we must continue to remember.
About the author
Lennart Nijenhuis (1998) started his journalism career as a digital editor at the Dutch daily Reformatorisch Dagblad (Reformed Daily). Before that, he studied Communications at Windesheim Zwolle. He has been working at CNE since its launch in October 2021.
Respond to Lennart by e-mail.