Forced expression has nothing to do with free expression
22-05-2023
Opinion
Jakob Cornides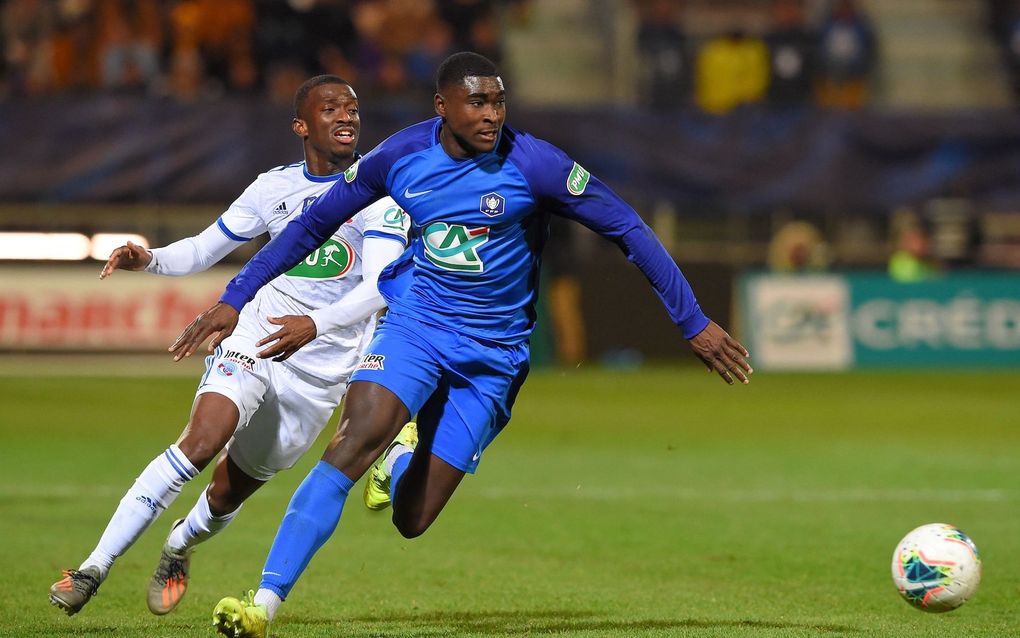 A footballer refuses to take part in a campaign "against homophobia" – and defends his right to free speech. A guest commentary by Jakob Cornides.
How long do you think he will hold out before he buckles? Various media reports in recent weeks have said that Donatien Gomis, a defender for French second-division club EA Guingamp, refused to play in the away game at FC Sochaux because "his club is taking part in a campaign against homophobia".
The club has "taken notice" of the Senegalese player's attitude, and the president will "have a discussion" with him next week. Those who perceive a threatening undertone in this announcement are probably not entirely mistaken.
The reporting seems –whether intentionally or not– a little imprecise. In fact, the player probably refused to take part in the match not because his club was taking part in the campaign but because he himself was to be forced to take part in it. The plan was for all players to wear jerseys with their shirt numbers printed in rainbow colours to send a signal "against homophobia".
Fear
"Homophobia" is a political campaign term used to pathologise legitimate viewpoints by trying to frame them in terms of an "irrational fear" or even an almost psychopathic "hatred". Such vocabulary has no place in a debate that seeks to be serious and rational, and certainly not in a campaign that is supposed to be about protecting human rights. For this reason alone, it is quite understandable that not everyone would want to join such a campaign.
But what is even worse is that this alleged human rights and anti-discrimination campaign itself violates human rights in a very serious way by attempting to force all the players of all French first and second-division clubs to make a public statement, even though many of them have quite different opinions.
This is not comparable to the commercial shirt advertising commonly among football clubs, where no one suspects that the players personally identify with the advertised products and services. The apparent aim was to create the (quite inaccurate) impression with the audience that all participants, without exception, share the goals and expressions of the campaign, hoping that the individual player would give in to peer pressure, be it because he does not want to let his team down in a decisive match out of solidarity with the other players, or be it because he otherwise has to fear negative consequences for his career.
Forced expression
In the jargon of human rights experts, there is a term for such forms of coercion: "compelled speech". What is at stake here is the "negative aspect" of the fundamental right to freedom of expression, i.e. the right not to be forced to express an opinion that one does not share.
Compared to the restriction of the "positive" aspect of freedom of expression (i.e. the right to freely express one's opinion), such interference with negative freedom of expression is a much more severe form of human rights violation, because it undermines the freedom of expression not only partially, but negates it completely.
For example, it seems quite legitimate to prohibit a football player from using the big stage of the football stadium to promote a particular political point of view (such as a specific religion, a political party, or even a quite honourable cause such as the fight against racism), because he might express such points of view outside the stadium; his right to freedom of expression is thus only restricted, but not wholly called into question. If, on the other hand, one tries to force him to promote a viewpoint he rejects, his fundamental right is trampled underfoot.
Pressure
By courageously refusing to participate in the "Campaign against Homophobia", Donatien Gomis and the other players who subsequently showed solidarity with him have unmasked the disingenuous campaign: it is based on pressure and coercion, not on freely expressed conviction, and instead of protecting human rights, it actually violates them.