How Europe is fighting against anti-Semitism
24-10-2023
European Union

CNE.news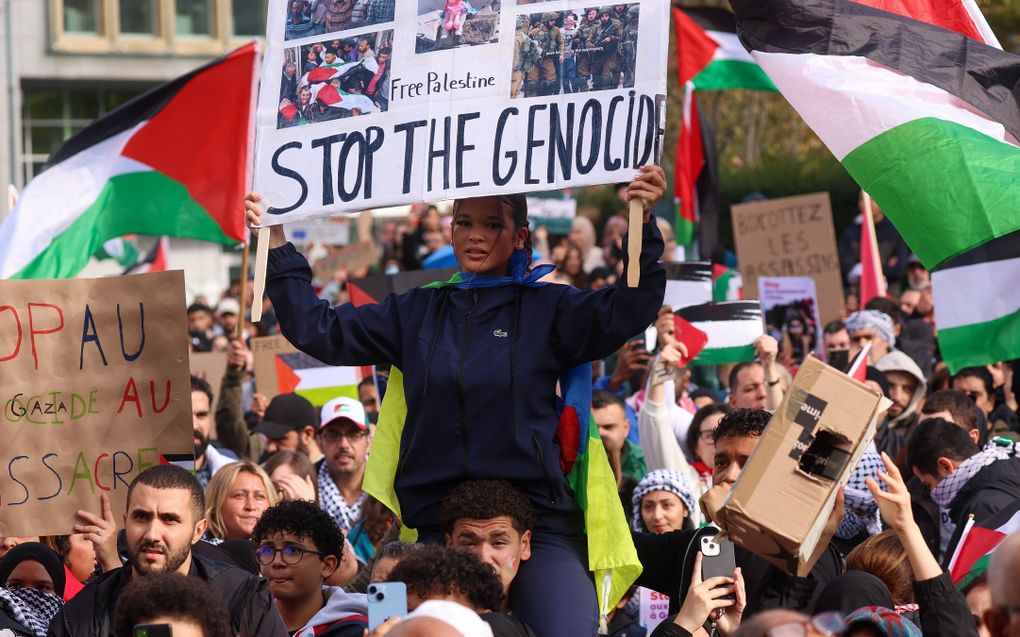 "I feel more threatened than ever", Michel Friedman says. Living as a Jew in Germany, he experiences everyday encounters as "riskier".
The war between Israel and the Palestinian Hamas terrorists has a direct effect on countries in Europe. Most governments are determined to combat anti-Jewish behaviour.
The anti-Semitic sentiment of right-wing extremists is now complemented by radicalised violence from extreme Muslims and left-wing extremists. Together, they are expressing solidarity with Palestine in the current conflict in Israel, Friedman tells. He is journalist and author of a book on threats to Germany, Rheinische Post states. "I would like you to remind you that a German right-wing extremist carried out the attack on the synagogue in Halle", he illustrates. However, he also refers to Berlin, "where incendiary devices are being thrown at synagogues."
Friedman worries very much about the current situation. "If you, as a Jew, can no longer move freely in all parts of Germany and wear a kippah, then we are close to ghetto life. As a citizen of this country, I cannot accept that."
The German journalist sees support for Israel, therefore, not only as solidarity with the Jews but as "standing up for democracy and freedom." "If the principles work, as a Jew, I can walk comfortably on any street. If I can no longer do this, the majority of the population will soon be unable to do it either."
Civic duty
It is Germany's duty to protect Jewish life, the German President, Frank-Walter Steinmeier said, as reported by PRO. "Everyone who lives here must know Auschwitz and understand the responsibility that arises from it for our country", the President stated on Friday. He called on all German citizens to "fulfil this civic duty".
Steinmeier's support for Israel is backed by the 16 states of Germany. They adopted the resolution "Germany stands firmly on Israel's side."
Solidarity
Religious organisations in Germany also stand firmly behind Israel, Katholisch.de writes. Roman Catholic Bishop Michael Gerber spoke on Sunday at a solidarity event at the Brandenburg Gate. According to the organisers, about 25,000 people attended the event.
"As Christians in Germany, we have a double responsibility here", the Bishop emphasised. "Firstly, as citizens of a country that brought immeasurable suffering and millions of deaths to the Jews just a few decades ago. Secondly, because we know that the Anti-Semitism is also rooted in a history of guilt in Christianity." Christians looked back with shame at the fact that the Jews had found far too few helpers and supporters during the National Socialist era. That's precisely why it's important to stand by the Jews today "when they are brutally attacked in Israel and, shockingly, come under pressure here again."
The chairwoman of the Protestant Church of Germany, Annette Kurschus, stressed that anti-Semitism "is neither fateful nor God-given." She even added that "anti-Semitism is blasphemy" and that there "is no justification for hatred of Jews", Evangelisch.de writes.
Criminalise
Anti-Semitism is not only an illusion in Germany. In the town of Neukölln, hundreds of pro-Palestinian activists gathered to express their support for the Palestinians in Israel. "From the river to the sea, Palestine will be free", they chanted, as reported by Politico. The German government wants to forbid the pro-Palestinian demonstrations and criminalise the slogan.
Especially among Muslim immigrants, the anti-Jewish sentiments are "obviously high", Josef Schuster said in an interview, as reported by Idea. He explains that people with an Arab background who move to Germany bring with them anti-Israel images that were taught in their homeland every day. "It is probably difficult for them to break away from this view of Israel and the Jews", Schuster expects. Therefore, he pleads for better integration courses on German values.
Obligation
However, anti-Semitism is not limited to immigrant communities only, PRO writes. Especially supporters of the right-wing party AfD are bringing 'anti-Semitic thought patterns into the middle of society." A survey shows that almost 80 per cent of the AfD supporters do not believe that Germany has a special obligation to support Israel.
In addition, anti-Semitic stereotypes can also be found in middle-class living rooms, Protestant Bishop Petra Bahr warned in an interview on Saturday. She believes this is a result of many people not feeling well in Germany. "And those who are afraid of the future and are worried sometimes develop resentment," she said.
Messianic Jews call on Christians to stand up for Israel. Wladimir Pikman, one of the leaders of the community, points out that this is a "spiritual war" that is all over Germany. Therefore, he calls on people to pray for peace and for the protection of Jews worldwide and in Germany. "Christians should comfort and support Jews they know."
Letter
Within the European Union, there is discontent about the unconditional support for Israel that EU Commission President Ursula von der Leyen expressed earlier. Several members of the staff have written a letter on Friday in which they state their concerns, Euractiv reports. According to the news website, about 850 civil servants have signed the letter, which was sent to several EU delegations around the world. Even though the letter condemns the Hamas attacks on Israel, it also "equally strongly [condemns] the disproportionate reaction by the Israeli government against the 2.3 million Palestinian civilians trapped in the Gaza Strip."
The staff is discontent about a speech, for example, in which Von der Leyen mentioned Israel's right to self-defence but said nothing about a two-state solution, Politico writes. The Czech Prime Minister has spoken out against this letter, Euractiv writes. Czechia is known for its pro-Israel stance.
In the Netherlands, several government employees are also critical of the pro-Israel stance of the ruling parties. They argue that there is too little attention to the suffering of the Palestinians and accuse the government of institutional racism in its foreign policies, NRC writes.
Switzerland
The Conference of European Rabbis in Munich is afraid that anti-Semitic attacks, such as the arson attack on a synagogue in Berlin, will spread over Europe. Therefore, the rabbis call politicians to take action against anti-Semitic demonstrations and attacks "with zero tolerance", Ref.ch reports.
Switzerland sees an increasing number of anti-Semitic incidents. The Swiss Association of Jewish Communities has registered 26 anti-Semitic incidents in the last two weeks, Ref.ch states. This number does not include any anti-Semitic statements on the Internet. In 2022, there were 57 cases in total.
The attacks that occurred since the day of the Hamas attacks (October 7) include three assaults, five insults, six graffiti tags, eight e-mails and letters and four posters or anti-Jewish statements during demonstrations, Ref.ch writes. The seven largest political parties have condemned the incidents.
Austria
Austria, too, must deal with a rise in anti-Semitic incidents. An Israel flag on the main synagogue, for example, was ripped down. In total, the number of incidents tripled compared to last year, Euractiv writes. In Salzburg, even a 14-year-old was found guilty of ripping down an Israeli flag.
In total, there have been at least 76 anti-Semitic attacks, Austria's synagogue Kultusgemeinde announced. "Compared to the incidents reported in the whole of 2022, this represents an increase of 300 per cent", secretary general Benjamin Nägele said on Sunday. That was reported by Katholisch.at.
In response to anti-Semitism, there is a daily vigil at the Ballhausplatz in Vienna, Wien.orf writes. The vigil is an initiative by several parties, among which the Vienna Greens. "We condemn these attacks (by Hamas on Israel, note) in the strongest possible terms, express our solidarity with the Israeli population and clearly oppose any form of anti-Semitism and racism," the call for the vigil reads. The vigil takes place every day between 4 p.m. and 8 p.m.
Norway
The Norwegian Prime Minister, Jonas Gahr Støre, has promised that Jews will be safe in the country, Vart Land states. Støre visited Zhira Beck from the Mosaiske Trossamfund, the largest Jewish congregation in Norway, last week.
Beck notices that there is a movement in the country that condemns Israel. Counter-demonstrators at a solidarity protest for Israel even shout anti-Semitic slogans, she tells Vart Land. "Someone shouted: "Khaybar, Khaybar, ya yahud. When someone shouts Khaybar, Khaybar, ya yahud against Jews, it means "kill the Jews".
Jews in Norway are afraid, the Norwegian Prime Minister was told during his meeting with several leaders of the Jewish community. Not all parents dare to send their children to the Jewish school in Oslo, and teenagers hide their Star of David. In addition, there is much hate speech on social media.
The Prime Minister says that his government must take action against anti-Semitic hate crimes. He speaks about action plans and education.
France
A French pro-Palestinian protest was attended by 15,000 people on Sunday. It was the first time the police allowed such a demonstration, according to Euractiv. The reason for the permission is that the declaration of the organisers also condemned the attacks of Hamas. France is quite strict when it comes to pro-Palestinian demonstrations. Earlier, the Interior Minister had suggested a total ban on these events, but a court ruled that it should be decided on a case-by-case basis.
The main aim of the demonstration was to demand the French government to press for a cease-fire in Israel, La Croix writes. The demonstrators argue that the international community uses double standards when it comes to violence in Israel. At the same time, the organisers write in their press release that they do not hate Jews by supporting the Palestinian people.
Poland
In Warsaw, there was also a demonstration in support of the Palestinians, Notes from Poland reports. Participants condemned "Israel's genocide in Gaza". They claimed the protest was not anti-Semitic. Some said it was directed only at the Israeli government, while others argued that they do not support Hamas, but "Israel's actions are equally inhumane."
The Israeli Ambassador in Poland and the Foreign Minister of Poland have condemned the event, which was attended by Poles but also by members of the Muslim community in the country. The Ambassador called on the authorities to "stop this blatant anti-Semitism before it gets out of control."
Spain
In Spain, Jewish shopkeepers received threats after a pro-Palestinian demonstration, Evangelical Focus writes. In addition, some demonstrators attempted to attack a synagogue in Melilla, a Spanish city close to Morocco. The hate crimes took place during a pro-Palestinian march. The police had to get involved.