Europeans remember Kristallnacht under large police protection
10-11-2023
European Union

CNE.news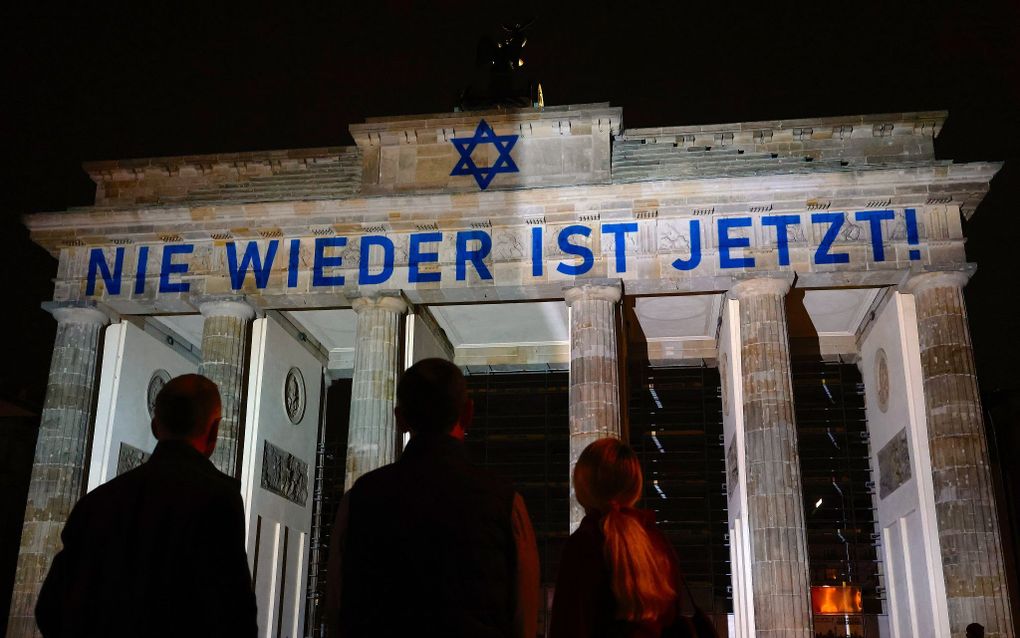 Under large police protection, Jewish communities across Europe remembered the Kristallnacht on Thursday. "Who would have thought such a thing after that terrible war we experienced."
"I never thought [Jewish, ed.] people would have to be afraid again on November 9th", says Eva Maria Schulz-Jander to the German news outlet Tagesschau. But she is. Eighty-five years after the Nazis carried out a pogrom against their fellow Jewish citizens, Jewish communities across Europe remember the horrors of that November night and fear for the future.
On the night of 9-10 November 1938, members of the German Nazi party and civilians marched across the country to attack Jews and take away their property. Governments and Jewish communities in several places in Europe organised commemorations of Kristallnacht on Thursday night. In light of the recent rise in antisemitic incidents after the Hamas attack on Israel on October 7th, memorials became poignantly topical.
In the Netherlands, some stayed home, fearing for their safety. In Denmark, the 84-year-old Birgitte Sara Borgsmidt also considered staying home. Despite warnings from her surroundings, she decided to go to the synagogue in Copenhagen, writes Kristeligt Dagblad. "I thought, I don't care about that. So I came, and it's not dangerous at all."
Borgsmidt grew up as a refugee child in Sweden after her mother was persecuted in Germany in the 1930s. "We must not forget that. There are so few of us left to tell the story," she says.
Security
Wherever the gatherings were, almost all had one thing in common: lots of police security. In the Swedish city of Malmö, a public remembrance was cancelled because of security reasons. People gathered in front of the synagogue every year, but this year, it was an internal ceremony. Safety and security play a big role", said a spokesman for the Jewish congregation in Malmö. "Therefore, this year, we have chosen to hold only an internal ceremony for our members."
At the Portuguese Synagogue in Amsterdam, with a lot of police officers outside, Mirjam Weitzner-Smuk calls it "terrible that we have to be guarded today; our schools, our synagogues." The woman survived the horrors of 1938. "Who would have thought such a thing after that terrible war we experienced," she said.
According to the 93-year-old Jewish woman, 78 years after World War II ended, there is little reason for optimism. "We didn't learn much. Only one madman has to come along who can speak properly, and we will go after them."
Ashamed
Jews' fears for their safety today were also at the centre of the commemoration in Berlin. Chancellor Olaf Scholz said he was "ashamed and outraged" by the recent wave of anti-Semitic incidents in Germany. He stated that he does not tolerate this anti-Jewish hatred. "This is about keeping the promise that has been made again and again in the decades after 1945", he said. "The promise of "never again."
According to Mr. Scholz, "Never again" also means friendship with Israel, thereby reiterating his government's commitment to helping Israel free the hostages taken by Hamas. "October 7th allows only one conclusion: Germany's place is on Israel's side."