Celebrity's surrogacy child sparks debate in Spain
31-03-2023
Southern Europe
CNE.news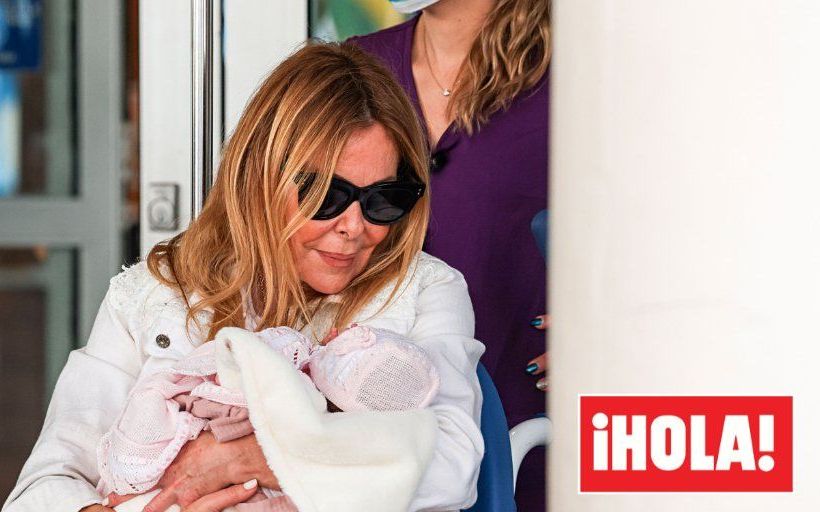 A 68-year-old Spanish TV star dominates headlines for getting a surrogacy child. While the government denounces the practice, opposition parties call for a debate on the legalisation of surrogacy.
At first glance, the woman who uses a wheelchair leaving the hospital with a baby seems like a happy grandmother. However, the Spanish TV star Ana Obregón, a biologist, became known in Spain as the mother of the little girl. The Spanish ¡Hola! magazine published a photo of the 68-year old holding her baby outside a hospital in Miami. The baby was born via a surrogate in the United States, ¡Hola! explained, three years after Obregón lost her only child, a 27-year-old man, to cancer. According to Spanish press reports, this process would have cost Obregón somewhere between 100,000 and 170,000 euro.
Obregón was seated in a wheelchair while leaving the hospital because of the policy of the Miami hospital.
Soon after the magazine broke the news, Obregón confirmed the story by sharing the ¡Hola! magazine cover on social media. "A light full of love came into my darkness," read the post. "I will never be alone again. I am alive again."
Violence
It did not take long before reactions poured in from Spain, where surrogacy is forbidden by law. Irene Montero, Minister for Equality and a member of the leftwing Podemos party called surrogacy a "form of violence against women" that feeds on the poverty of pregnant women.
Several other ministers from the governing Socialist party backed her position. "Women's bodies should not be bought or rented to satisfy anyone's wishes," said Felix Bolaños, the Minister of Presidency. María Jesús Montero, Minister of Finance, described the practice as "yet another way to exploit women's bodies".
Cuca Gamarra, the number two of the Christian Democratic party Partido Popular, is more cautious and advocates approaching the issue through "deep and serene debates because it touches on many moral, ethical and religious questions".
The Spanish socialist coalition government came to power almost five years ago and made women's rights one of its priorities. The reform of the controversial abortion law, which came into force on March 1st, specifically mentions surrogacy as a form of violence against women.
The Catholic Church also reacted, through the general secretary of the Episcopal Conference (CEE), César García Magán. He warned that being a mother "is not a right, but a gift" and has ensured that pregnant women are treated "as if they were an incubator".
Agenda
While surrogacy is illegal in Spain, as in other European countries like France, Germany and Italy, Spaniards who go abroad to have children via surrogacy are not penalised. According to The Guardian, in the past decade, intended parents of over 2,500 children born to surrogates abroad have been granted legal parenthood in Spain, backed by judicial rulings that have called on authorities to act in the best interests of the child.
The liberal Ciudadanos party uses the debate surrounding Obregón to put surrogacy back on the political agenda. "We have always defended surrogacy," Patricia Guasp told broadcaster TVE, adding that the party would seek to put forward legislation on "altruistic" surrogacy, which doesn't involve any financial compensation. Critics, however, say it is difficult to control altruistic surrogacy. In this case, surrogate mothers are only reimbursed for expenses, however much that may be.
Son Nuestros Hijos, an association that represents more than 700 families who have sought surrogacy in countries where the practice is legal, such as Canada and the US, attacked the government's position. This reports The Guardian. According to a spokesman, the woman chooses everything. "She's in control and makes the decisions over her own body."
The association has long called on Spain to regulate the practice, describing it as one of the few realistic options for LGBT parents, single parents and infertile couples to form families. "Right now, the wait time for an adoption is around 15 years in the region of Madrid," said the spokesman, who expects his second child via a US surrogate.
European debate
The Spanish surrogacy debate comes amid a European debate on the practice. The Italian Meloni government announced earlier this week that it would prosecute Italians going abroad for surrogacy. Meanwhile, in Great Britain, a government-commissioned review concluded that the intended parents of a child born to a surrogate should be able to access legal parenthood from birth.
While surrogacy is banned in most European countries, it is still possible to retrieve a child via surrogacy abroad. According to several experts, a ban on surrogacy is only possible if it is taken up globally. That is why several of them backed the Casablanca Declaration, launched earlier this month, which calls for a global abolition of the practice.