Evert's comment: After the Green Deal, the EU should work for a Demography Deal too
13-09-2023
European Union

Evert van Vlastuin, CNE.news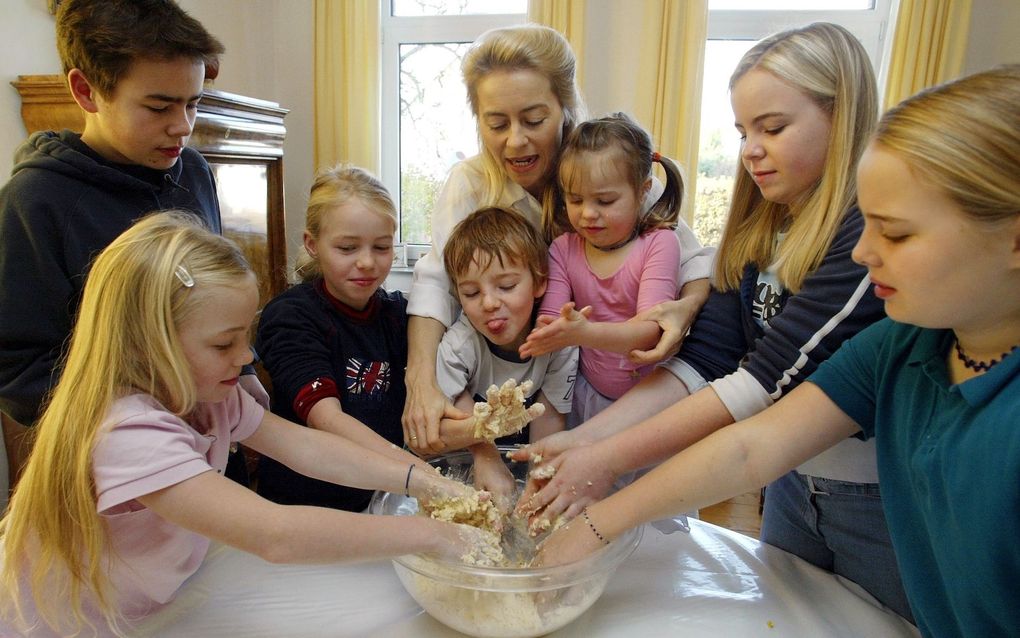 She is a mother of seven, but EC President Ursula von der Leyen is not sure whether her three grandchildren will have "a spring, a summer, a fall and a winter like we had when we were children." In the European Parliament debate about the State of the Union on Wednesday, she shared her worries about the climate. The question is, what is a bigger threat for Europe: the climate or the demography?
No, as a mother of seven, Von der Leyen belongs to the less-than-one-per-cent minority. Most women have fewer children. From four kids, a mother falls in the top 10 per cent.
In 2021, the German politician became a grandmother for the first time. On Wednesday in the European Parliament, she said there were three toddlers in the VdL family at the moment. But grandma is afraid that this earth will give them no future.
Holocaust
In one of the capitals of the European Union, people gathered for the Budapest Demographic Summit. They ring the bell about another crisis other than environmental pollution: the demographic crisis. The people who go there will be happy with the three toddlers in the family of the EC President, but they fear this is not enough.
Sometimes, it seems both groups do not recognise each other's crisis. There are many "climate deniers" (and they might be equated to "Holocaust deniers"). But the number of "demography deniers" is much higher.
In the EP debate about the State of the Union, Von der Leyen's speech, just one MEP called attention to this. Jaak Madison, a Conservative from Estonia, said that Europe did not need immigrants but "our own children", he said to the EC President. "This is a message to the European Commission, how to increase the birthrate so that we have children to look after Europe." But although Mrs Von der Leyen has given the 'right' demographic example, she did not confirm Madison in his stance.
Interestingly, the EC President said that as soon as you have (grand)children, you will look at the world differently. And that influences your policy position.
From that perspective, it is astonishing to see that so many leaders in Europe have no children. But still, they pretend to make policy for the good of the whole society. We speak about previous leaders such as Angela Merkel and Theresa May, and current leaders such as Mark Rutte and Olaf Scholz. Of course, they are able to develop good ideas, but they do not know that personal "change of perspective" that Von der Leyen speaks about.
Icecaps
Back to the issue of the two crises: climate and demography. Could it be that they both exist and that we don't have to deny any of them? To me, that seems to be quite convincing.
Let's start at the first: Looking at the weather data, something is clearly happening. The temperatures are rising, and icecaps are melting. Specialists expect that the Gulf Stream in the Atlantic Ocean will change, and that is just one of the phenomena that will impact our living circumstances in Europe. It seems wise to acknowledge that.
And then the second: Looking at the same type of statistical data, you have to be blind not to see that the European population is shrinking. Is that a crisis? Well, not tomorrow, but in the long term, no doubt this will change our continent. It is not wise to deny this either.
From the facts, we know that no one country in Europe has enough babies to replace old folks. Around 2009, three countries came very near the replacement hurdle of 2.1 children per mother: France, Sweden, and the United Kingdom. But soon, they declined again. In the meantime, the old people have become greyer, and classrooms have become emptier.
At the moment, France is at the top with 1.8 children per mother, followed by Sweden and Czechia with 1.7.
The lowest countries are in the south: Malta, Italy and Spain are around 1.2.
The large Central European countries are in the middle ground: Hungary has 1.5 and Poland 1.4.
Germany and the Netherlands are just above 1.5.
From this overview, it is no surprise that at the conference in Budapest, Italian Prime Minister Giorgia Meloni will be one of the main speakers. They could have invited Von der Leyen, the mother of seven. But they asked the leader of one of the countries at the bottom.
Not everything about these numbers is simply explainable. Take, for instance, this: the Mediterranean countries are the most Catholic, together with Poland. You can expect that families are larger there, since children are valued positively, and the Catholic teaching is against contraceptives. But the reality is different; these countries are the lowest in fertility.
And the opposite is true as well: the countries with the most children are the most secular: France, Sweden and Czechia. If somebody has an explanation for this, I am open to listening.
Do it for Denmark
Looking at the fertility numbers in Europe, there are two options. First, just accept that there are empty places and stimulate families to have more children. Some years ago, Denmark advertised with this popular slogan: "Do it for Denmark". It is not clear whether it helped, although the Scandinavian country does not do badly with more than 1.7. At the moment, this is the policy of Poland and Hungary.
The other option is to do nothing and fill the empty places with immigrants. That is the policy of France and Holland. The demographic problem is mainly approached as an ageing problem: who will help the older people in the nursing home? The short answer to that is: newcomers.
In Central Europe (say, Poland and Hungary), they are not used to newcomers. In the European Union, there is growing tension about the issue of immigration. Especially Hungary urgently wishes to survive as a (Christian) nation. From such a perspective, immigration can never be massive.
Of course, it is legitimate to wish to survive as a people. But it is as legitimate to ask whether Hungarians themselves want that. Tens of thousands of (young and talented) people leave their beloved homeland. The Orban government is doing its best to get them back. Some of them do, but many of them get roots in other countries. This is making things worse, creating a real crisis indeed.
Bicycles
I guess that the natural tendency of most politicians is to be reluctant to make demography a policy issue. Of course, a government has the responsibility to facilitate families and children. Society must be a good place for them. Schools must give good education, and roads must also be safe for small bicycles.
But Hungary and Poland are going much further. In Hungary, mothers of four kids are forever free from all taxes and will be helped by buying a house. In Poland, parents receive from every child after the first one 120 euros per month.
Does it help? Well, not yet. And that is to be said about many other stimulating programs. The same Ursula von der Leyen introduced a comparable regulation in Germany. Still, it has never been clear whether there was any result.
I think the same hesitation is in its place for immigration. Of course, a European person is not better than someone from Africa. But after decades of mass immigration, we know that many newcomers have another religion and another value system and that mixing cultures is not as easy as it seems. The European civilisation is quite open and flexible, but there are limits. In other words, immigration is fine and unavoidable, but up to a certain degree. Understandably, this is a sensitive issue. Sometimes the impression is that this is a taboo for policy makers in Western Europe.
Deal
For the climate crisis, the European Commission has developed a Green Deal. In general terms, that seems to be the responsible thing to do. But as soon as this deal is done, it seems to be as responsible to start consulting for a Demography Deal. There is really no reason to think that this is only an issue for Central and Southern Europe. It is a topic for the whole of the European Union.