Europe is unable to exterminate anti-Semitism
15-11-2023
European Union
Joe-Lize Kruijsse-Brugge, CNE.news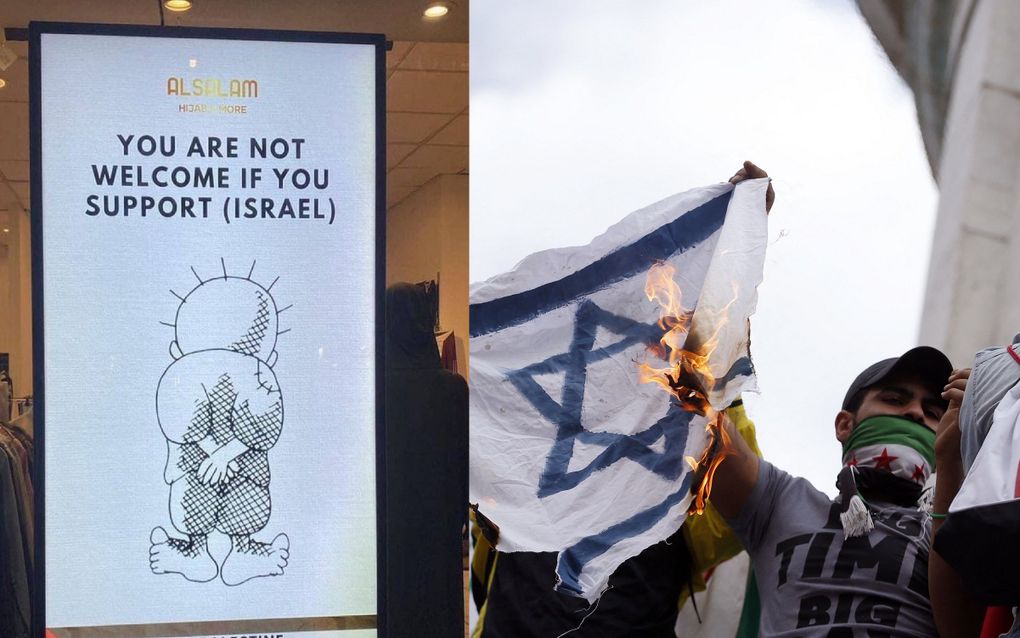 Can we still talk about Jewish biscuits? May a shop refuse customers if they support Israel? One thing is sure: anti-Semitism keeps Europe busy.
After the attacks of Hamas on October 7, the fear of a recurrence of the Holocaust has gripped many minds. The Israeli representative of the United Nations showed up with a yellow star to an official meeting to draw attention to hate against Jews. Also, many support demonstrations for Israel chant the slogan: "Never again is now", referring to the Holocaust.
And this fear is not unfounded, it seems. Many media report a significant increase in anti-Semitism in several countries. For example, the German organisation against anti-Semitism Rias reported 202 incidents in the week after October 7, a growth of 240 per cent compared to the number of hate crimes in the same week a year earlier. The World Zionist Organisation even speaks about an increase of 500 per cent in incidents worldwide.
Synagogue
There are countless incidents in which Jews are targeted for their identity. Some examples from different regions:
In Germany, Jews were startled by an arson attack on their synagogue. Two people threw Molotov cocktails into the religious building, AP News reported.
In France, a Jewish woman was stabbed when she opened her front door. Later, the police discovered that a swastika had been painted on her house as well, France 24 writes.
In Norway, an Oslo store outright refused to serve customers who support Israel. It put up a poster saying: "You are not welcome if you support Israel". The shop, which specialised in selling hijabs, shawls and Arabic rugs, took down the sign after it received many negative reviews, Dagen writes. Now, a more subtle image reads "Free Palestine".
Demonstration
Support for Palestinians seems to fit into the philosophy behind climate demonstrations. For example, the well-known activist Greta Thunberg passed the microphone to a pro-Palestinian activist who had just shouted: "From the river to the sea, Palestine will be free". This happened at a demonstration of Extinction Rebellion in Amsterdam.
It shows that support for the Palestinians and critique against Israel does not only come from Muslims. Left-wing groups seem keen on expressing this stance. According to an analysis in the Neue Zürcher Zeitung, leftists oppose Israel because they see it as a nation that oppresses another people, the main enemy of the left-wing.
Nobody knows exactly where criticism against Israel flows into anti-Semitism. Pro-Palestinian demonstrations must be careful not to mix the two. The often-heard slogan, "From the river to the sea, Palestine must be free", may likely be interpreted as a call to exterminate the Jews from the entire area between the river Jordan and the Mediterranean Sea.
Propaganda
The use of this slogan is forbidden in Germany. The Interior Ministry decided to see the expression as "propaganda for a banned organisation", RND writes. You can going to jail now if you use this slogan.
Many political leaders warn against anti-Semitism. Swedish Prime Minister Ulf Kristersson saw a "wave of anti-Semitism, both in Sweden and in other countries", Varlden Idag reports. He is especially worried about the trend that "criticism of Israel is mixed with hatred of Jews as a group."
The French President also condemned any form of anti-Semitism, but he refused to join a march against the hatred. "I am not joining the rally, but will be there in heart and spirit", Macron said, as reported by Politico.
Polarisation
Yet, despite the strong words of politicians, the demonstrations that have arisen as a response to the Israeli conflict painfully uncover sharp divisions in society.
The climate organisation Extinction Rebellion has lost several prominent members after its pro-Palestinian stance, the Dutch daily Reformatorisch Dagblad writes. Pastor Jan Wolsheimer found it "unnecessarily polarising and hostile" and left the organisation.
In France, a march against anti-Semitism highlighted the strong polarisation within the population. Some participants criticised the fact that the far-right politician Marine Le Pen, whose father was convicted of anti-Semitism, joined the event. They did not want to be associated with her, La Croix writes. Others were more critical about the fact that several left-wing parties refused to come.
Hatred
This shows that, even though politicians are quick to promise that the anti-Semitism of the Nazi era will never happen again, they seem to be unable to overcome hatred against Jews in their own societies. Before they know it, Israel criticism borders anti-Semitism or even changes into it.